Wednesday, December 1, 2004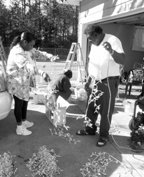 As you drive down Northside Drive on the north end of town, you pass a recently renovated McDonald's, a Taco Bell that has been remodeled to add a Long John Silvers, and a New Deal grocery store that once was a Jitney Jungle and before that a Kroger. But tucked away in a maze of different neighborhoods bordered by Watkins Drive and Azalea Drive is Berwood—a neighborhood that, despite all of the changes around it, primarily has had the same occupants since the early 1970s. Like many areas in the South and Mississippi in particular, Berwood's membership was shaped by white flight.
Ora Banyard, 86, has been a resident of a neighboring area to Berwood for 56, years before Berwood was even an area. "It was all trees. There was no Watkins Drive, and Bailey Avenue was a mud line," said Banyard. She said all of the residential area from the Northside Drive and Bailey Avenue intersection back to Hanging Moss was not developed until the late 1960s.
"This area was built for whites. Watkins Drive was formed, and it was built all the way to County Line Road. The schools like Watkins Elementary were lily white. A black person could not even step on the grass," she said.
Then, of course, came the official end of Jim Crow and the Supreme Court decision in 1970 finally enforcing school integration for real. And whites began to leave neighborhoods like Berwood.
The Kids of Berwood
As integration expanded throughout the '70s, more blacks began to move into the neighborhood, and that led to the white flight. The Rev. Jimmy Garner said he remembers when he and his family moved to Berwood in 1972, the area was still primarily white. "There were a few black families, but the majority were white. But about three or four years later, many of the whites moved out, and the neighborhood was becoming a black area," he said.
Many of the people who moved into Berwood during that time are still there. And they have seen some changes. "When we first moved here, there were so many families with kids; just about every family on the block had children," said resident Alberstine Porter.
The kids of Berwood have all grown up now and had kids and lives of their own. Many of them have moved to other areas of town. Mary Porter, Alberstine's daughter, said she remembers having many neighborhood friends as she was growing up. "We all went to school together all the way from elementary to high school, she said. "We were good kids, and the neighborhood was very close, so if you did wrong, someone would tell your parents," she said.
Porter said that has changed, also. Not only are there not as many children in the neighborhood anymore, but the ones there now are unruly and disrespectful, according to the Porters. "They play loud music and will talk back in a minute. We did not do that when I was growing up," Porter said.
A Unified Block
When the neighborhood first began to develop as it is today, a group of individuals started the Berwood-Azalea Circle Block Club. This organization has been the governing body for the neighborhood since the late '80s. Garner is the current president of the Block Club.
Neighbors participate in a number of activities during the year. Starting around August the neighbors have a Night Out Block Party where they get together and have food and fun. During the Christmas holidays, they decide what decorations will be put up—giving the neighborhood a sophisticated look. "We try to come together on a theme so that the neighborhood can look unified," Garner said.
Also in the spring they have a Spring Cleaning Trash Pickup Day where neighbors clean up the block and try to clean their own lots especially. Then during the month of April, Berwood has a parade, celebrating pride in the neighborhood.
Berwood has remained unchanged for a long time now, but this was not accomplished without some NIMBY (Not in My Back Yard) issues. A few years ago, a developer sought to use some of the Berwood area to build some affordable housing apartments. The neighborhood fought and was victorious in getting the developer to move his plans.
"We just felt that this would be bad for our area because usually apartments like those bring around a lot of crime and undesirable elements," Garner said.
Business of Education
In fact, most of the commercial real estate is on the borders of the outermost neighborhoods surrounding Berwood, leaving the heart of the area completely residential.
Most of the businesses in the area are located on Watkins Drive or Northside Drive. There are three salons on Watkins, which include Christina's Hair, Essence of Beauty and Hair-No-Things. Charlene Miller, owner of Hair-No- Things, said: "I feel safe in this area as far as crime goes, and we are located right near New Hope Baptist Church where a lot of my clients come from. I think this area is great."
In addition to all of the fast-food restaurants in the area surrounding Berwood, there are also quite a few day care centers, including Carrot Top Day Care on Northside Drive, Hanging Moss Day Care Center on Hanging Moss Drive and God's Little Blessing Day Care on Forest Avenue.
The children in this area attend school on the elementary level at either Watkins or Green Elementary. Watkins is located on Watkins Drive less than a minute away from the neighborhood. The school is currently a Level 3 school, which means it is successful. Also, 100 percent of the teachers at the school are considered highly qualified under federal standards. Watkins offers Open Doors, a gifted program that spans grades 2-8. These classes emphasize analytical skills, creative problem solving and leadership skills. Students in the program spend about five hours a week in Open Doors classes. The school has an enrollment of 477.
Green is another exceptional school near the rear of the neighborhood located on Forest Avenue. It is a Level 4 school, and 100 percent of its teachers are highly qualified. Green also offers a gifted program, the Melo Tone Choir, which has performed all over the city, and the Superintendent's Book Club, also known as the Super Book Club. The school has an enrollment of 480.
Local children attend Chastain Middle School, which is five to 10 minutes away on Manhattan Road off Northside Drive. This is a Level 3 school, and 96 percent of its teachers are highly qualified. The school has an enrollment of 1,055.
It offers a gifted program called Academic and Performing Arts Complex (APAC). This program is open to students in grades 4-12 who are academic achievers or who show a talent for the visual or performing arts.
Most of the high school students in the area attend Callaway High School. Callaway is located about ten minutes away on Beasley Road. It is a Level 3 school, and 99 percent of its teacher are highly qualified. This school offers Advanced Placement courses, a program for advanced level students in the areas of English, Physics, U.S. History, Music Theory and Art. After successfully completing AP testing, students may earn college credit. Callaway has an enrollment of 945 students.
Berwood Crime Watch
Most of the residents in this area agree that crime is not a big issue, but it has increased over the years. Thirty-five-year resident Lillian Poe said that she has had two break-ins since she has lived at her Berwood Drive residence. "But crime has definitely changed because six days after I bought my car it was stolen. Also we worry about locking our doors—something we did not have to worry about in the past," she said.
The Block Club also has a crime watch that neighbors say has been helpful in preventing crime. In fact, in the last month the Berwood area has had no reported crime. This area is in Precinct 4, which has had the second highest number of crimes reported to date this year at 2,400 which is down from last year's 3,071. Most of the crimes reported in this precinct are automobile burglary crimes. This year alone the precinct has had 952 auto burglaries reported.
Garner said that the future of Berwood is questionable at this point: "I don't know what the future holds for Berwood because we are getting older and moving into homes or elsewhere, so who knows what the neighborhood will be like in a few years."
Send neighborhood news to [e-mail unavailable].
Previous Comments
ID

77917

Comment

So basically what the resident Porter is saying is that when it was a majority white block, the kids were respectful and nice, and now with it being a majority black block, the kids are rude and play loud music? hmm sounds like some black on black racism here.

Author

RightonTarget

Date

2005-02-11T15:01:28-06:00