Wednesday, December 1, 2004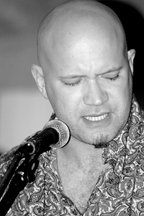 Scott Albert Johnson, 34, knows he returned home to Jackson at just the right time. From the time he was 18 up until last year, Johnson went to college, grad school, worked—as a journalist, a Web page designer, and at a think tank in metropolitan Washington, D.C.—and lived across the country from coast to coast. He rediscovered his love of American music in D.C. five years ago and soon developed a new-found talent on the harmonica. He's a prolific musician and part-time actor, with dreams of making his living doing just that. In the meantime, he also works with Jackson's Operation Shoestring. Their second annual fund raiser takes place Dec. 2 at Hal & Mal's from 6 p.m.-1 a.m.
What brought you back to Jackson?
I had been feeling the pull back to the South for some time. D.C. was getting expensive, 9/11 happened—tough and traumatic—I missed my family. The music was a big pull, too. There's no better place to be than in the crucible—I believe Jackson to be the epicenter of American music, between New Orleans and Memphis, Austin's outlaw rock and Georgia's jam rock. It may not be the biggest city or have the biggest venues, but there's a high quality of musicianship here, a communal music community that welcomed me, that let me jump in feet first without a paddle, to mix metaphors.
What about Operation Shoestring led you to become involved with it?
When I came back and started playing music, I wasn't making enough money to support myself, so I was looking for some way to use my professional background without a 40-hour week. I needed flexibility. It's fortuitous that my work at Operation Shoestring fits with my other pursuits.
What sort of work do you do for Operation Shoestring?
I'm a communications consultant and event planner. I do their newsletter and Web site as well as any PR needs.
What does Operation Shoestring do for its neighborhood?
Their basic mission is empowering members of their community. The central daily focus is after-school education for kids of the Bailey Avenue neighborhood. After school, about 40 kids are involved in reading, math, confidence building and arts education.
The Operation Shoestring Benefit is Dec. 2. What are your responsibilities with it?
I'm managing the logistics, setting the schedule for the artists, booking artists, getting out ads and posters, coordinating with sponsors, like Morrison Brothers Music who are providing amps and drums. I'll also be performing, along with Brian Coleman, Chris Derrick and Jim Higginbotham.
What are Operation Shoestring's goals for the benefit?
The No. 1 thing is for people to have a good time. Second, it's to give a larger community a sense of investment in Operation Shoestring's mission—we're all part of one community, we're all brothers and sisters. We all have an investment in the success of our young people. You can see the results of this organization on a minute-by-minute basis. There's a cross-section of musicians donating their time, from big names in the state to local musicians, willing to give up a night's work to raise money for these kids. It's local people wanting to help. For $15, you can see 13 acts on three stages. The full schedule is at http://www.operationshoestring.org or call 353-6336.
What's one thing most people don't know about you?
I was a barefoot field goal kicker throughout college, for Harvard. Altogether, I made 21 field goals, with 12 in one season.