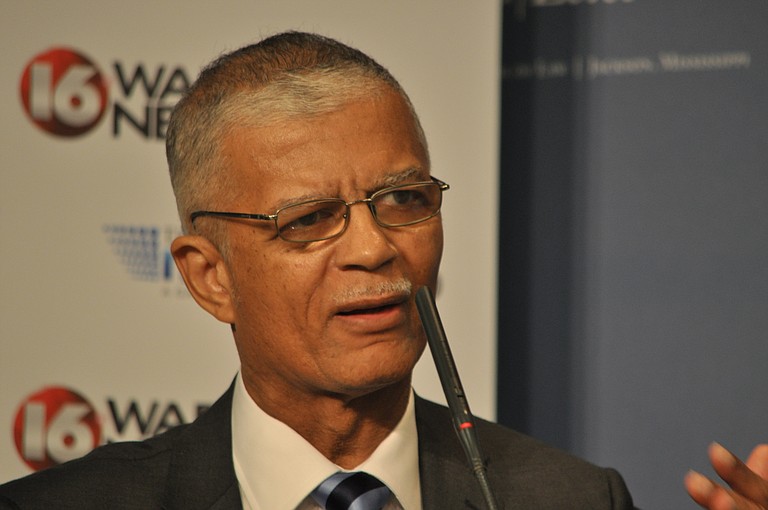 Wednesday, December 8, 2004
JACKSON — Editor's note: This story about Chokwe Lumumba's battle with the Mississippi Bar Association published in 2004. Because he is running for mayor in 2013, we have added PDFs of related legal documents provided to us by attorney John Scanlon.
Activist attorney Chokwe Lumumba, the founder of the New Afrikan People's Organization, is headed back to court this week to fight for his professional life. Again. The Mississippi Bar is arguing for the disbarment of the attorney, who is known for representing black men accused of violent crimes from 17-year-old South African Azikiwe Kambule to rapper Tupac Shakur to ex-police officer Eddie Myers who was found innocent of murder in October 2002.
The current fight started in 2001 when Leake County Circuit Court Judge Marcus Gordon held Lumumba, who works with Freelon & Associates in Jackson, in contempt. Lumumba was representing Henry Payton, 43, who was charged with kidnapping, bank robbery and arson in May 1996, for driving the getaway car in a Walnut Grove heist (and then leaving his three accomplices inside the bank, where they took the bank president hostage).
Payton, who is black, was convicted and sentenced to life in prison. But the Mississippi Supreme Court overturned the conviction, because District Attorney Ken Turner had used a "send a message" defense argument with the jurors—that is, they should sentence Payton harshly to set an example—while seeking lesser sentences for his accomplices. The case was sent back to Gordon for a new trial.
Lumumba was first angered when the judge allowed Payton to be paraded before the jury pool in chains, risking jury bias, but his move to replace the jury pool was denied. After the jury convicted Payton of robbery and arson (not kidnapping), the judge sentenced him to 48 years. After several jurors came forward to say they did not believe Payton was guilty, but had compromised with other jurors due to Gordon's instructions, Lumumba asked for a new trial, but was denied Oct 17, 2001. That day Lumumba loudly accused the judge in the courtroom of "unfair handling of this matter."
Gordon sentenced Lumumba to three days in jail for violating the Code of Professional Ethics. The Mississippi Bar Association then filed formal charges to disbar him.
His hearing before the Supreme Court is scheduled to begin Dec. 7. Over the last two years, many rallies—including one last week by black lawyers at Mikhail's on Dec. 2—have been held in support of Lumumba. "The significance of the Bar's actions and the complicity of the Supreme Court of Mississippi will have a chilling effect on all Mississippi lawyers and black lawyers in particular," said Lumumba's attorney Imhotep Alkebu-lan in a Dec. 2 statement.
"I'm glad to see that the people of Jackson know how important this man is," state Rep. Jim Evans, D-Hinds, told a group of supporters at Freelon's in October 2002. He said then that blacks must "stop letting folks divide us." They must come together to defend Lumumba, he said: "This battle is just beginning; they want this brother bad."
Previous Comments
ID

64313

Comment

Does anyone think.... just maybe... this guy actually BROKE THE LAW? I know that he claimed a judge took bribes in the judges's own court. I read the transcript... You can't say those things to a judge no matter what color you are.

Author

Lee

Date

2004-12-12T08:23:11-06:00
ID

64314

Comment

Does anyone know the outcome of Lumuba's disbarment hearing?

Author

buckallred

Date

2004-12-14T13:12:58-06:00
ID

64315

Comment

This guy broke the LAW, plain and simple. We'll NEVER hear about what HE did WRONG here though. There's bad people on both sides. That's a FACT.

Author

Lee

Date

2004-12-21T20:53:38-06:00
ID

64316

Comment

Well, what about reporting the WHOLE story here? HMMMMMmmmmmmm........

Author

Lee

Date

2004-12-22T19:45:33-06:00