Wednesday, December 22, 2004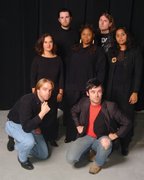 There is no typical Jackson filmmaker. It's easy to see this just by looking at the work, and hairstyles, of our eight featured filmmakers. Rick Moore calls himself "just a regular guy," yet he runs the very successful film studio Eyevox; Nina Parikh balances a new marriage, the busy Crossroads Film Society and her own work on a music documentary, all with a beautiful smile. Jason Marlow stays up well past 5 a.m. some nights, toiling away on artistic projects with his friends. Nope, there's no typical Jackson filmmaker, but there are plenty of them. Ranging from Philip Scarborough's anti-tobacco commercials to Will Fox's latest short film "Revisited" to Lorena Manriquez's documentary about Chile after the coup d'etat in 1973 of President Salvador Allende, the work of these filmmakers is keeping the creative class alive and thriving in the city.
These aren't the only filmmakers lurking around Jackson. This is just a taste. But it's a nice, diverse sampling to help you appreciate—and support—Jackson's burgeoning film scene.
Jason Marlow
Jason Marlow only recently made the transition from film fan to filmmaker, but he's already completed a number of works, one running more than an hour. "I've always had a love of making things and seeing things move," says Marlow, who has extensive experience with graphic work and has also done gallery installations. "It's a curiosity game with me; I like to play with narrative and composition, and that's what most of my work deals with." Marlow says he will watch practically any film; he's fond of so many directors and movies that it's difficult for him to choose favorites. He mentions "One Flew Over the Cuckoo's Nest," "Rear Window," "Vertigo," the "Cremaster" cycle and the music videos of Michel Gondry as some of his favorites.
Marlow actually praises the only-recently burgeoning film scene in Jackson as an advantage to local independent filmmakers. "There's no set style, yet, and it's not as competitive as in a really big city," Marlow states. "In New York or Los Angeles, permits to film in locations can take weeks to get, but accessibility is pretty open here. It's a very accepting area right now, with many opportunities." He acknowledges, however, that artists suffer from a lack of visibility once their projects are completed, but says that will soon change.
His own visibility will grow with the spring production of "Carmina Burana." Marlow is creating an animated film based on submitted artworks for this massive orchestration by the Mississippi Symphony Orchestra.
"I love the piece so much. It's an incredible piece, and I wanted to do something specifically for Jackson that has yet to be done," he explains. "It's an opportunity to make Jackson a better place for the arts."
— Paul Dearing
• Age: 25
• Years in film: Roughly two,
previously experimented with
graphic design
• Projects completed: Eight, among
other smaller efforts, like the
MAX Italian furniture commercial
• Preferred genre: None/eclectic, but
particularly enjoys (well-made)
horror films
• Favorite director: Tough to choose,
but cites Alfred Hitchcock, Stan
Brakhage, Chris Cunningham
and Matthew Barney as influences
Yvetta Williams
Yvetta Williams, a Jackson native, says that independent filmmaking is all she has ever wanted to do. For Williams, this is not strictly about entertainment, but also a way to put a spotlight on important issues in the community: "It's rewarding bringing to light an issue, the idea of getting people to think. If I can spark discussion, I know change can be sparked."
Williams says that, as a socialist nationalist, she wants all of her films to have a message of social change, for the betterment of people. Her current project, titled "Broken Silence," focuses on HIV/AIDS and is being funded in part by Mississippi Film and Video Alliance, Mississippi Arts Commission and Endowment for the Arts. The film spotlights the issue of "black men having sex with other men and going home to their wives and girlfriends. I recently learned a lot of black women are getting AIDS this way," Williams says.
Williams graduated from Provine High School, Tougaloo College and the University of Mississippi, where she studied film. Williams says the most rewarding part of independent filmmaking "is seeing your vision come to life, when you see it for the first time as a finished product. It's indescribable."
Yet the most difficult part, Williams says, is raising funds for her projects. "It's very hard to get started. It's hard for people to take you seriously," Williams says. Because of the financial issues, she says, "It's not something that has sustained an income. I've always had to do other things." Marketing the films is also a challenge and requires "a lot of footwork," Williams says.
Prior to her independent film projects, Williams worked with Mississippi ETV as a producer, director, and writer for five years, doing production work for shows such as "Conversations," "Mississippi Roads" and "Outdoors."
Williams wants to see the independent film market in Jackson continue to flourish and receive more feedback from the community. "It's important that Mississippi supports its filmmakers. We have a goal: to make films for and about Mississippi. Rather than get outsiders (to portray Mississippi), we want to do it. We hope the community appreciates that."
— Daniel Townsend
• Age: 32
• Years in film:
Since 1995. Nine years.
• Projects completed:
Four movies—
"Just As I Am,"
"Dazed Souls,"
"The Crooked
Lettaz Experience"
"Emancipation"
• Preferred genre:
Drama or films
"with a social message"
• Favorite director:
Spike Lee and Gordon Parks
Lorena Manriquez
Now an emerging talent in the film community here in Jackson, Lorena Manriquez has had anything but a traditional background in the medium. In fact, she has only recently embarked on this new direction since arriving to the area four years ago. A native of Chile and prior resident of the Los Angeles and New York metropolitan areas, Manriquez has enjoyed lasting careers in civil engineering and painting. Yet film has always been an important interest in her life. After befriending other filmmakers and connoisseurs in Jackson, and eventually serving as president of the Crossroads Film Society, she decided to give it a shot herself.
Manriquez is wrapping up production on her first major work, entitled "Ulises Odyssey." This is a documentary about her Uncle Ulises, dealing with his escape from Chile after the coup d'etat in 1973 of President Salvador Allende and the beginning of Gen. Augusto Pinochet's dictatorship. The film, laced with archival footage of the coup, recounts the effect this event had on his family and Ulises' eventual return to his home from Switzerland after 30 years of exile.
Manriquez considers the tightly knit and growing Jackson film community to be advantageous in the respect that its small size requires collaboration and learning new skills together. She also considers her background in painting and visual art important in creating a seamless transition to this new medium. But ultimately, Manriquez is interested in documenting a story that she believes needs to be told, and in doing so she is forging her own journey of discovery.
— Randy Perkins
• Age: 39
• Years in film: 3
• Projects completed:
Currently working
on first independent project
• Preferred genre:
Documentaries, shorts
• Favorite director: Carlos Suara
("Blood Wedding," "Tango")
Will Fox
Will Fox works for a national advertising agency during the day, but on the weekends and any other time he has, Fox is an up-and-coming filmmaker. Fox's newest effort is the short film "Revisited." Fox named this as his favorite project to date because he said he had to utilize the most resources, and he got to do this with the help of the Mississippi Film and Video Alliance and some of the local businesses.
"In fact, area businesses have given me so much," he says. "All you have to do is ask. Many young filmmakers underestimate the number of resources available. If you just show them some passion and an artistic goal, they will usually be glad to help you." Fox got help from Eyevox, the Edison-Walthall Hotel and the Video Café. Each provided either equipment or accommodations of some kind. In "Revisited," Fox had to get cows, shoot underwater and shoot on a levee on High Street with a cow wrangler.
Fox says one of his strongest non-film influences is John Berry, author of "Rising Tide: The Great Mississippi Flood and How it Changed America." "Being from Greenville, I liked how it was set in the Delta. I like how it rejected some of the cultural ideals and helped me rediscover some notable things about the Delta." Fox says filmmakers are trying to carry on the tradition of Mississippi's storytellers and famous writers. He believes, though, that only part of the Southern experience is getting captured on film. The only one getting it right, according to Fox, is David Gordon Green ("George Washington"), so Fox is trying to capture this on film himself. From the sound of it, Fox seems to have made a very good effort with "Revisited." — Brett Potter
• Age: 25
• Years in film: About 10
• Projects completed: Several short films, a music video for the Laurel Economic Development Authority and his newest short film "Revisited"
• Preferred genre: Dramas because they "deal with emotions on a real level. They communicate realism."
• Favorite director: Paul Thomas Anderson and Hal Ashby.
Philip Scarborough
Philip Scarborough, 33, has often been in the right place at the right time. For starters, he's a Southerner. Once he was consumed with a desire to make films at the age of 11 after seeing the making of "Raiders of the Lost Ark" on HBO, Scarborough got a Super 8 camera for Christmas. When he enrolled in Southern Miss' film school in 1994, his out-of-state tuition was waived because his home state of Alabama didn't have a film school. His two student films struck a chord at film festivals here and abroad. Six months ago, he started his own Jackson production company, Lathe Production, and co-directed a series of eight popular anti-tobacco commercials that are still airing on local TV.
For Scarborough, the difference between film and commercials is blurry. "I love technology, the technical side of filmmaking. And I edit most of the time in commercials," he says, adding that it's all on computer. Making commercials or film in Jackson has its advantages (unique backdrop, ready-made sets, the story-telling tradition) and disadvantages (a lack of exposure for your craft, for one). Moving to L. A. would remedy that, but the key, Scarborough says, is to promote your product. "Thank God for the Internet," he says.
Scarborough does wish he could be behind the camera more. He says he's not done, yet—he's ready to make a feature film that will dispel many Southern stereotypes, although he realizes some of them are true. " This is such a weird, quirky place," Scarborough says. "If I want the story and I believe in it, nothing could get in my way." — Lynette Hanson
• Age: 33
• Years in film: 10 years professionally;
consumed by film since he was 11
• Projects completed: numerous
commercials, two well-received
student films, "Papa" and "The
Light," and 11 other short films
• Preferred genre: To make: whimsical,
dark-humored, tongue-in-cheek. To
watch: all genres in foreign films
• Favorite director: Calls Orson Welles,
Federico Fellini, Stanley Kubrick
and Wes Anderson "film gods"
Rick Moore
Rick Moore doesn't consider himself a purist. He tries to find the good in all forms of film, whether it's the latest Pixar or a local commercial. "I don't pick things apart," he admits. He just really likes film—he's been heavily involved in it since he was 16 years old. After working "everywhere locally" and freelancing work for big-name companies like ABC, ESPN and HBO, Moore finally decided to open his own studio, Eyevox.
"When I started the company, I really saw myself as a documentarian," he says. "Now, I'd love to do a movie, but it's hard. I erected the company because I'm a dreamer."
The dreamer wanted to be involved in every avenue of film, and the only way to do that was with staff and equipment support. Over the last seven years, Eyevox has grown into quite the company, part of what he considers to be a burgeoning film scene in Jackson. "A lot of great strides have been made here," he explains. "Nina Parikh and Crossroads have helped tremendously. It's a market I'd really love to be more of a player in independently, but it's hard." For Jackson to really take off, though, he says more people must be willing to work in crew positions: "Jackson can't attract a good movie without a solid crew base, but there has to be work to get a crew."
Until then, he and the other folks at Eyevox, are doing their best to put Jackson on the map—taking stories and producing their own works, no matter how small.
— Casey Parks
• Age: 33
• Years in film: 17 years. Began
what is now Eyevox in 1997
• Projects completed: Several
commercials through Eyevox,
freelance work for ABC, ESPN
and HBO, music videos for
Malaco Records
• Preferred genre: Right now,
animation but really interested in
every avenue of film
• Favorite director: Anything done
by Pixar, Stephen Sodenberg
Nina Parikh
Nina Parikh didn't know what she wanted to study when she headed down to Southern Miss. She toyed with the idea of being a photographer; she loved stories. When a friend suggested filmmaking, it just so happened that Southern Miss had such a program. After graduation, she completed a summer program at NYU and did freelance work. Parikh has since been involved in just about every facet of filmmaking.
Since 1998, she has worked in the Mississippi Film Office, a division of the Mississippi Development Authority. Her mission? "To promote filmmaking as economic development and promote the business of filmmaking in Mississippi," she says. Her agency makes available a number of resources to aspiring filmmakers, everything from scouting locations to putting together a crew. Parikh, happy to be immersed in something she loves, says, "I get to be involved with what I am passionate about. The downside is I don't have time for my own work. But I am trying to carve out more time."
In addition to her work with the state, she is also a founding member and associate director of the Crossroads Film Festival. Parikh belongs to the Mississippi Film and Video Alliance, which provides support for fledgling filmmakers across the state through grants and other services.
"The goal is to get Mississippians to tell Mississippi stories, so all our stories can be heard," she explains.
Parikh is currently working on two very personal projects. Parikh is the daughter of immigrants. Her documentary portrays the struggles of living in a family with members who have lived in two different worlds. Parikh is also working on the story of the evolution of the band Remy Zero, whom she has been close to for years. "It's about the creative process, the music industry, and the relationship between artists and how the band and myself have affected each other," she says.
For Parikh, audience response to her work is what drives her. "I want to stimulate them into coming back," she says.
— Catherine Womack
• Age: 31
• Projects worked on: "O Brother,
Where Art Thou?,"
"Big Bad Love," "The Ladykillers"
and "I Walk the Line."
• Preferred genre: Foreign films,
documentaries and indie films
Billy Senese
Billy Senese, a 34 year-old Chicago native, has been filmmaking in Jackson for two years now. Senese said he and his friends dabbled in filmmaking in high school, and after being put in a drama class, he decided to drop architecture, which had been his first choice, and pursue drama.
Senese has completed one feature film thus far, a "psychological thriller" called "Tucked Away," and is currently writing a new feature that he describes as a suspense movie. Senese began "Tucked Away" in Dallas, where he lived after graduating from the University of North Texas, but he completed the film in Jackson. Working on it during nights and weekends, Senese said the project took about three and a half years. Senese hopes to finish writing his new feature by this summer. How long it will take to make the feature depends largely on investors.
Commenting on his experience working in Jackson, Senese says: "The people here are great to work with. Everybody is so professional. The competency of everybody is great."
Marketing and promoting his films are the hardest part of the entire process. "I'm good at doing the work, but I'm here at the crossroads of putting my film out there. It doesn't come naturally to me to sell anything. It's like feeling around in the dark," Senese explains.
In October, Senese worked with director Will Fox on a short film, "Revisited," which has been entered in the Crossroads Film Festival. Senese says that, overall, he has completed three or four shorts, which run 15 to 20 minutes, as well as rock video.
— Daniel Townsend
Billy Senese was working in Nashville during the photo shoot and was unavailable.