Wednesday, December 22, 2004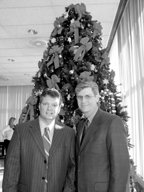 Lighting a Christmas tree isn't always a happy, festive occasion. Last week, mothers, sisters, fathers and brothers of some of Mississippi's crime victims gathered in the Carroll Gartin Building in downtown Jackson to pay tribute to their murdered family members. During this time of year, it is difficult for families of crime victims to emotionally cope with their losses. In an effort to ease or assist the healing process, Attorney General Jim Hood's office held a tree-lighting tribute to the victims of crimes in the state. The victims' families that were present decorated the tree with ornaments bearing the name of their slain family members.
After the ceremony was complete, many victims' family members found comfort in socializing with others who have been in their position.
Pat Ferguson's 14-year-old son, John, was murdered just two weeks ago in Jackson. "I am able to meet people that I would not have met otherwise," she said at the ceremony. "It has also shown me that color does not matter; we are all a part of club that no one wants to belong to."
Hood told the families: "Crime impacts us all. It does not matter what age, race or gender you are; it affects us all. This is the Christmas season, and that helps us to remember that there is a savior and that is what helps to keep us strong."
Another mother of a murder victim, Carolyn Clayton, said that this was a wonderful way to be able to honor her daughter. "I am an 18-year survivor of a homicide victim," she said. "Speaking as a mother whose child has been killed, I think that this day is very important. To be able to hang an ornament with my daughter's name on it in a state building is a great tribute to my daughter. It gives me a warm feeling inside. I thank the attorney general and all those responsible for making this happen."