Wednesday, December 22, 2004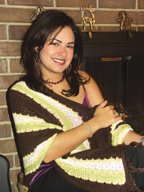 Living most of her life in Venezuela, Vanessa Butler as a little girl had dreams of becoming a flamenco dancer. "I studied at a dancing academy as a child, and here I have performed with the Mississippi Hispanic International Folklore Group," says Butler, 26. "I have always wanted to be a dancer, but as you can tell it is just a dream." The group stopped dancing last year due to busy schedules. "It is hard to try to keep it all together," she says.
Now, though, Butler wants to be an attorney. Until that happens, her main activities include running a small translation business, attending Jackson State University as a full-time political science student, helping to establish the state's first Hispanic Chamber of Commerce and, perhaps her most important job of all, being mommy to a little 3-year-old fireball named Isabel. "She is the most important thing in my life. My happiest moments are spent with my daughter," she says, as she kisses Isabel's cheek.
One by one, the members of Butler's family have moved to Mississippi from South America. When Butler made her journey five years ago, speaking English was hard—ironically, being that she now owns a translation company. "If you can believe it, learning the language was a big adjustment for me," she says. Butler worked through the language barrier by enrolling in an English as Second Language course at JSU. She also talked to people and watched television.
Overcoming the barrier was important to Butler because of her legal aspirations. "I was in law school in my country, but I decided to drop and come here. I wanted to learn the language, and the culture and really be closer to my family," Butler says. She wants to go to Mississippi College School of Law. "There is a great need here for bilingual attorneys, and I hope to be one of the first in the state," she says.
Butler's family brought with them the culture of their native country. One of the most exciting times for Butler is preparing a Christmas dish called Hayacas. This dish—pork, beef or chicken rolled and wrapped in a banana leaf—takes several people to make because each person has his or her own separate job. Making the dish is intimate, she says. "We get together and dance to traditional Venezuelan Christmas music and talk. It is just a good time. We just started to do this in the last two years since most of the family is here now. It reminds me of home," she says.
Previous Comments
ID

82368

Comment

i like your grandma shawl

Author

katherinewg

Date

2005-08-24T15:57:21-06:00
ID

82369

Comment

I've crossed paths with Vanessa many times. She's a delightful human being to be around, and I have so much respect for what she has accomplished in this country and how quickly she has accomplished it. Cheers, TH

Author

Tom Head

Date

2005-08-25T00:30:22-06:00