Wednesday, March 22, 2006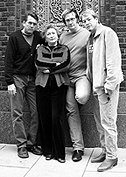 After many years of pain, suffering and litigation, 19 victims of priest sexual abuse are seeing some degree of closure in their fight with the Catholic Diocese of Jackson.
Last week, the diocese agreed to settle several cases filed starting in 2002 for a total of $5,162,500, as well as issue a public apology and agree to remove any person credibly accused of abuse from positions of influence in the church. The diocese also agreed to publicly disclose such policy changes in order to help deter the continued patterns of abuse, which has historically followed many priest abusers from diocese to diocese.
Included is the Morrison family, which the Jackson Free Press profiled in 2004. The family had accused George Broussard of molesting all three sons during their childhood in Jackson—and sued the church for covering it up and allowing Broussard to continue in his position after their father, now deceased, had discovered the abuse.
"I have mixed emotions," Thomas Morrison said this week. "Four years of hell, of people not wanting to take responsibility for what was clearly an awful wrong. And it seems that while some wrong has been corrected here, it's never enough obviously."
One positive, Morrison said, is showing other victims that there is no shame in stepping up and demanding that the church apologize and right wrongs. "At least some victims have stepped forward, and some closure is here. That's a good beginning," he said. "I think (going public) was the only way to make this case so strong. We feel very proud of that. I think so. All my brothers feel the same way."
Still, Morrison is skeptical about how quickly real change will come to the church. "Unfortunately, it was so hard to get the church to come around, to get them to say anything, do anything, admit to anything. Hopefully, this will show other abuse victims that something can be done. The Catholic Church is not invincible. These monsters cannot hide. They need to be held accountable. The only way to do that is to not be ashamed to stand forward."
Morrison said his father, Fran, would "be proud of us," adding, "but he would wish he hadn't gone on so long, wish he'd done something else. He felt like he did something, and then nothing happened. I know he would have been proud of us. I know that."