Wednesday, March 22, 2006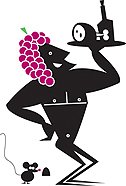 There has been a long debate about the origin of Petite Sirah, a somewhat obscure grape varietal. It was once said to be related to the great Rhone varietal, Syrah. Later the belief was that it was, in fact, Durif, a nearly extinct varietal, also from the Rhone. Or it could have been Peloursin, a really obscure French varietal. By the 1990s, however, DNA fingerprinting confirmed that it was indeed a very distant relative of Syrah. I guess they should have stuck with their first conclusion, huh?
As much as I love Syrah, I absolutely adore Petite Sirah. Now, it's not for the faint of palate, that's for sure. If you like a wimpy wine that offers cute little fruit notes with a bit of oak, you may not want to venture down this road. Even at first glance, you can tell that this wine is no joke. It is inky dark, almost black-purple in the glass. And it doesn't stop there. Once you taste it, you immediately discover that this varietal is big and burly, with tons of pepper and spice and very pronounced tannins. I don't know of many people who age Petite Sirah in their cellars, but they should. Tannin like that gives wine outstanding ageability.
Though this exciting varietal is kin to the big daddy grape of France's Rhone region, the vast majority of it is grown in California. A good bit of it is used for blending—it adds depth and complexity to other, more common, varietals like Cabernet Sauvignon and Zinfandel.
One of my favorite Petite Sirahs to sip on is from Guenoc (around $15). Guenoc is the only winery that is also its own AVA (approved viticultural area). Guenoc Valley consists of around 23,000 acres in Lake County, which lies just north of Napa. Unfortunately for us, their amazing Serpentine Meadow Petite is not readily available in our market, but their Estate Petite is a tasty treat and a bargain. Extremely ripe blackberry fruit and cocoa flavors ooze out of the glass, making it a perfect combination with a chocolatey dessert. The firm tannins and peppery notes make this wine big enough for lamb and other meaty game.
A new favorite winery of mine is Castle Rock. This winery is relatively young, founded just 12 years ago. Their concept is to produce wines from many different varietals grown in areas where each varietal thrives, resulting in what they believe to be the best possible offering at a very affordable price.
Their yummy Petite Sirah (about $11) comes from the Lodi region, which is part of the Central Coast. This wine may be light on the price tag, but it packs a punch on the palate. It shows black cherry and plum flavors with a bunch of spice. A big ole piece of red meat is what you need with this one.
If you're looking for something special, go for the Robert Biale Vineyards Petite Sirah—Thomann Station (about $40). Biale produces primarily Zinfandel, (the Black Chicken Vineyard Zin is unbelievable—look for it today!) but there are very limited amounts of Petite Sirah, Sangiovese, Syrah and Barbera available. This wine is powerful, yet approachable. On the nose, it is quite fragrant, somewhat floral, but nothing's flowery on the palate. This wine explodes with pepper, black fruit, blueberry, and zesty spice. I love a really big wine, and this one fits the bill.
It's time for some adventure. Make Petite Sirah your next experiment at your favorite retailer. With warm weather bringing cookouts and grilled meat, Petite Sirah might become your new favorite.