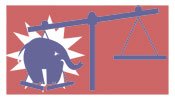 The U.S. congressional investigation of the politicizing of the U.S. Department of Justice is continuing with House Judiciary Chairman John Conyers issuing a June 27 subpoena to the Justice Department. Conyers, D-Mich., demanded a pile of previously requested documents be handed over to the committee by July 9. Included in the requests are documents connected to an alleged DOJ witch-hunt of Democrats and Democratic fundraisers, as well as information connected to the outing of CIA agent Valerie Plame, whose husband spoke out against shaky evidence supporting the war in Iraq.
"We have concluded that a subpoena is warranted in this instance in light of our many (ignored) prior requests for these documents," Conyers wrote in a letter to U.S. Attorney General Michael Mukasey.
The investigation touches down in Mississippi where Conyers believes White House adviser Karl Rove allegedly used the U.S. Department of Justice as a weapon to target Supreme Court Justice Oliver Diaz and prominent attorney and Democratic donor Paul Minor, as well as Judges Wes Teel and John Whitfield.
Mississippi U.S. Attorney Dunn Lampton prosecuted Diaz two times for two separate allegations, first hitting the judge with a corruption indictment and later for tax evasion. Both failed to connect with a jury. Lampton also failed with his corruption charges against Minor, Teel and Whitfield in 2005, but then retried and won convictions on all three in 2007, after U.S. District Judge Henry Wingate ruled out the need for proof of the bribe.
Minor filed an appeal to the conviction this week, arguing that Wingate failed to define bribery in jury instructions and refers to the congressional investigation of selective prosecution in the DOJ.
The congressional investigation now includes the prosecution of former Alabama Gov. Don Siegelman, whom Conyers suspects the U.S. Department of Justice also targeted.
The subpoenas arrive in the wake of a startling report from the U.S. Department of Justice's Office of the Inspector General and Office of Professional Responsibility confirming that DOJ officials were biased against interns with liberal backgrounds.
The report found that Summer Law Intern Program candidates "whose applications reflected liberal affiliations were deselected at a substantially higher rate (82 percent) than SLIP candidates whose applications reflected conservative affiliations (13 percent) or neutral affiliations (39 percent)."
The report also states that two members of the 2006 screening committee—Esther Slater McDonald and Michael Elston, the committee chairman in 2006הtook political or ideological affiliations into account in deselecting candidates in violation of department policy and federal law," adding that "McDonald wrote 'disparaging statements about candidates' liberal and Democratic Party affiliations' on the applications she reviewed and that she wrote to deselect candidates on that basis."
Elston, the report said, "was unable to give credible reason as to why specific highly qualified candidates with liberal or Democratic credentials were deselected," and "later admitted," despite initial denials, that he may have deselected candidates "due to their affiliation with certain causes."
DOJ employee Daniel Fridman testified to investigators that Elston assigned him to the screening committee to help weed out "wackos or wack jobs."
In response to the report, Conyers wrote in a June statement that "two important Justice Department watchdogs have resoundingly confirmed one of the central allegations of the (Judiciary) Committee's DOJ politicization investigation. Yet again, the department has been putting politics where it doesn't belong."
Conyers added that the Judiciary Committee "already (knew) from the Committee testimony of Monica Goodling that she 'crossed a line' in hiring career attorneys as well," and that "it appears the politicization at Justice was so pervasive that even interns had to pass a partisan litmus test."
Former U.S. Attorney Brad Pigott, who served under former President Bill Clinton, told the Jackson Free Press that he was dismayed at the report's findings.
"I know some of the most able lawyers that the U.S. was able to recruit out of law school were recruited through the honors program. The public had a big stake in getting the very best young lawyers into that program without regard to their ideology, and it is unthinkable during those years to let someone into or out of that program based on the ideology of politics," Pigott said.
"It never would have happened during the 1990s."
Previous Comments
ID

131864

Comment

Very good job, Adam. So glad to see you sticking with this story. Hopefully, Conyers and all, will some day get the repugnant individuals who corrupted the department and abused potential employees. It seem this administration is corrupt from start to finish. I'm not surprised by it though because when the pursuit, use and abuse of power is your greatest goal or achievement with the interest of the people coming in third or fourth this type of conduct and worse is easily defaulted into.

Author

Walt

Date

2008-07-03T12:01:31-06:00
ID

131865

Comment

I likewise hope that any innocent people convicted as a result of the same abuse are released from incarceration.

Author

Walt

Date

2008-07-03T12:03:27-06:00