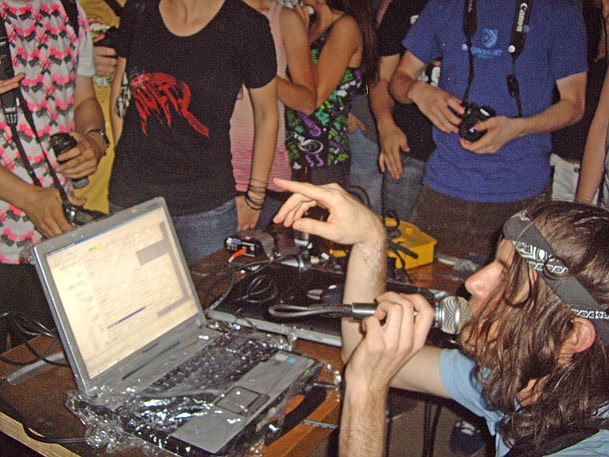 The walls of a live music venue absorb a lot of sound during its time, but it's safe to say that few walls have ever encountered the amount of sound that the Thirsty Hippo did when Gregg Gillis performed in the tiny Hattiesburg bar last week. Known to the world as Girl Talk, Gillis set up his Saran Wrap-covered laptop and rocked the sold-out crowd to mash-ups using songs by Three 6 Mafia, Fleetwood Mac, Metallica, Rick Springfield, Toto, M.I.A. and many more, all arranged in a well-choreographed musical "collage," as Gillis put it.
The 26-year-old Gillis, a native of Pittsburgh, Pa., began his career playing experimental music in high school, which was "definitely a stepping stone for what I'm doing now," he says before performing his set. "I found out about experimental music and started doing all electronic-based stuff. I didn't have a computer back then, just physical toys and synthesizers."
His early performances were largely based in performance art, focusing "almost more so on the performance than the actual music." This led Gillis and a friend to begin recording skipping CDs and splicing cassette tapes in what he refers to as "appropriating sound in a juxtaposition between avant-garde and pop." It wasn't until he purchased a laptop his freshman year at Case Western University in Cleveland, Ohio, that Gillis began to use software Audio Mulch and Adobe Audition to create his music and entertain small crowds at parties.
Thanks to Pitchfork Media's positive review of his album "Night Ripper," more and more fans have flocked to see Gillis perform with his laptop PC, covered in Saran Wrap to shield it from spilled drinks and sweat. With hundreds of samples cataloged and archived at his fingertips, Gillis produces what seems to be a purely spontaneous performance, but in reality, it's not.
"Hearing an isolated part of a song, whether it's a vocal breakdown or an instrumental, something that sounds cool to me," he says. "I go home and sample it and catalogue it and don't worry about it. And then whenever I'm preparing for the live shows, it's all live sample program in these templates where I can exchange this beat for this beat and plug in something new here." After doing it so much, sampling is a speedy process for Gillis, but the actual arrangement depends less on intuition and more on a trial-and-error process.
Don't be confused, though. While he mixes and mashes live like a DJ, he doesn't consider himself as such, recalling: "For the first four years I was doing it, no one ever referred to me as a DJ." When looking at a standard DJ's set and Girl Talk's live performance, the major difference isn't necessarily the material used, but the way in which that material is delivered to the audience. Whereas a contemporary DJ will, if they have a remix of a particular song, take it and work it into their set, Gillis and performers like him do not play entire songs in their sets, but rather cue up samples of music, arranging them on the fly, creating a "recontextualized" piece of music.
This idea of "recontextualizing" music is rooted in Gillis' interest in pop culture and music, citing a fascination with taking the work of whom he calls "these untouchable characters" of culture (musicians and pop icons) and making it completely his own. He mangles tracks, loops samples and produces a work that makes the listener recall the original inspiration for Gillis' track, but presents it in a new, different way.
"Appropriating sound" naturally raises some eyebrows concerning the legality of what he's doing, causing people to question if he's violating intellectual property laws. Gillis, whose brother-in-law is a fan of his music and an intellectual property lawyer in Washington, D.C., disregards commentary that dismisses his work as illegal as being uninformed.
"There's a thing in United States copyright law called 'fair use,' and it states that you can make work out of pre-existing media under certain criteria," Gillis says. "And there's this huge academic and legal movement toward having a more free exchange of culture."
This movement includes Rep. Mike Doyle, D-Pa., the vice chairman of the House Subcommittee on Telecommunications and the Internet, who has likened Gillis' use of sampling to Sir Paul McCartney's use of a Chuck Berry bass line in the Beatles hit "I Saw Her Standing There."
The rumbling controversy is only more publicity for this underground-artist-turned-nationally-recognized mash-up-magician. While he says he's not sure that music is what he'll do forever, he's having fun right now and enjoying the ride. With the crazy combinations of songs he cranks out for crowds, clearly he won't be riding alone.