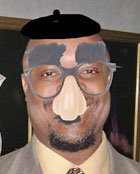 Boneqweesha Jones: "Live from the Ghetto Science Television Network studios, this is your 'Qweesha 2008' news brief. That Don Imus; when he talks, people nationwide hear him loud and clear. He's such an inspiration. And he has influenced our rival the Operation White Backlash television network to begin production of a new game show called 'What Race Is He?!'
"Most thought Mo'tel Williams' 'Negro Rigged Jeopardy' game show pushed the envelope regarding racial stereotypes. The title of this new show—inspired by Imus' response to a troubled African American pro football player—is more like shoving the envelope in the faces of a scrutinizing public.
"Live, via satellite, from Aunt Tee Tee Hustle's house is Kunta 'Rahsheed X' Toby, GSTN's massmedia analyst. What's your take on this issue?"
Kunta 'Rahsheed X' Toby: "It's another Britney-like moment in America. Oops, he did it again on another radio network. Frankly, I'm not shocked or surprised. The man continues to show his true self. In the words of Dr. King Jr., 'Truth crushed to earth shall rise again.Ҕ
Boneqweesha Jones: "Also, the OWB network tried to lure Bart, Brett and Bubba—token Caucasian members of the Ghetto Science Team—to participate in the production of 'What Race Is He?!' This GSTN anchor is glad to say that our white brothers didn't go for the okey doke."