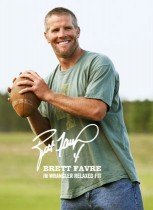 Brett Favre, the "publicity whore" as one radio talk show host called him, is back in then news dismissing an ESPN report that he plans to end his brief retirement and return to the NFL.
As usual, the former Green Bay Packers and Southern Miss quarterback spoke through his hometown newspaper, the Biloxi Sun Herald. Favre has a longstanding relationship with Sun Herald writer Al Jones. Favre likes to communicate with the world through Jones because what Favre is likely to end up in print unfiltered. Favre's latest communication with Jones was via a text message in saying there's "no reason" for a media frenzy. (Interestingly, many publications — including the Jackson Free Press — all but forbid reporters interviewing news subjects via e-mail, never mind acceptinq quotes via text. . But then Favre isn't being interviewed by the Sun Herald, he's using the paper to issue a proclamation.)
Nowhere in Favre's proclamation does he say that he won't be playing in football this year. He just calls the talk surrounding his return to the NFL "all rumor." Rumors often turn out to be true. The Clarion-Ledger's Rick Cleveland, another person who's known Favre for a long time, believes the pride of Kiln will play again.
Previous Comments
ID

131856

Comment

Favre is out of place and unfulfilled unless he's playing football. The kinfolks probably want him gone too becuase they're tired of seeing how restless he is. He need to come on back and get knocked out a few times before realizing it's over. I wanted to see him in the superbowl instead of Eli. Unlike Larry Byrd and many other great sport heroes, he doesn't know it's over yet. Byrd said he knew it was over when he left and he had no ideas, dreams or fantasies about returning.

Author

Walt

Date

2008-07-03T09:01:16-06:00