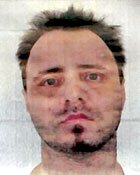 Having re-opened the sluice gates of executions with Earl Berry in May, the state of Mississippi could put a second man to death later this month. Dale Leo Bishop, convicted in 2000 in the 1998 murder of Marcus Gentry, has a date with lethal injection July 23.
Bishop is not an easy man to empathize with, nor are the circumstances of his crime easy to hear. According to court documents, Bishop and his co-defendant Jessie Johnson were angry with Gentry for "ratting out" Johnson's brother, which resulted in the brother's arrest on a narcotics charge. The pair supposedly lured Gentry away from a gathering, and then beat him to death with a claw hammer. Johnson wielded the hammer, while Bishop allegedly made sure Gentry didn't escape.
Few could argue that the crime was not reprehensible. Few even argue the facts of the case.
But in this country, even criminals have rights, and there are rules to follow during trials. Bishop's rights were severely impinged upon by Mississippi's flawed justice system, and serious errors occurred during his trial and appeals, according to his current attorneys, James Craig of Phelps Dunbar and Stacy Ferraro and Glenn Swartzfager of the Mississippi Office of Capital Post-Conviction Counsel.
"This is another case that shows that just having state-funded counsel is not enough, if we're not going to (sufficiently) fund them and have committed, serious lawyers handling these cases," Craig said.
In an appeal filed Monday, June 31, which runs more than 400 pages, Bishop's lawyers accuse Robert Ryan, former director of the Mississippi Office of Capital Post-Conviction Counsel and Swartzfager's predecessor, with "extreme dereliction of duty" in Ryan's failure to present mitigating evidence in Bishop's appeal. The brief includes affidavits supporting the defense's allegations that Ryan deliberately suppressed his own staff's investigation, which revealed Bishop's life-long mental illness, and summarily dismissed the volunteers working on the case.
"The director simply discarded this proof and substituted his own unsubstantiated and frivolous allegations (with the appeal). All the while, Bishop himself had no idea his lead lawyer was sabotaging his main chance to escape execution," the lawyers wrote.
"I don't really know if Ryan was overworked or in over his head," Craig said. "I knew that he was somewhat aloof from and somewhat intimidated by those of us who had been doing these cases for many years, but whatever the reason is for his lack of performance, it's just another situation where the quality of justice you get is dependent on whether you have any money. That's been such a theme for Dale Bishop, because his mother tried to have him taken for (psychiatric evaluation and treatment). They quoted her a price and she couldn't possibly afford it. This was a situation that probably could have been avoided if somebody would have intervened in (Bishop's) life."
The brief goes on to say that Ryan failed to have Bishop evaluated although he knew Bishop was taking Lithium after doctors at Parchman diagnosed his illness. Lithium is prescribed almost exclusively to people suffering from bipolar disorder, the brief states. Instead, Ryan made the claim in his appeal that Bishop was mentally retarded, while attaching evidence indicating clearly that he was not.
"I think it's close to criminal fraud to take the state's money and handle a case like this," Craig said.
Although Ryan's alleged incompetence is the centerpiece of their appeal, the attorneys also claim that there is insufficient evidence that Bishop had any pre-contemplated plan to kill Gentry, one of the components required to impose the death penalty in Mississippi when a defendant is not the actual killer. Bishop's co-defendant, Johnson, stated in an affidavit that the murder took place after a two-week drug binge and that they had been smoking marijuana, and injecting crystal meth and cocaine prior to the crime.
"There was never any plan to kill Mark," Johnson wrote. "I liked Mark a lot. … Dale and Mark were friends. We were all friends. I don't remember much about what happened. We never meant something like that to happen."
Johnson, who actually killed Gentry and who was tried after Bishop, is serving a life sentence without the possibility of parole.
Bishop, though, has likely run out of appeals. The Mississippi Supreme Court affirmed Bishop's conviction and sentence in 2002 and denied post-conviction relief in 2004 and 2007. This past May, the U.S. Supreme Court refused to hear the case. Craig expects the court's ruling on this latest appeal some time the week of July 7.
Ryan could not be reached for comment on this story. Swartzfager and David Daniels, Bishop's original attorney who currently works in the Lee County district attorney's office, did not return calls.
Two additional death-row appeals are on the state Supreme Court's docket this summer: Anthony Doss, 37, convicted in 1993; and Howard Dean Goodin, 54, convicted in 1999. Mississippi's death row currently holds 63 inmates, three of whom are women.
Previous Comments
ID

132020

Comment

How can Bishop be sentenced to death and Johnson be sentenced to life without parole if Johnson is the one who actually swung the hammer? I don't get it.

Author

LatashaWillis

Date

2008-07-11T10:52:20-06:00