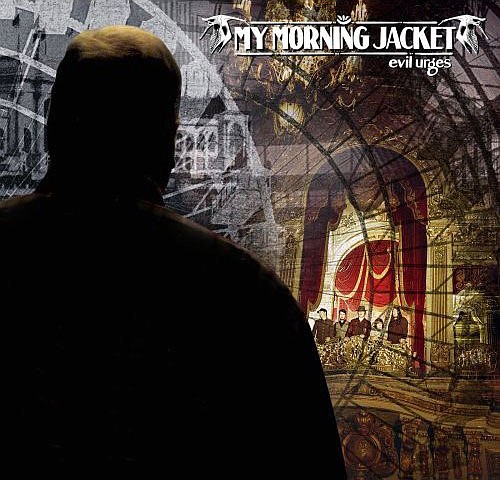 My Morning Jacket has a charisma that transcends traditional niche categories. While inherently fueled by the looseness and free-form proclivities of southern rock, My Morning Jacket takes cues from a diverse spectrum of influences. The result of much experimentation, the band's albums posit an eclectic, but generally cohesive sound, which is fundamentally original.
With its recently released fifth full-length "Evil Urges," My Morning Jacket expands its eclectic palette with its influences in Americana, Prince-style funk, metal, country and progressive rock all fighting for the album's spotlight. Despite a few successful innovations, the constant genre-hopping leaves the album inconsistent and unfocused, and attenuates the distinctive aesthetic the band normally presents.
"Urges" presents its most natural and accessible tracks with a series of poetic country-folk tunes. The somewhat sad and languid "Librarian" resembles the narrative pull and melodic phrasing of Simon and Garfunkel but with a strong dash of autumnal country. "Sec Walking" glistens with mid-century country, its lyrical slide guitar buttressing the song's dusty aura. Lead singer Jim James' voice is at its best on this track showcasing an evocative and graceful twang.
While the country tracks are the easiest to warm up to, a few genre-hybrid songs provide equally refreshing results. Title track "Evil Urges" offers a dizzying survey of genres, but somehow maintains aesthetic cohesion despite the constant changes. The song's opening recalls the extra-terrestrial styling of the band's last release, "Z," introducing warbling synth lines and other alien-like effects, while the verse takes on a down-tempo funk rhythm as James' falsetto stretches into helium-injected heights. Midway through, the song kicks into a southern-rock jam before reverting back to its lazy '70s-rock style —but still falsetto-dense—chorus. The bewitching "Touch Me I'm Going to Scream (Pt. 2)" boasts a similar complexity. Post-punk drums shuffle-step against a funk bass and James' twang-heavy vocals. The chorus is a lush blend of baroque pop and alt-country.
Unfortunately for My Morning Jacket, though, adventurous turns don't always come out right. Bloated and gimmicky metal surfaces on "Remnants," and reaches nadir on "Highly Suspicious," a song that despite its frequent media rotation, is little more than kitschy falsetto and generic metal riffs. "Aluminum Park" has a strong rock presence and wiry guitar sound, but degenerates into prog-rock excess by song's end. Even when the band reverts to its southern-rock and Americana roots, it seems to lack the dynamism that garnered so much attention early on. "I'm Amazed" presents My Morning Jacket's democratic brand of southern rock, but feels uninspired compared to what the band has accomplished since its debut.
Overall, "Evil Urges" is erratic and lacks cohesion, caught between experimental urges and the pressure to keep devoted fans comfortable with familiar Americana. The songs that succeed forge a bond between the thoughtfully authentic and the intelligently adventurous. Such tracks prove that My Morning Jacket is still a creative and talented band, but compared to the high standards of earlier records, it falls short.