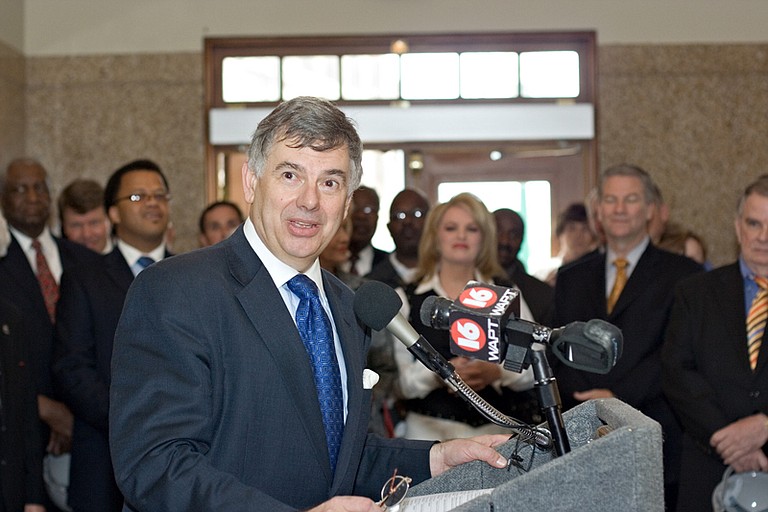 The Farish Street Entertainment District barely survived another trial last week. Some planned anchor businesses in the district, including the B.B. King Blues Club, discovered they could not sell alcohol thanks to their proximity to a school, in this case the Mississippi College School of Law.
The college had renovated one of their buildings for classroom purposes and encroached into 100 feet of the businesses, bringing the state law into play. Developer David Watkins had originally requested Mississippi Attorney General Jim Hood clarify state law to allow an exclusion in the Farish Street case, but Hood could not comply. Watkins' next step was to approach Gov. Haley Barbour to insert an exclusion clause into state law removing Farish Street from the law's auspices.
Barbour inserted the item late last month during the special session, and both the House and the Senate approved it. The item saw a very narrow passage in the Senate. It needed 25 votes—it got only 25 votes, mostly due to reservations some senators had in selling liquor so close to a school. One source in the Senate joked that "putting all that booze so close to the state's next generation of lawyers could topple the Mississippi court system."
Jackson developer David Watkins issued a letter thanking Barbour for his effort.
"Some people do not realize the enormous behind-the-scenes support you have given for this cause and the impact that your efforts have had on its progress," Watkins wrote in an open letter to Barbour.
Watkins also pointed out in his letter that Barbour had been instrumental in the redevelopment of the long dilapidated King Edward Hotel, another Watkins project. The governor worked with the state in providing $2 million for environmental remediation after the city of Jackson fell through on paperwork that would have originally supplied the money. Watkins wrote that the King Edward would celebrate its grand opening next summer.
"I thank you for your continued help, your support, your encouragement and your vision," Watkins added in his letter. "It has kept me going when I was almost ready to give up.
Previous Comments
ID

132005

Comment

Adam, the picture sucks, but thanks for the story. Whether the readers of JFP love Haley or hate him, he deserves credit here. I consider him to be a good friend and partner in the on-going campaign to revitalize our Capital City. Haley, with the help and encouragement of Leland Speed and Gray Swoope(MDA), have worked very hard behind the scenes to help our cause many times, even when they didn't have to. For this, Jackson is, step by step, transforming into a great city and I am grateful. David Watkins Watkins Partners King Edward Revitalization Company

Author

Pops

Date

2008-07-11T07:05:22-06:00
ID

132007

Comment

We believe in giving credit where it's due, David. Thanks for posting your letter to Barbour on the site earlier.

Author

DonnaLadd

Date

2008-07-11T07:52:11-06:00
ID

132009

Comment

I thank Gov. Barbour in this - a relatively quick fix for a huge problem - I also heard his speech at the groundbreaking for the King Edward and felt inspired for downtown Jackson!

Author

Izzy

Date

2008-07-11T08:11:20-06:00
ID

132015

Comment

I'll give credit where credit is due, too. Thanks, Guv! Now, about that civil rights museum, LOL.

Author

LatashaWillis

Date

2008-07-11T10:22:06-06:00
ID

132016

Comment

... not to mention Medicaid. And raising the damn tobacco taxes to help lower smoking, and thus health-care costs, in our state.

Author

DonnaLadd

Date

2008-07-11T10:23:25-06:00
ID

132024

Comment

The phrase "B.B. King Blues Club on Farish Street" should warm the cockles of any Jacksonian's heart. I know where I'll be spending my drunken Friday nights. Well, some of them, anyway.

Author

Tom Head

Date

2008-07-11T12:20:33-06:00
ID

132040

Comment

you know, when you think about it, isn't it better for the law school to be in walking distance rather than driving distance of the nearest slew of bars? Less potential for DUI & other disasters involving cars and alcohol.

Author

Izzy

Date

2008-07-12T12:19:09-06:00
ID

132045

Comment

That's a really good point. I wonder if the powers that be might be operating under the illusion that MC law students don't drink?

Author

Tom Head

Date

2008-07-12T22:19:52-06:00