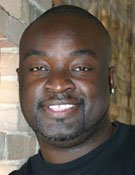 Greetings from across the Atlantic to all of you. Of course I would have loved to check in with you guys sooner, but Internet access is not nearly as available here as it is in the States. And, it's slow. I feel like the two turtles on the Comcast commercial. But I digress. Its day four of my tour of West Africa, and let me say the trip has been an eye-opener. Dare I say that as an African American man, this trip has been even more life-changing than our trip to New Bohemia last year.
The flight was a long one. I quickly learned that Accra is a much more traveled city than Prague because our transatlantic flight was full. Phingaprint and I fought for space in our seat, but made the best of it. Flying out of New York, it was interesting to see the huge African population that resides there and makes the trek back and forth to their homeland.
I'm going to go into more detail in my upcoming column, but I have found a country that literally has saved my love for hip-hop. The energy, the passion and the raw talent of these artists threw me back to an age when I enjoyed what I did as a part of life ... not something I just did. Listening to stories of the struggles that these artist go through to do their craft reminded me of the same struggles we experience in the states. In Accra there exists a parallel universe similar to ours that has been dogged by propaganda and doctored footage. All of the people are not poor or live in shantytowns; they are not savages; they are not at war; and they do hip-hop ... well!
Culturally, I saw a land that clings to old traditions and cultures while learning from and imitating American influences. TV, radio and music have a decidedly African angle, but the States have clearly shaped how they do things now. It's amazing, in both a good and bad way, to see how other countries take their cues from us. These are a happy, carefree people who, despite some obvious hardships, have lived good lives oblivious to the trivial things we worry ourselves sick about in the U.S. Simple lives lead to healthy ones.
I, again, am embarrassed to be a lazy out-of-shape American who clearly is not fit to do the walking most West Africans do. Imagine me, a grown man, looking at a 12 year-old with veins running through his biceps and abs that looked chiseled next to my less-than-stellar physique. And I actually work out every day! I've heard stories of Americans coming to the motherland and having their diabetes go away and their blood pressure drop. Ailments have all but disappeared in what is rumored to be a healing land. Sixty-five-year-old women look like they're 40. Twenty-five-year-old men look like they've just reached puberty. It is a place of rejuvenation.
As I looked out upon the Atlantic Ocean while in Cape Coast, watching the waves rush against the rocks, I realized that I had a spiritual connection with this place. It feels like home.
And that's the truth ... sho-nuff.
Previous Comments
ID

131951

Comment

Very good, man. In case you didn't hear, Melton has been indicted by the feds on 3 made up counts of something that he will surely beat. Later, as I'm off to vacation for about a week.

Author

Walt

Date

2008-07-09T16:53:41-06:00
ID

132042

Comment

"Simple lives lead to healthy ones." Love it.

Author

emilyb

Date

2008-07-12T12:51:19-06:00
ID

132044

Comment

Good to have you back!

Author

MAllen

Date

2008-07-12T18:14:21-06:00
ID

132048

Comment

Awesome to hear from you - keep writing about your journey - sounds amazing and we experience it through you! Let's try for a better Mississippi where we get more exercise and more simplicity, more good living.

Author

Izzy

Date

2008-07-14T08:36:52-06:00