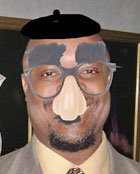 Still Bill: "You're listening to Ghetto Science Team Internet Radio, courtesy of Aunt Tee Tee Hustle's computer technology class. This is your funk doctor streaming old-school music and information across the World Wide Web.
"It's time for 'Rap Session,' the public affairs segment of Still Bill the Funk Doctor show. Rudy McBride, CEO of the Let Me Hold Five Dollars National Bank, is my guest, and he's ready to share his hope for putting more change in the pockets of poor folks with the 'Please Let Me Hold 10 Dollars Hope for More Change Inflation Loan.'
ӑHope for more change,' I like that, Brother Rudy. Sounds like one of the presidential candidates inspired you."
Rudy McBride: "Actually, today's economy inspires and motivates me to help the financially challenged. The $5 loan is not enough money!"
Still Bill: "The cost of living for poor folk seems to increase daily. Do you think a $10 loan will help?"
Rudy McBride: "I hope this $10 loan will help a struggling, single parent pay for two gallons of gas. I hope $10 will help a senior citizen buy enough groceries for a couple of days. I hate to see people suffer. It's time for change! And If I can help put more change in the pockets of poor folk, so be it."
Still Bill: "Amen, Brother Rudy. Up with hope, down with being broke!