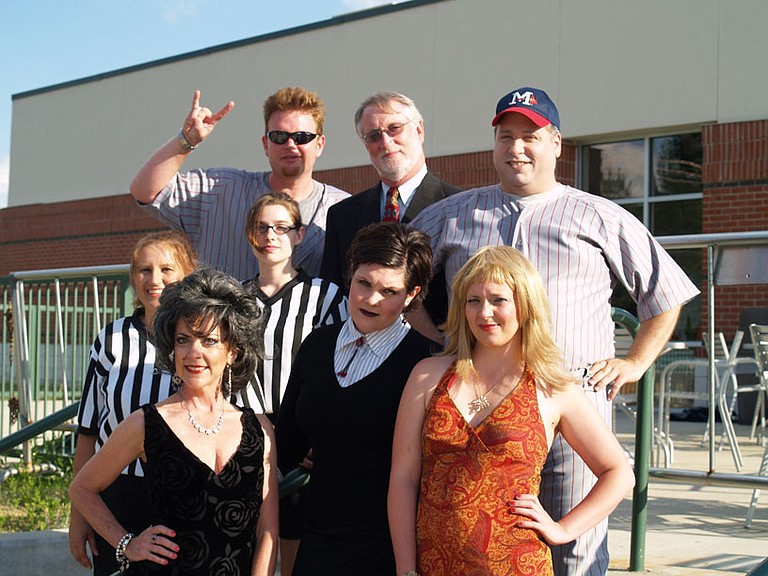 The setting: Basil's in Belhaven on a warm Sunday evening. A plain white sign taped to the door wards off curious pedestrians with the discreet words "Closed–Private Dinner Theater." What the unassuming sheet of copy paper doesn't reveal is that this show, titled "It Ain't Over Til It's Over," happens to be a murder mystery, and that one of the characters will meet an unseemly demise before the closing act.
Those with reservations, for whom the sign serves as an invitation instead of as a polite dismissal, do not seem too concerned about the unspeakable horrors lurking in the script. They enter in groups of two and four, joking with friends and toting brown wine-and-beer- shaped sacks. They settle into tables bearing the names of famed detectives—Bond, Clouseau, Scooby Doo—then uncork and pop tops, and commence with ordinarily jovial dinner banter.
But they are not alone. Before long, a strange crew begins to circulate among the tables. A brawny baseball player for the "Jackson Jackalopes," Jay "Wild Thing" Powers, chats up one crowd member while keeping an arm around the waist of KC, his well-proportioned blonde trifle. Coach Tony Lacorta regales another table with tales of his baseball prowess. In one corner, Kitty Dinger mourns the recent death of her husband, Hum, the former owner of the Jackalopes, and nearby her angst-ridden daughter, Lotta Dinger, seethes with resentment. Harry Perry, the Jackalopes announcer, hovers anxiously.
The scene is set for Mississippi Murder Mysteries' newest production. Founded by Brandon native Alahna Stewart, Mississippi Murder Mysteries is a group of actors that generates most of its own material and performs regular dinner theater mysteries at restaurants in the greater Jackson area. The cast of this production consists of MMM veterans Stewart, Stephanie Gault, Tom Lastraud and Tommy Kobec, and welcomes newcomers Eric Riggs and Keni Bounds.
Once everyone is seated, the characters assemble for the first act. Audience members learn that they are actually attendees at the Jackalopes fin-de-season "Championship Gala." Despite cause for celebration, tensions soon simmer as the characters reveal their own antipathies for the Jackalopes new owner, Kitty. As they hurl heated words that are sometimes stilted, often raunchy and almost always laced with baseball innuendo, one thing becomes clear: Kitty is in her final inning. Then salad is served.
Over bread and foliage, the audience members resume their dinner time merriment and casually peruse the first round of printed clues distributed to each table. But all too soon, they are silenced once more. Some more tension, some more baseball themed-bawdiness and Yogi Berraisms and, sure enough, before long the ghastly deed is done. As the Basil's waitresses serve up tilapia and tenderloin, the audience members grow more pensive. This time, only hushed conversation can be heard from each table as the Sherlocks and the Scoobys begin to contemplate clues and weigh the suspects.
In Act 3, the accusations fly, pitting Jackalope stars against announcers, coaches against disinherited daughters. But some must be guilty and others innocent, and over dessert and coffee, the audience members—by this time no longer casual dinnergoers but committed detectives—balance the scales of justice and reach their conclusions. A representative from each table meticulously completes a bright orange solution sheet with all the gravity of a chief justice.
Who killed Kitty? Was it her own daughter, Lotta? Was it Wild Thing or KC? Coach Lacorta or Announcer Perry? The characters reappear one last time to show their cards and tie up the loose ends. Stewart awards prizes to the winning and "most wrong" tables. The waitresses clear up and the Scooby Doos head home. Justice is rendered, the scientific method vindicated, and Basil's chef Nathan Glenn chalks up another delectable meal.
Experience "It Ain't Over Til It's Over" at Basil's July 13, 6 p.m.; Pig Shak BBQ (1598 W. Government St., Brandon) July 15, 6:30 p.m.; and Sway's Bistro (1139 Old Fannin Rd., Suite M, Brandon) July 21, 6 p.m. Tickets are $35 to $37. Call 6001-331-4045 for more info.