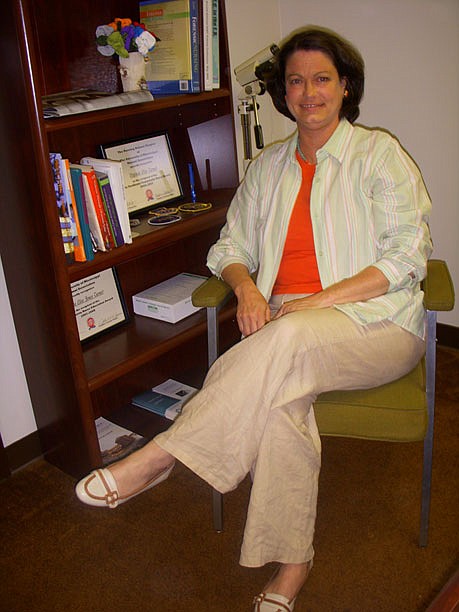 Elise Turner's six-word biography reads "Looking around corners, always finding adventures." And that sums up precisely her life philosophy and work in the medical field. As the education coordinator for the Mississippi Coalition Against Sexual Assault and a longtime midwife, she helped develop the SANE (Sexual Assault Nurse Examiner) program almost 10 years ago and has expanded these programs for the U.S. military and countries such as Macedonia and Kosovo. Turner, "50 and proud," is this year's Chick Ball Honoree. She enjoys spending time with her family of five, traveling for work, reading science fiction books and following her genealogy through roots tours of Mississippi cemeteries.
What drew you to the midwife profession?
My professional life is made up of a collection of part-time jobs, like many working mothers. I had worked as a labor delivery and OB nurse and found reproductive health care for women compelling. My vision is empowering women to make healthy choices for themselves and their families, to be confident in their own bodies. It's important to help women understand what their options are and the pros and cons of each.
How do you explain what SANE is?
A Sexual Assault Nurse Examiner is a registered nurse who's received special education regarding the nursing care of a person who reports sexual assault. It's really simple: The whole point of my job here is that I want for any person who is a victim of sexual assault to be able to go to any hospital in our state and be able to get a good episode of forensic medical care. I'm the one who coordinates the nurses, attorneys and advocates and does the day-to-day work of it. It's really very synergistic. Every agency teaches its own content in our 40 hour keystone class. We did a series of four hour workshops and trained almost 400 people at Jackson Police Department, and we have a wonderful relationship with the military in this state. Mississippi is about relationships. ... People trust each other. They don't turf-guard or worry about how they'll look. That's Jackson at its best.
How do you handle the emotionally draining parts?
When I'm in a social situation, invariably at some point a person will disclose to me. When I first started working, it was very unsettling because when you don't have your white coat on, you aren't prepared to hear things like that. ... But I finally realized that's a wonderful place to meet people where they are. ... You learn to feel honored that that person trusts you enough to tell you. That's a very powerful, human moment for anybody.
How can we best help to prevent sex crimes?
The best prevention is accepting the dignity and worth of each individual. If you respect another person, you won't mistreat them. It's that simple. As far as for those who have already experienced sexual assault or abuse, we really need to say it loud and clear to everyone: "We have great resources in place for you and it doesn't matter if your abuse was last week, last month or 40 years ago, we have free resources right in Jackson that are really excellent."
How do you balance family time with your three kids and husband, professional life, hobbies, and travel?
I really try not to be a busy person. I find that annoying. If a friend calls me up, I want to be able to say, "Yeah! Let's get together." When I think about all the things I like to do as pleasures and hobbies, I think that I actually get to do them as work. I'm too old to do things with people I don't like and do things I don't like. One of the things I get the most joy from is being the softball mom for my daughter's team. I try to be home when the kids have something important going on. Sometimes it's a miserable disaster but I've been glad that my children have seen how women have to balance their personal lives and professional lives. I think it's a good lesson for girls to see how that can work. For my son too, it's important to see women can have lives with many different facets.