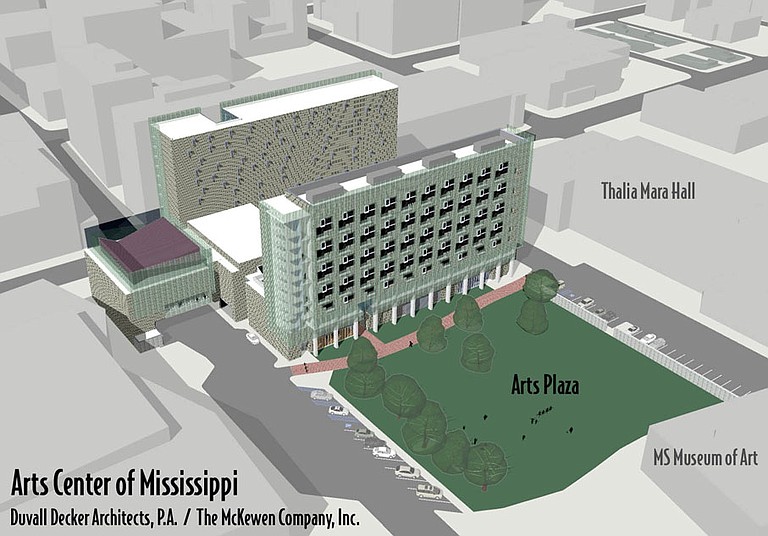 Developers will complete work on the first block of historic Farish Street in 14 months. That was just one of a half-dozen pieces of good news delivered to more than 500 interested Jacksonians at last week's Downtown Jackson Partners media and marketing event at the TelCom Center.
"We're going to make it happen," said David Watkins, president and CEO of Watkins Partners, who became involved in the waffling development after the Memphis-based Performa Group was unable to secure a second round of financing. "This is not Beale Street; this is not Bourbon Street; this is Farish Street," Watkins added, referring to the unique Jackson music legacy. "We're going to put it on the map."
Watkins gave a brief overview of the many Jackson projects he is involved with, among them the King Edward Hotel, which will include 56 upscale apartments and is on schedule for a summer 2009 grand opening; work on the Standard Life building is scheduled to begin this September. Watkins also announced a brand-new project, Whitney Place in Fondren. The project, named in memory of his deceased daughter-in-law, will encompass a large block of property on the west side of State Street, just north of the Old Canton Road intersection, near Duling School.
David Kelly of Urban Design Studio in Pearl presented plans for the Timber Falls development in south Jackson. Situated around the intersection of Raymond Road and Forest Hill Road, the 400-acre site was the home of the old Hederman farm. Century Construction Company, in Oxford, broke ground on the development in February, Kelly said, indicating that the mixed-use development will eventually include 750 dwellings, including apartments, townhomes and condos, built around a 5-acre lake and an amphitheater with seating for 3,000 to 4,000 people.
Kamikaze, chairman of the Jackson Progressives and a JFP columnist, spoke about the Downtown Jackson Partners' recent trip to Little Rock, Ark.
"Last week, I was able to see the future," he said of Little Rock's downtown, similar in size and demographics to Jackson. He went on to describe the overwhelmingly positive attitudes he observed in the city's leadership. "We have to develop a winning attitude" about Jackson, he added, and emphasized the way Little Rock leaders worked together to make their downtown area a success despite its higher crime rate.
Ben Allen, president of DJP and former president of the Jackson City Council, pointed out that one aspect of Little Rock's success is non-compete agreements with surrounding communities. The entire metro area understands that growth does not mean cannibalizing business from one another. "Hell no, we won't go … to Madison," Allen said, updating the familiar '60s anti-war chant, meaning that Jackson's success can also be Madison's and the entire metro area's when everyone works together instead of in competition.
Allen announced that the city had won a grant for the "two-waying" of Capitol Street, which, he said, would invigorate 266,000 square feet of development along the thoroughfare and $2.3 million in new taxes. To utilize the grant funds, Jackson will need to contribute 20 percent of the $3 million award, or $750,000. The entire project is estimated at $8 million.
"We are going to come up with the money," Allen said. "If we need to have garage sales, we are going to come up with the money."
Among the other announcements made, one of the most ambitious is the planned $75 million to $100 million conversion of the Mississippi Arts Center to a mixed-use facility rivaling the convention center in square footage. Presenting the plan to the assembly, Roy Decker of Duvall Decker Architects described how the plan includes a theater, art and dance studios, retail space and numerous flats and condos that will convert the "tired" architecture of the current Center into an environmentally friendly new complex.
"What the city is putting on the table is an extraordinary gift," Decker said of the current building and site, which comprises the heart of the planned development, inspired in part by the Shaw Center for the Arts in Baton Rouge. Decker said he expects funding for the project to be complete within a year, and that construction will take another two years after that.
In another announcement, Angle Technologies is undertaking a feasibility study to determine whether Jackson can support a business incubator in the downtown area. According to Lisa Smith, spokeswoman for Angle, 87 percent of businesses that go through a professional incubation process succeed in the community. "Business incubation is a process," she said, of services, shared services and mentoring.
Other developments discussed include City View condominiums; Belhaven developments in partnership with Baptist Health Systems; a mixed-use townhouse and condo/loft project at 622 North Jefferson St.; Livingston Village, a 70-acre development near the Jackson Medical Mall; Ceva Green; Old Capitol Green; and Farish Street mixed-income housing, which includes 200 apartments and 16 townhouses.
Attendee numbers have been updated, per Downtown Jackson Partners.
Previous Comments
ID

132403

Comment

Here's a case where I wish the rendering offered more insight into the project. I love the idea, but it's hard to gauge what is happening with the towers- especially the rear tower. Still, I really like the idea of what's being built here.

Author

tombarnes

Date

2008-07-24T17:49:57-06:00
ID

132405

Comment

It's really exciting the see the new and wonderful things going up in Jackson. It may be starting with downtown, but it won't end there. I'm also excited about the new mixed-use subdivision in south Jackson. That area has been on the decline for a little while and it will be great to pump some new life there. Having an amphitheater there would be great, though you probably couldn't do much in the way of concerts (at least the big-name acts), given that it is being surrounded by residential space and the size. Nevertheless, it will prove that Jackson is coming back!

Author

golden eagle

Date

2008-07-24T23:28:37-06:00
ID

132406

Comment

Sounds exciting. I hope it all happens as planned.

Author

Jeff Lucas

Date

2008-07-25T05:52:54-06:00
ID

132407

Comment

i agree with tombarnes - it would be nice to see the streets labeled, for instance. I work very near there and still cannot tell exactly the orientation of this diagram. Still thought, very good stuff going on downtown. I need to find a townhouse at Capitol Green - who can I call? ;-) Only half joking!

Author

Izzy

Date

2008-07-25T08:03:08-06:00
ID

132410

Comment

Regarding the Arts Center project, the two towers parallel Pascagoula Street, with the existing arts center in between. The view above is facing Pascagoula looking in a northeast direction as best as I can tell. From what Decker said, the towers will have retail, studios and a theater on the first levels and living space above.

Author

Ronni_Mott

Date

2008-07-25T08:37:08-06:00
ID

132411

Comment

ok - now I got it - so the big green space is along Pascagoula? I think there's concrete and fountains there right now

Author

Izzy

Date

2008-07-25T08:44:03-06:00
ID

132412

Comment

No. The green space is where the parking lot is now, between the arts center and the museum. Don't ask me where parking will be; I'm assuming under ground.

Author

Ronni_Mott

Date

2008-07-25T08:51:05-06:00
ID

132413

Comment

ok, so does that mean that the other end of the diagram (the tower not adjacent to the green space) is facing Pascagoula? They really need to leave the trees and fountains there - ahhh, don't take away my trees and fountains

Author

Izzy

Date

2008-07-25T08:55:28-06:00
ID

132414

Comment

Also my office will be across Pascagoula and if they go up that many stories where will my sunlight go? Ah, the problems with new development. Suddenly there's no sunlight or fields in the middle of downtown!

Author

Izzy

Date

2008-07-25T09:00:51-06:00
ID

132415

Comment

Jackson IS coming back! Im beginning to see a concerted team dynamic forming amongst like minds. Folks enthused about minmizing the apathetic, cynical, negative voices around here that wish to criticize our growth. You do that by keeping folks informed and excited. Ben Allen and David Watkins spoke to the Progressives last night..A lot folks were floored by what they heard. Why? because they didnt realize the great things going on...why? because all they read and see is how BAD jxn is and BAD our crime is and people are LEAVING in droves. ... So now we must relegate those haters to a silent minority that we put in a corner and ignore! keep your eyes on Timber Falls in South Jxn too..its gonna be a Godsend..but your council people are fast at work trying to screw that up too. The arts complex is gonna be amazing..and all of them will be all inclusive available and affordale for EVERYONE..

Author

Kamikaze

Date

2008-07-25T09:02:12-06:00
ID

132419

Comment

..and all of them will be all inclusive available and affordale for EVERYONE.. Now THAT sounds good! I am totally excited for the new downtown - my main concerns are that low and middle income folks won't be able to partake of the awesome residential opportunities.

Author

Izzy

Date

2008-07-25T10:09:46-06:00
ID

132423

Comment

The plan doesn't really include parking, as I understand it. It's one of the points of discussion that will likely happen going forward. It would also include tearing down the planetarium, I believe. It's an ambitious project, no doubt.

Author

DonnaLadd

Date

2008-07-25T11:02:36-06:00
ID

132424

Comment

Definitely ambitious. I love the direction of it, I just got to thinking about specifics because my new office space starting next month will be just across the street at Pascagoula and Lamar. To me all this development is akin to surfing - you want to catch the wave, yet you don't want to get thrown off of it. You have to paddle hard enough to grab it but not overshoot. I feel happy there are vocal, involved citizens like Ladd and Kamikaze, and others who are going to keep track of this massive amount of growth and find that balance of cheering it on while simultaneously checking in for the general health and well being of the community. Based on this I think it's going to be one hell of a ride!!! :-)

Author

Izzy

Date

2008-07-25T11:13:19-06:00
ID

132449

Comment

"my main concerns are that low and middle income folks won't be able to partake of the awesome residential opportunities." This is a reasonable and understandable concern. Development often only caters to those with high purchasing power. However, I think you will see that Jackson's proposed approach is different than that taken by other cities, e.g., Little Rock, which only has condos available to those in the upper income brackets. When we spoke with the main Little Rock developer on our trip, he was fascinated by our idea of "mixed income" development and admitted they should probably do that too. Some of the developments in downtown Jackson, e.g., Cap Green and Farish, but not all, will explicitly be "mixed income." That is, a certain amount of the units will be available to those with "X" income (somewhere in the 20K range; I think 27k), another percentage towards those with "Y" income, another percentage towards those with "Z" income, and another percentage where the sky is the limit. I wish I recalled the percentages, but it is a fairly even breakdown. Certainly there will be those developments that are propably only affordable to those in upper income brackets. That's market reality because developers aren't doing this necessarily as a public service (though there is a component of that involved in their motivation); they want to make money. However, there are definitely development projects on the table that will be "open ended" to all economic brackets. That's a good thing, important, and needs to happen. It won't work, and wouldn't be proper, if it were only those in upper income brackets. Kaze is right - we are now seeing a diverse group of dedicated citizens coming together to make this thing, i.e., our city, work. And only by having a diverse group along many lines will it work. It's an exciting thing, really. Sometimes you have to go to hell and back to win; I think that's what's happening here, and we are seeing the turning point of our city. We've been to hell. We've been spit on, denounced, ridiculed, etc. But things are finally changing. And it is going to be unreal.

Author

MAllen

Date

2008-07-26T13:16:15-06:00
ID

132451

Comment

I should add that a huge, huge applause should be given to all of these developers. They are putting their money where their mouth is. It is easy for all of us to sit on the sidelines and be critics, me included. But these men and women are really doing it, i.e., putting HUGE financial numbers on the table for the sake of rebuilding our city. They are the people who are going to make this city a place where our children don't have to say "Why would I want to stay in Jackson?" Rather, the question will be, "Why would I want to leave it?"

Author

MAllen

Date

2008-07-26T13:31:41-06:00
ID

132457

Comment

Mallen - if that's true (the mixed income requirements or goals for Farish and Capitol Green ) we will see a brand new kind of city that CANNOT be taken down. Thanks for the updtates. And think about it. IF you only let the very rich live somewhere, then others have no where to go. They will be forced to spend more money on communting - money they don't have. I'm no expert on urban planning or civic development, but my hunch is, a lot of our crime problems can be solved by avoiding the syndrome in America the past 50 years of "ghettoizing" poor people into certain areas. These people exist! Allowing professionals and artists of all income brackets supports their constructive participation in the ocmmunity, instead of encouraging them to feel alienated and ticked off. I realize not all developers will be motivated by this ideology. Still, I think going for a reasonable profit that sustains community is very worthy goal, perhaps just as worthy as going for pure, unadulterated high end profit. I, too, celebrate all the developers in their passion and perserverence.

Author

Izzy

Date

2008-07-26T14:52:04-06:00
ID

132469

Comment

Today few municipalities can afford to build for the advancement and promotion of the public good. (Most cities struggle to provide basic services.) Whether arts uses, libraries, schools or recreation spaces cities often neglect exactly what defines and advances who we are as a people. Sometimes the arts can muster the resources to build a home; this is the case with our new Mississippi Museum of Art, but more often than not the arts and public entertainment organizations that give shape to our identity have to make do as best they can. In Mississippi this is certainly the case. We have a rich heritage of arts accomplishments in many forms of expression made by an amazing diverse talented population, yet they exist in and must make do with out of date and substandard venues and studios. In cities that are known for their renaissance, the arts and entertainment uses are what draws visitors and new residents and is the source of public pride. (Good schools and job opportunities keep them here, but by themselves cannot lead a revival.) - How many times have we heard the story of someone passing on a good job offer from a Jackson business…? In a City like Jackson we must be carful to expand the arts and public entertainment facilities in proportion to the hotels, office and convention space. If we build a new city without the arts we may accomplish vitality and miss the opportunity to make a great city and place to live and visit. (Busyness is no substitution for culture. There is no real tourism market for busyness, people travel and want to live near museums, theaters, galleries, music venues and cinemas, dancers, and rappers, writers, painters and sculptors – places and people that offer growth, education and meaning) Right now, the Farish Street development and the Art Center of Mississippi project are the keys to a new Jackson. The Art Center of Mississippi is a public private partnership structured development designed to overcome the handicap of municipal limitations. The project includes arts entertainment spaces but to help offset the costs also includes property tax and rental income generating urban housing, retail and office spaces. (The north tower includes retail on the ground floor, offices and housing above. the south tower include arts spaces, studios and housing above) This project is a model of new public buildings in cities like Jackson where the citizens by leadership and use help make it possible. Its a mixed use building that will serve visitors, residents and school children for many years to come. R

Author

rdecker

Date

2008-07-26T22:23:20-06:00
ID

132486

Comment

ladd say it aint so, why would they get rid of the planitarium. i think the planitarium is an asset to jackson and will become in greater use once all the projects around it are finished. pleae dont tear it down and if they do rebiuld it somewhere else downtown close.

Author

NewJackson

Date

2008-07-28T00:06:08-06:00
ID

132501

Comment

Kudos to Roy Decker of Duvall Decker for his brilliance in working through the first phase of this project. When the Arts Council first starting working on this, I was really not all that excited, to be candid. However, by taking the approach of finding out what the arts community needs (as well as the greater Jackson community in general) rather than simply working out some kind of lottery to see who we could cram into the old building, was the key to this dynamic and outstanding work product. I am convinced that this is going to be an economic engine equal to or greater than the convention center. Hopefully, we can get the renderings uploaded to a website soon for more discussion and fine-tuning of this project/process. The three areas (and there are more, I know) that I am particularly interesting in addressing: 1. the planetarium is antiquated and in need of substantial repair; we are working with the city (thanks, Michael Raff) to build a replacement for the planetarium on property that is in the arts district, but that will be more convenient and have better technology than what we currently have. 2. parking - we need a better plan for the residents of the development, if at all possible (perhaps underground, under the Arts Plaza). 3. mixed income residential units; while I personally think it will be necessary to have upscale apartments/condos "in general" for the economic success of this area, I also strongly believe in a significant portion being made affordable. This is needed (a) to secure housing tax credits that will likely be necessary to provide some of the initial funding for the project and (b) because it is best for the overall development (and the city) to have a rich and diverse population (that means young and not-so-young, rich and not-so-rich, etc). Hey, but that's just me and I've only got one vote. Anyhow, that's my two cents worth. Clearly, more dialogue and public discourse is needed to help us refine our concept and make this project THE MODEL for other American cities to follow (wouldn't it be nice for Jackson to be a leader in a pursuit so noble!). Finally, thanks to the entire arts community that participated in phase one of this project, to Duvall Decker, Janet Scott, Michael Raff, Robert Walker, Ben Allen, Rick Fountain, Merrill McKewen, the entire Arts Council Board and to Malcolm White and the Arts Commission (particularly for sharing some of his money for our study). This is clearly a team effort and a damn good team at that! This project will take a lot of money , a lot of time and a lot of effort. It will take us a year or two to secure the funding streams (and do it in a way that doesn't compete with other arts organizations) and to finalize the plans and another 2-3 years to build. So, please be patient. To succeed in this project, we must have a commitment from the leadership of the city and the State, from the arts community, from the business community and from the citizens that will benefit from the cultural enhancement that this center will bring. The end result will be a major achievement that will enrich the lives of all Mississippians. David Watkins President-Elect, Greater Jackson Arts Council p.s. Just in case any of you are wondering, I have agreed to work with and lead the Arts Council on this project, but ONLY in a pro bono capacity. Also, excuse the long post; 35 years of practicing law makes for some bad habits!

Author

Pops

Date

2008-07-28T10:58:07-06:00
ID

132503

Comment

Thanks, David and Roy. My take is that it *has* to have mixed-income housing, being that it's a city building—unless it's purchased outright. Along with some other people, I'm getting increasingly concerned about the gentrification effects of our development plans. Don't get me wrong: We *need* the development, but we really, really need to get this right as we do it in order to make sure that everyone is at the table. A lot of it, so far, hasn't run the risk of misplacing people who live there, which is good—but we must be sure that the developments also encourage a variety of people with different income levels and backgrounds. And not just for a few years, as has happened in some other places. For me personally—and I'm on the Arts Council board—I'd rather see a less ambitious project if it means that more people are included and can afford to live in the building. I'm not a big fan of turning it into a building with housing too expensive for most Jacksonians to afford. And I don't want the upscale tenants, residential or retail, to be in position to control what happens in the building because they spend some much money to be there. Not this building. Also, as a public-private venture, we are going to need complete sunshine on the decisions made before they're made so that the public is involved. So let's all work together to make sure that happens. And let's be very careful to check the backgrounds of the out-of-town developers offering us money for it. Ahem. I look forward to more conversations on it as the idea progresses.

Author

DonnaLadd

Date

2008-07-28T11:53:55-06:00
ID

132504

Comment

I just drove down Farish Street a few minutes ago. Lord knows something needs to happen there sorely and quickly. Frankly, it hurts my feelings to see it as it is now, after all the talk for so long, and after seeing it as it was in some of it's glory days. I can't wait until we can have a Farish Street Festival daily and nightly like in Memphis, Austin and many other places. Music soothes the heart, mind, body and soul and allows different kinds of people to mix and grow. If this and the King Edward is pulled off properly, I know who could be mayor if he wanted to.

Author

Walt

Date

2008-07-28T13:12:17-06:00
ID

132510

Comment

Okay thanks for the answer but i need more clarity, if the planitarium is going to be demolished can anyone say for sure that it will be replaced. guarantee, because if not please please leave it alone.i remember going in elementary school and my family took all my nieces and nephews from out of town saturday to the planitarium. its an asset.

Author

NewJackson

Date

2008-07-28T14:56:43-06:00
ID

132512

Comment

Extraordinary efforts are being made to assure all of Jackson can participate in downtown living. Almost all of downtown Little Rock is upscale condos. Downtown Jackson will have very few. Little Rock told us we needed to learn from their mistake in this regard, and applauded our efforts. Also, they told us that they did not "do" their retail correctly, as the demographics were too skewed with such an upscale environment and they are now on a track to attract more apartments. Now, however, the property values are such that affordable downtown living will be a challenge. The Old Capitol Green Project is scheduled to have 820 apartments affordable for those in the $27k range, 1200 in the $40k range, 1200 in the $70k range and 820 in the stratosphere of unlimited income, and all "merged together". The Hope Development Project [on Farish Street] is scheduled to have 70 workforce, and 120 Market rate apartments, and 100 student rate apartments, all merged together, and "anchored" by 20 Market rate condominiums. As with Old Capitol Green, all of these will be "blended" so you never get a "Good, Better, Best, Awesome" type arrangement. Rehabs of old buildings cost roughly double what "build from scratch" developments do. Very few, if any, rehabs work with anything other that upscale market prices. The challenge is to assure that other opportunities for downtown living are abundant. This is happening, so that our diversity assures all have the opportunity for downtown living...artists, students, pharmacists, engineers, educators, doctors, etc. We do not want our only diversity to be "What color is YOUR BMW?" [See some of our loveable sister communities as they create and "build" their downtown centers] As for the Planetarium, I was surprised at the notion of razing it, until I saw the lack of activity there, and was educated that IMAX theaters and high tech "small theatres" had taken their place. The Planetarium [owned and operated by the city] is not being utilized and is grossly in the red. The prime location can be adjusted with the times. How many people reading this today actually go there 10 times a year...heck...ever? I was presented with all the information and agree that we need to look at OPTIONS. No one is supporting tearing down this old facility without a better plan. I hope the JFP will interview Roy Decker, Janet Scott and Merrill McKewen some time in the near future about this bodaciuos breathtaking, visionary project.

Author

Ben Allen

Date

2008-07-28T16:39:17-06:00
ID

132514

Comment

Thanks for your post, Ben. It does strike me that this is the perfect moment to start focusing harder on the inclusiveness of all of this development vision -- not later, as the Little Rock story points out. Jackson has a bad habit of jumping and worrying about big stuff later, or getting all dreamy about a big idea that likely will never happen (see: Two Lakes), and that shouldn't happen here. Several people have talked about putting together a development watchdog group, which I think is a great idea. The point is not to be a big pain int he ass about all development, or whine about everything being part of a big conspiracy, but to be a group of people who ask for, and get, the needed information on developments, especially those with any kind of government involvement, and then make recommendations and drum up public interest in what's going on. The idea is more information and public involvement and, thus, buy-in. I think we have the perfect climate to introduce this component right now -- and developers and funders who come across as open to openness and inclusiveness. I think we should take advantage of that. One good place to start, for instance, is by really getting public reaction to the ideas in the Arts Council plan. I had missed some meetings due to other commitments and I was rather blown away by the scope the plan had become. Not necessarily blown away in a bad way, but I do find myself wanting the public very involved in these decisions going forward. As impressive as the plan is, frankly, I don't know how I feel about two big towers of high-priced real estate being added to the sides of the Arts Center. I know some people I admire greatly will chafe at my saying that, but I believe in talking about stuff on the front end. Now, that doesn't mean I'm against it, mind you. I just want to put everything out there and get a lot of public reaction before making up my mind about doing this level of public-private venture in a public building. And I'm not yet sold on tearing down the planetarium, either. Obviously, it's going to get more business just like anything else in that area as more people are in the area, so I don't think that argument alone is enough to justify tearing it down.

Author

DonnaLadd

Date

2008-07-28T16:55:55-06:00
ID

132515

Comment

Excellent, Ben. I think I like you better as an ex-councilman. This commentary is as impressive as that thing you did to Crisler about not coming to meetings while trying to take quick advantage of Frank's situation.

Author

Walt

Date

2008-07-28T16:58:04-06:00
ID

132519

Comment

Donna, I drafted a "brilliant" response to your earlier post, but somehow lost it in cyberspace. In the meantime, Ben Allen beat me to the punch. 1. Gentrification: I am not in the least worried about gentrification in Jackson at this time; in fact, just the opposite. Nearly ALL of the current development is for apartments, not condos. That means, by definition, most of the folks will be young and less affluent. Also, specific to the Arts Center, I suspect that we will have to rely upon tax credit financing for a significant part of the development, which will require at least 20% of the units to be classified as "affordable" - which means that the same physical unit that someone might pay $850/month for will pay only $600/month, because his/her income is less than $35k/year. This 20% requirement stays in force for 20 years! 2. Transparency: if i have anything to do with the project it will be inclusive and transparent. Period. 3. Planetarium: Ben's already beat me to the punch there as well. Technology has changed dramatically since the Davis Planetarium was designed and built. The OmniMax movie system (now known as IMAX Dome) was conceived to operate on planetarium screens. More recently, some planetariums have re-branded themselves as dome theaters, with broader offerings including wide-screen or "wraparound" films, fulldome video, and laser shows that combine music with laser-drawn patterns. My GRANDCHILDREN are already using computers, telescopes and digital imaging techniques. Before we invest in "old technology" we need to take a serious look at every aspect of the Planetarium rebuild and make sure that it is designed to engage, educate, entertain, and inspire children and adults for the NEXT 50 years. I think Michael Raff with the City is doing the right thing now by asking these questions and raising the issue to a level more than backroom discussion. 4. Public Reaction: I agree that we must talk about "stuff on the front end." With the Arts Council project we're talking about, we did just that. We did it in a responsible way by taking unbiased professionals and sending them without any rules or inhibitions headlong into the arts community groups, leaders and public and asking them to get honest input, assessments of real NEEDS of the various groups AND the community, and to digest all of that into a comprehensive plan that might just put Jackson, Mississippi on a cultural arts scene the envy of the nation. What they came back with was nothing less than extraordinary. It is a concept of a 21st century forward thinking architectural gem that blends space, people, art, culture and buildings in a dynamic, if not spiritual, manner. The arts center complex is revolutionary in its design and its vision. I wish I could take credit for it, but no one individual can. It is the end result of dozens and dozens of focus groups, work sessions, public hearings and intriguing dialogue with a huge array of real people, not just a few egghead developers or professional organization heads. What's more, it is still alive and dynamic. Every meeting we have tweaks the final product just a little bit better. Roy Decker is brilliant. But, he is honestly only a vessel for the absolute passion and powerful creativity of the arts community and the people of Greater Jackson. I know I said that word I usually don't say, but it's true. This project is the Arts Center of MISSISSIPPI, and it is located in Jackson. Ich bin ein Jacksonian! Naive, maybe. Ambitious, yes. Attainable, absolutely.

Author

Pops

Date

2008-07-28T18:14:02-06:00
ID

132521

Comment

Pops, another great post. ;-) Y'all are doing exactly what I'm suggesting by posting all this here, by the way, so don't think I'm being critical. Inevitably, the public will voice concerns and ask questions about development, as they should. I've lived in communities where the developers were arrogant about their plans and would have never thought about being this public with responses. I'm confident that won't happen here, but frankly if we don't ask questions and voice concerns, and give y'all a forum to talk about it, many people won't hear what you have to say. And then it's easy for some people to stir the rumor mill. Thus, I'm baiting, and y'all are responding. Let's keep it up. ;-) I've told many people, by the way, that gentrification hasn't been on our front burner ... yet. However, we do have to watch out for our neighbhorhoods closely as development comes on line and starts pushing lower-income people further away. This can quickly become an issue with both Farish Street and Fondren. So let's keep talking about it all. This is exactly the kind of dialogue we're envisioning with the watchdog development group. It's about getting good information out and dispelling rumors, as much as asking the questions and raising concerns in the first place. And to keep an eye on projects as they develop; things can change easily after the community buys in. (What happened to all that promised parking in Fondren, for instance?) P.S. I'm a HUGE Roy Decker fan. Still nervous about the towers and the planetarium going away, but I'm open and listening!

Author

DonnaLadd

Date

2008-07-28T20:05:54-06:00
ID

132523

Comment

Looking from the outside in, I'm very pleased with the notion that the Arts Center would come online as a fully modern resource for the arts -- and I say this just having spent an hour last week with Janet Scott while she was offering Crossroads Film Society a new office in the building. That's a great example of what a resource that Arts Center *is now* and can be in the future. I will say I'm...intrigued...by the ambition of the project. That's not to say it shouldn't be tried, and perhaps it is indeed a very futuristic concept that will define the arts-building-improvement-project for other cities to learn from. And I've heard about great amenities in the new Arts Center -- black box theater, movie screening theater, working art studios, outdoor venues -- that would be wonderful to have in that space. From what I've heard, there's a LOT of money that needs to be raised. That's going to take some doing. After all, it ain't a minor league baseball park. ;-) If it is built, however, it will likely be a very proud moment for all of Jackson when we open that thing up to the public. Aside: I had to go to FedEx tonight and I saw the front façade for the convention center is being finished. You can really see what sort of building that's going to be once it's done and it's exciting to think we might have some event there soon where we'll be milling about on the show floor. There's a car show in early '09, right? Ah...just think of that New Convention Center Smell. :-) Meanwhile, everyone should know that the Arts Center *remains* a working building -- in fact, it'll host the Storyteller's Ball in August, and, I hope, future Crossroads and Collective arts events, among the many fine events and organizations that already use the building. So the general public should be sure to seek out and support events that happen there -- right now there's a great parking lot right behind it that's never full! -- and keep an eye out for future opportunities to support the arts in and around that building.

Author

Todd Stauffer

Date

2008-07-28T20:27:24-06:00
ID

132524

Comment

Gentrification: I am not in the least worried about gentrification in Jackson at this time; in fact, just the opposite. Nearly ALL of the current development is for apartments, not condos. That means, by definition, most of the folks will be young and less affluent. We also have to worry about lower-income families, and hip apartments can push them out, or further out, even if young, less affluent people can afford them. And I'm concerned about landlords possibly pushing out lower-income tenants, residential and retail, in areas where they can suddenly make a lot more money. We don't have many protections for this sort of gentrification in Mississippi, so we need the community watching out for it in advance. As for public reaction to the arts center plan... were people giving feedback about the residential/retail/towers component of it? I know well that arts groups were expressing their needs. And I ask because I honestly don't know because I was out of the loop for a while. And the proposal was so much bigger than I'd anticipated. It was impressive, but it left me rather speechless. Cheers to Roy for an amazing idea. Could we post the presentation online so all sorts of people could view it and give feedback? Or some version thereof? Being that it's municipally owned, this would make a lot of sense. I don't want *anyone* to show up later and claim they didn't know what was happening with it. "Intrigued" is a great word, as Todd just used about this. It's a word that doesn't denote "supportive" or "negative"; it just means "engaging the interest to a marked degree" (per Merriam-Webster), and this concept certainly does that! Speaking for myself, I'm all for packing all the arts projects possible into that building, hands down. It's the other for-profit components (and towers) that my jury is still out on. But I am intrigued. ;-) (For the record, Pops, this is the sixth time I've tried to submit this post. Hopefully, it'll work this time!)

Author

DonnaLadd

Date

2008-07-28T20:34:31-06:00
ID

132525

Comment

Hooray! It's not just me that can't get the posting done. It must be an iTodd conspiracy!! (But, I'm still not ready to bring back faxes and snail mail.) Donna, I'll confess that I had a little to do with the injection of the "for profit" component into this plan. It was initially with the thought that we would take the development fees and profits and plow them back into the cost of the public/non-profit components of the project. However, the overwhelmingly positive response to the private parts of the project made me realize that it adds a vibrant, and perhaps necessary, element to the entire development. Living and working space for the arts community as part of the complex adds to the overall richness of the environment. If you're not connected to the arts, it might be "cool" to have office space or retail space in the center, but if your work is related to the arts (graphic designer, printing, intellectual property lawyer, advertising, etc.) then the synergy would be enormous and the economic and quality of life impact immeasurable. I think Roy Decker might have expressed my feelings more articulately above: "The Art Center of Mississippi is a public private partnership structured development designed to overcome the handicap of municipal limitations. The project includes arts entertainment spaces but to help offset the costs also includes property tax and rental income generating urban housing, retail and office spaces. (The north tower includes retail on the ground floor, offices and housing above. the south tower include arts spaces, studios and housing above) This project is a model of new public buildings in cities like Jackson where the citizens by leadership and use help make it possible. Its a mixed use building that will serve visitors, residents and school children for many years to come. R"

Author

Pops

Date

2008-07-28T21:19:13-06:00
ID

132527

Comment

I wish there was a magic wand so that all of these great developments can just pop up right now! But like many others, I, too am concerned about gentrification. Yes, some gentrification is necessary, but not to the point where longtime residents are pushed out because they can't afford higher property taxes that results from higher property appraisals. I also don't wanna see a situation like what Jackson State tried to do with the quick-take process and force people out.

Author

golden eagle

Date

2008-07-28T21:46:59-06:00
ID

132528

Comment

The good news on this one, golden, is that there are no residents to force out, of course! I like the coolness factor, too, David—although I think something a bit less upscale in an arts center would also be cool. Perhaps my biggest concern is that the hoity-toitiedness (sp?) doesn't affect the grass-roots needs of the arts community. And that access does not change because residents paying a lot of money don't like all the weirdness. When Fondren Corner first opened, for instance, they freely offered the rooftop for all sorts of events. But then due to circumstances out of their control, it got too rowdy and residents (understandably) asked for building access to be limited. I don't blame them for that -- but that is a privately owned building. The Arts Center is a public building, and should not have any rules imposed on it by private entities, residents, retail tenants, etc. You will also learn that I can be a bit wary of public-private partnerships, especially at the point when the private part starts saying that the public can't know something yet because it's going to ruin some deal, bid or hurt their business. If that is a conern, those companies shouldn't be involved with public entities. We must insist on full sunshine at every stage. And, frankly, the city hasn't done a stellar job on that, to date. Again, none of this is to put down the project or the design. It's very compelling. It's more the "how" I'm concerned about. And whether or not the public is fully briefed. This thread is a great step toward addressing that concern, and I applaud you guys for taking it public, so to speak. ;-)

Author

DonnaLadd

Date

2008-07-28T22:21:08-06:00
ID

132529

Comment

The gentrification fears is probably not an issue at this point, but as the projects come aboard and spread out, then it will become more of an issue. Hopefully, with the mixed-income housing units, it will help put the clamps on rising property appraisals in surrounding areas. But I do believe that everything will be done to prevent people from being forced out. You might not have meant it this way, but I got a kick when you said this: the private part I know its almost midnight, but let's keep it clean nonetheless. ;) Maybe I need to go to bed now. Back to the regular scheduled conservation.

Author

golden eagle

Date

2008-07-28T22:50:22-06:00
ID

132530

Comment

Leave it to golden to get racy! ;-) It's midnight, and I've done enough research, and editing, and blogging, and teaching for one day. Later, all. Zzzzzz.

Author

DonnaLadd

Date

2008-07-28T23:00:57-06:00
ID

132539

Comment

Mornin', folks. It sounds like there is a model out there for the kind of group we're talking about; a reader just sent me this. Take a read and let us know what you think and if it would be a good model group for Jackson: I was reading on the free press website about the new developments in Jackson and you said something about a public watchdog. I grew up in Jackson, but I am going to school in Nashville. We have a group called The Nashville Civic Design Center which "... is a nonprofit organization whose mission is to elevate the quality of Nashville's built environment and to promote public participation in the creation of a more beautiful and functional city for all." I think Jackson would benefit from an organization like this. Their website is http://www.civicdesigncenter.org/index.html

Author

DonnaLadd

Date

2008-07-29T07:23:52-06:00
ID

132540

Comment

The whole mission statement: Founded in 2000, the Nashville Civic Design Center is a nonprofit organization whose mission is to elevate the quality of Nashville's built environment and to promote public participation in the creation of a more beautiful and functional city for all. Towards this end, the Nashville Civic Design Center: Educates the public about civic design through lectures by prominent speakers; classes on the history and practice of urban design; and continuing education classes taken by design and development professionals in the fields of architecture, law, real estate and urban planning; Provides professional staff and highly-qualified design interns to consult on civic and other community development projects; Facilitates public dialogue about civic design and its impact through the Urban Design Forum. The Forum meets monthly at the Civic Design Center, publicizes events and lectures and provides an open forum (by-email) for the debate of ideas and issues of interest to its members; Researches the impact of civic design issues; Promotes the principles of the Plan of Nashville, a vision for growth and development, created and endorsed by the citizens of Nashville.

Author

DonnaLadd

Date

2008-07-29T07:25:48-06:00
ID

132587

Comment

As I student I believe it is a good idea to have students downtown. If there is going to be a developmental watchdog group, you should consider involving the youth in being apart of it. I don't think that is done enough in the Greater Jackson area. By including youth in the developmental process, you will encourage them not only to stay, but to also become a developer. Which will hopefully provide a continual stream of new business, civic, and government leaders who are competent enough to keep Jackson on top for many years to come. ------------------------------------------------- Are there any plans in the works for Thalia Mara hall? Is a need for sustainable, environmentally friendly development being taken into consideration? Are you all planning based on 20th or 21st century models? What about parkspace? Esp. roof top gardens?

Author

optimisticaboutNewJackCity

Date

2008-07-29T16:18:48-06:00
ID

132592

Comment

YES on the youth suggestion. Want in? ;-)

Author

DonnaLadd

Date

2008-07-29T16:42:56-06:00
ID

132593

Comment

I wasn't expecting that but yes, thanks.

Author

optimisticaboutNewJackCity

Date

2008-07-29T16:58:31-06:00
ID

132603

Comment

Optimistic..where have you been?..Jackson Progressives at your service...your idea is already in full motion..stay tuned..right Pops??:-)

Author

Kamikaze

Date

2008-07-29T18:45:43-06:00
ID

132604

Comment

yar, the youth and all! I like the Nashville reference - it seems to me that as well as David "Pops" Watkins has done with communication and openmindedness, we cannot logically expect developers who are in the game for profit to be as mindful of certain community concerns as other groups may be (students, artists, low and middle income citizens, etc.) To that end, a non-profit formalized group or informal group can be a boon to the development process, as they can offer a unifed front to speak for their concerns and also to support developers who are willing and able to listen. In addition such group(s) can challenge the developers if need be. By the way, I really, really enjoy Pops's contributions to the JFP blogs - it's so amazing to have a business person with such huge projects taking the time to blog and discuss them. I know for myself and others, we are very, very interested in all that's going on. Interested, intreigued, and very often, impressed!

Author

Izzy

Date

2008-07-29T18:48:53-06:00
ID

132606

Comment

well what's next kamikaze?

Author

optimisticaboutNewJackCity

Date

2008-07-29T19:21:28-06:00
ID

132634

Comment

Pops what's happening with this Freedom Court Development which is supposed to complement Farish Street. The Clarionledger is reporting, 'Plans call for 120 apartments, plus 60 apartments set aside for law students and 20 townhomes' Are the student apartments going to be exclusive to Millsaps Law Students?

Author

optimisticaboutNewJackCity

Date

2008-07-30T16:30:04-06:00
ID

132637

Comment

Optimistic, you ask whats next? whats next is you and all the concerned, motivated, progrssive students you know and join us at the next Jackson Progressives meeting August 21st at the Clarion Hotel on I-55..youll be amongst like minds and we need your participation. This edition will be a special ''BOOM @ JxnPro'' edition where we give kudos to the new Boom Jackson magazine and push a positive Jackson. ...and as always you can join us as we put our energy into action every Wednesday for lunch at Peaches on Farish. Join our facebook page or email us at jxnprogressives@yahoo.com. Our first target? Farish!

Author

Kamikaze

Date

2008-07-30T18:14:07-06:00
ID

132638

Comment

As someone who is excited about this development, I think questions such as Optimistic's need to be answerable in the media, online, etc., and not necessarily just in face to face meetings... I haven't been able to make it to these things yet. I know I will as soon as my schedule lightens up after next week, but the vast majority of people--especially low-income folks, some folks with kids, older folks, etc.--in this city won't... The information needs to be out there in a more easily disseminated form. In Optimistic's case, I think he's asking a really good question. If the 60 apartments are being set aside for law students from both MC and Ole Miss, I can see scenarios where some folks who fall into the latter category can use them. If it's just MC Law, that's okay too as far as I'm concerned (it's a great location for student housing since the law school is right there), but it's useful information to have either way. I'd also be interested in knowing, and in having it made public, what sort of income level folks have in mind for the other 120 apartments. People have shown a good commitment to mixed-income developments in some other areas, but I also know that some of the downtown developments are definitely not mixed income (way out of my price range, anyway); I'd be interested in knowing which trajectory this building would follow. Again, not as any criticism of the project--even if it is high-priced, the fact that 60 of the units will be student housing will diversify it some, and I realize it's not the only development downtown--but we just to have the information out there in order to have a general sense of how this is going to affect people who already live in the area. This isn't a "gotcha" thing; it's just information that I think people need to have.

Author

Tom Head

Date

2008-07-30T20:12:51-06:00
ID

132642

Comment

I'm not involved in the Freedom Court Development (by Hope Development out of Minnesota). From what I have been told and have read in the public accounts, it seems to be a worthy project that will help the law school, help the community and help downtown Jackson overall. I plan to meet with them in a couple of weeks and will try to help them every way that I can.

Author

Pops

Date

2008-07-30T22:05:46-06:00
ID

132647

Comment

Its not going to start until we start exercising our muscle as a unified city! We must start calling to the carpet those who OVER-emphacize our negatives. Madison and Rankin know full well what they are doing(along with the news outlets) and we let them. Look..no one is saying or has said that we DON'T have crime. We DO! and its not good. No one has said or is saying that a revitilized downtown will end all our problems. (and folks are being accused of doing that). Downtown is only one of many solutions to bringing this city back! We must simply ignore the criticism. The CL forums are there for what its there for..An unrergulated platform for people to anonymously spew hate, criticize, whine, monday morning quarterback, and be cynical about the positive things we have to offer. We regulate them to a small corner in the room where they will do nothing but. They are irrelevant. If you have nothing positive to the shut the hell up and get out of the way of those who wish to act! ....... Go back over and paste this if you wish..have no fear. The Jackson Progressives are here now and along with other like minds at the table this city WILL change! We're all on the same page now and with or without you cynics we WILL succeed..My kids futures here depend on it.

Author

Kamikaze

Date

2008-07-31T08:10:52-06:00
ID

132648

Comment

for a progressive city - the suburbs have to be in step with the city I can see how that would be useful ... but is it really true? I can't imagine that every city's Renaiisance had support of the suburbs.

Author

DonnaLadd

Date

2008-07-31T08:10:56-06:00
ID

132650

Comment

Probably not Donna. But lets be painfully honest, those other cities didnt have their surrounding communities actively campaigning to see the city fail. Using its gaffes and news fodder as a tool to lure new residents in..Competing against us for chains and other businesss...As i said at the DJP event Madison is probably moments away from commissioning a commercial that says...''If you dont want your family slaughtered...MOVE TO mADISON!''..If you dont want your home pilaged by these savage out-of-control black men...MOVE TO MADISON.cuz we set up roadblocks to keep their kind out! No...we may not NEED them but a unified buy-in to a metro concept of ''if the capital city wins...we win'' would help. Much like it did Little Rock

Author

Kamikaze

Date

2008-07-31T08:23:44-06:00
ID

132652

Comment

I feel you, Kaze. The anti-Jackson sentiment is deep here ever since white folks fled in terror. ;-) I would think it would have been similar in Memphis, though. Or perhaps in Shreveport.

Author

DonnaLadd

Date

2008-07-31T08:32:36-06:00
ID

132653

Comment

So very true, Kaze. In many ways, Jackson's burbs are its worst enemy.

Author

Jeff Lucas

Date

2008-07-31T08:33:42-06:00
ID

132655

Comment

They indeed are. But that's my point. We're not going to change those minds overnight, so that's why they don't have to be "on board." We have to do this thing without bigots against the city. And if more crawl on board, that's great. Of course, we have people right here in the city who will try stop any positive efforts that weren't their ideas. The mayor is an obvious example, but there are other people who use his same scare rhetoric to try to keep people divided. Some have media forums.

Author

DonnaLadd

Date

2008-07-31T08:45:31-06:00
ID

132658

Comment

Of course we have crime. We have a lot of poverty and a lot of guns in a state that makes it difficult to do anything about it. We have a serious drug trade supported by people who aren't out on the streets shooting each other every day. This is the same tragic problem that many cities are faced with. The difference here is that many politicians and dividers and media will take advantage of people's ignorance, lack of education and fear to make the problem worse, as happened with the election of Melton. Then other people will just replace them to do the same thing a different direction to fight other petty vendettas, or to try to gain a little power without putting action behind it. But awareness of these games is increasing. The Jackson Progressives is yet another positive step toward building an alliance of people who are rising above the rhetoric, and have been for a few years now. I'm seeing it all around us, so keep it up, folks. The dark side will be there, and it will just shift around as we have seen to follow petty political paths. But good stuff is happening; keep moving forward. Simply ignore the naysayers, as an increasing number of people are doing. That's fun to watch.

Author

DonnaLadd

Date

2008-07-31T08:53:43-06:00
ID

132659

Comment

..And those forums will always attract the whiners and the cynics. The talkers not the ''doers''. Its sooooo easy to JUST talk about thje negative..its a sitting duck. Sometimes people have to vent..yes..People are scared..yes...Am I cautious...Hell YES! Do I think crime will disappear when Farish is done no! but I choose to NOT be held hostage by that..Not gonna be the whimpering victim. Crime will NOT win the day with me. Its a clear and present evil that we must win in spite of. Cowards to the back of the line please.

Author

Kamikaze

Date

2008-07-31T08:57:52-06:00
ID

132661

Comment

Agreed. You are enlightened, where many are caught up in small, petty games, Kaze. But you and others like you—each ones of us, in fact—can lead on this front. We have to change the tone.

Author

DonnaLadd

Date

2008-07-31T09:03:50-06:00
ID

132663

Comment

And thanks to the gentleman who wrote the letter to the editor today in the CL. Please go by and check it out. Its a testament to the hard work that the Progressives have been doing and a precursor to the movement that it is beginning here. Either lead, follow, or get the hell outta the way. Because with you or without you we move foward. Cynics..we no longer hear you.

Author

Kamikaze

Date

2008-07-31T09:07:16-06:00
ID

132664

Comment

Shopping in the city limits is one easy thing we can all do. You're right Baquan. I think I have driven by Renaissance once. I can't promise I can keep Todd out of the Apple store, but we won't go there or any other suburban mall to get stuff we can get in the city. It's shortsighted.

Author

DonnaLadd

Date

2008-07-31T09:12:52-06:00
ID

132667

Comment

Optimistic, you ask whats next? whats next is you and all the concerned, motivated, progrssive students you know and join us at the next Jackson Progressives meeting August 21st at the Clarion Hotel on I-55..youll be amongst like minds and we need your participation. This edition will be a special ''BOOM @ JxnPro'' edition where we give kudos to the new Boom Jackson magazine and push a positive Jackson. ...and as always you can join us as we put our energy into action every Wednesday for lunch at Peaches on Farish. Join our facebook page or email us at jxnprogressives@yahoo.com. Our first target? Farish! -- I am still in high school so the lunch thing is probably unlikely, but I will try my best to get to the Clarion Hotel, and stay in touch with email. Every since I could remember it seemed that the nightly news and the suburbs were carry out a quite campaign for the demise of Jackson. To say that we need to get them on board to get Jackson going is an unfair assessment of the situation. We need to get going, and if they decided to they can get on the bandwagon. We shouldn't be dependent upon their help because we are the capital city and the hub of this metropolitan region. At our location in the south, we are in a strategic area to grow significantly. Jackson should be a lot bigger on the map. I'll be off of the beaten path occassionally, so don't be suprised. But I will definitely try to stay in the know on what's going on. I don't know what my schedule will be like when school gets back in, or whether or not I will be able to get a decent job close to home, but I definitely am interested in aiding Jackson's resurgence in any way that I can.

Author

optimisticaboutNewJackCity

Date

2008-07-31T09:42:48-06:00
ID

132669

Comment

I saw a little of that thread(well, all I could stomach) and you were on point with a clear common sense premise. But as usual with no policing it turned into a bash Jackson and ''Im scared to go to Metro because Ill get robbed or killed'' session. Which could EASILY happen at Dogwood or Nothpark..or Renessaince for that matter. Its the perfect forum to race bait and steretoype for cowards who would never repeat those opinions in a public forum...But it gives clear insight as to what SOME folks privately think.

Author

Kamikaze

Date

2008-07-31T09:59:13-06:00
ID

132672

Comment

What's crazy about the Ledger forum is how much outright racism they allow over there. I just saw a "New BlackCity" post under one of the crime stories. You can't allow that to happen, or obviously the thread will get out of control, only attracting bigots and the handful of people with the stomach to challenge them (like Baquan). Maybe it's good for page views, though, and everyone knows that it's all about the bottom line at the Gannett-Ledger.

Author

DonnaLadd

Date

2008-07-31T10:34:59-06:00
ID

132675

Comment

"Shopping in the city limits is one easy thing we can all do. You're right Baquan. I think I have driven by Renaissance once. I can't promise I can keep Todd out of the Apple store, but we won't go there or any other suburban mall to get stuff we can get in the city. It's shortsighted. I don't know if you have ever read the topic I started on the "other" sight called "MetroCenter Mall" - I started that some months ago and it got very heated. But it will definately give you some insight on where I stand on economics and development in the city of Jackson. I would have been coming here if I knew you guys were getting down like this. Look forward to breaking bread with you in the future." I used to go to that clarionledger.com forum, but I could no longer stomach the level of unintelligent discourse that goes on over there. On top of that the conservative group was very condescending towards me because of my age. They don't know how to debate or have an intelligent conversation, but they definitely understand how to be argumentative. When I discovered the Jackson Free Press forum, it was over. I still occassionally participate in the Clarionledger's forum, but I refuse to be baited into an argument.

Author

optimisticaboutNewJackCity

Date

2008-07-31T10:47:59-06:00
ID

132683

Comment

On top of that the conservative group was very condescending towards me because of my age. They don't know how to debate or have an intelligent conversation, but they definitely understand how to be argumentative. Thanks to FNC and talk radio, that's the only way the average wingnut knows how to debate these days. But that's also the C-L's fault for not moderating their posters and strictly enforcing TOS.

Author

Jeff Lucas

Date

2008-07-31T11:26:01-06:00
ID

132686

Comment

GO get em if you need help i be on the cl forum somtimea

Author

NewJackson

Date

2008-07-31T11:40:03-06:00
ID

132696

Comment

No. It was Allingodshands.

Author

optimisticaboutNewJackCity

Date

2008-07-31T13:39:46-06:00
ID

132717

Comment

The letter was great. A movement is underfoot!

Author

MAllen

Date

2008-07-31T22:27:25-06:00
ID

132720

Comment

The second glowing headline in a week about Madison in the Ledger this week: Ashley finds home in bustling Madison You know, I've lived in cities that bustle, and I've never seen Madison "bustle."

Author

DonnaLadd

Date

2008-08-01T06:12:09-06:00
ID

132721

Comment

Yeah, bustle seems a bit overstated. Except when compared to 25 yrs ago.

Author

Jeff Lucas

Date

2008-08-01T06:52:12-06:00
ID

132725

Comment

whats next is you and all the concerned, motivated, progrssive students you know and join us at the next Jackson Progressives meeting August 21st at the Clarion Hotel on I-55.. Cool...what time? Hopefully in the evenings since I can't ever make the Wednesday meetings due to my work schedule.

Author

golden eagle

Date

2008-08-01T09:19:41-06:00
ID

132739

Comment

I was at the last Progressives meeting, and I was motivated that I thought my head would explode! Listening to all the future plans for Jackson and seeing a couple of the plans for Farish Street, etc. really put things into perspective. Going to these meetings gives you a great morale boost, which is a nice break from hearing about who shot whom on the news.

Author

LatashaWillis

Date

2008-08-01T19:55:56-06:00
ID

132742

Comment

GE: 7:30, Thursday night. Please join us. Matt

Author

MAllen

Date

2008-08-01T22:08:19-06:00
ID

142617

Comment

I enjoy some parts of Jackson Mississippi websites such as the Mississippi Museum of Natural Science and the Jackson Zoo. However, I want the city and the state to enjoy more than just local items. Therefore, the city can have more and be improved from the inside out. First, I want Jackson and the rest of Mississippi to have a natural history museum that displays plants and animals from around the world. Second, the Jackson zoo needs to be improved and have more species with natural habitats. Finally, the state of Mississippi needs more gardens that have plants from around the world, not just local species. I want Jackson Mississippi to have, enjoy, and learn more about the planet Earth, along with local items. I am not a native Mississippian and been reading many bad reports about the state of Mississippi, but I know that things will be improved in the state. Therefore, have fun and faith in God. Michael Reed Chicago, IL P.S. I hope that the public library and transportation systems be improved in Jackson, MS in the future.

Author

Michael (Chicago)

Date

2008-12-31T18:54:46-06:00