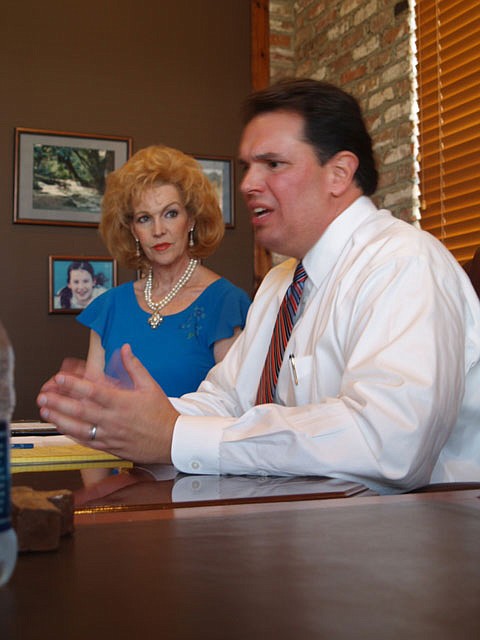 A little more than a year after Jackson Mayor Frank Melton began publicly calling for the demolition of the A-1 Pallet recycling plant on Mill Street, the company's owners are suing the mayor and the city for $100 million in damages.
In a suit filed in federal district court on Monday, July 14, Charlotte and Carl Monte Reeves allege that since May 2007, Melton and the city have pursued "a series of improper and unlawful actions designed and intended … to disrupt and result in the closure of … A-1 Pallet Company." Specifically, those actions were making public "false and defamatory statements," using city personnel to harass the business and making "illegitimate use of the legal process."
Half of the $100 million the Reeveses are seeking covers their lost income, damage to their reputation, medical costs and emotional distress. The other $50 million are punitive damages. At the office of their attorney Eduardo Flechas last week, Charlotte Reeves emphasized the emotional and physical toll of the ordeal. "This has been such a wear and tear on our nerves," she said Thursday. She has been suffering panic attacks, she said, which she never had before.
The mayor's alleged harassment began at a city council meeting on May 14, 2007, when Melton listed several structures around the city that he wanted to see demolished. Singling out A-1 Pallet, Melton told department heads: "At the end of this calendar year, it's going to be gone." The mayor mentioned "criminal activity" at the site, but did not give further details and instructed Joe Lewis, director of community improvement, to conduct a code inspection of the facility.
Two days later, Lewis, along with two other code enforcement officers and deputy Fire Marshall Michael Sterling arrived at the Mill Street facility. The manager on site denied them permission to enter. According to code enforcement officer Sidney Gladney's inspection report, "the manager seemed a little agitated," which led Sterling to call for police backup.
Not having a court order, however, the officers had to obtain one and return the next day, May 17, to inspect the property. According to Gladney's report, they found numerous violations, including "no access for fire department vehicles," "excrement from dogs, pigeons and rodents" and "stagnant water."
Fearing that the mayor might attempt to demolish their property illegally, the Reeveses requested a restraining order against the city, which Hinds County Chancery Court Judge Dewayne Thomas granted them on June 20, 2007. According to Flechas, the restraining order was open-ended and still prohibits city officials from entering the property. "If a man can go to someone's house with a sledgehammer and armed guards, what's going to stop him from going to A-1 Pallet Company and destroy it?" he asked.
Charlotte Reeves added that after the mayor began alleging code violations at the Mill Street facility, she and her husband independently requested an inspection from the state Department of Health. They provided the report, which found no violations, to the city.
Flechas estimated that the Reeveses had already lost $500,000 to $600,000 due to the mayor's defamatory statements.
"He's says it's an eyesore," Flechas said. "It was inferred that he meant white people—that these white business owners didn't have any business being in an African-American community." In addition, he acknowledged that he has heard rumors that the mayor may have wanted specific developers to develop the property.
Last year, many speculated that one such possible developer was Ann Arnott of Texas, who was working with the city on a plan to develop vacant and dilapidated lots that the city would seize through eminent domain or tax debts. But at the time, no one could confirm that A-1 Pallet was one of those lots.
For their part, the Reeveses insist that they have Jackson's interests at heart. The recycling facility's site, located at the end of the Farish Street Historical District, is zoned for heavy industry, but Charlotte Reeves said that her ultimate goal for the property is to develop it into an arts and entertainment district. Reeves, who was a mayoral candidate in 1997, said that she and her husband have delayed their plan because the rest of the Farish Street development project has been stalled.
"I still have a burning desire to see our wonderful city—what it can be," she added.
The Reeves' suit comes at an inopportune time for the mayor, who was recently indicted on federal charges related to the 2007 demolition of a duplex on Ridgeway Street. Flechas denied that the Reeveses had timed their lawsuit to coincide with the mayor's other public relations problems. "I can assure you, this was not timed to make Frank's life miserable," he said. "It just came about that I could file suit." Flechas hand-delivered copies of an intent-to-sue letter to the mayor and the office of the city clerk on April 8—97 days before he filed the suit on July 14.