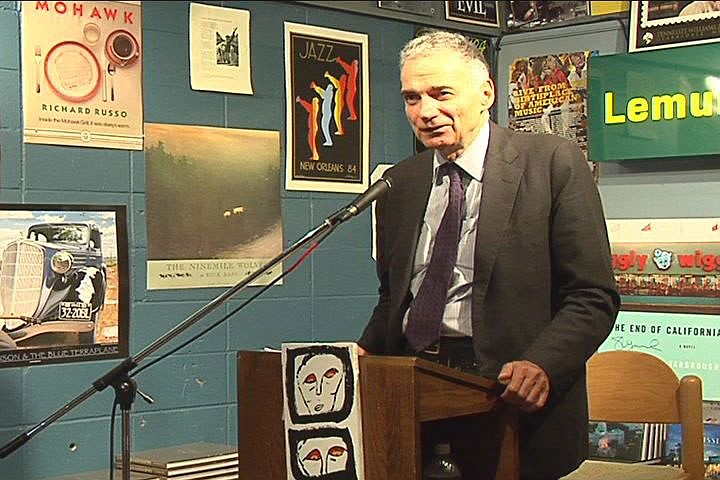 Independent Party presidential hopeful Ralph Nader asked Jackson supporters this weekend to sign a petition to include him on the Mississippi ballot in November. Nader's Independent Party requires at least 1,000 valid signatures in order to be an option in the state. His Mississippi spokeswoman Susan Stonecypher said he met that goal as a Green Party candidate for the 2000 election. Nader ran as an independent in 2004, and Stonecypher said she expects the party to gather more than 1,000 valid signatures in time for state ballot requirements.
Nader has angered many Democrats for allegedly drawing votes from the party. When he ran as the Green Party candidate in 2000, the consumer-rights advocate snagged almost 100,000 votes in Florida. Al Gore, the Democratic Party candidate that year, lost the same state by just 537 votes. That loss tilted Florida to the Republican Party, sealing the race and allowing President George W. Bush to take the White House.
Nader visibly bristled at titles like "Democrat spoiler" or "Republican tool." He said both parties, Democrat and Republican, have hurt themselves by moving away from the will of the people.
"People in this country are dissatisfied," Nader told reporters Saturday. "Three polls indicate that 81 percent of people think the country is going in the wrong direction. Over 70 percent think corporations have too much control over their lives, and 61 percent in a Gallup poll say both regional parties are failing. Doesn't that say that most voters want a different kind of presidential selection? ... It's a very volatile year, and we ought to get over this idea that if you're a third party or independent candidate, you're a second-class citizen. We all have the right to run for office."
Nader also pointed out that, although he has serious disagreements with the presumptive nominees of both the Republican and Democratic parties, his run seems to be hitting the Republican nominee more than Obama this time around.
"There are now three polls that indicate that the Nader/(Matt) Gonzalez ticket is drawing more votes from McCain than from Obama," Nader mused.
A June Los Angeles Times/Bloomberg poll found that registered voters preferred presumptive Democratic presidential nominee Barack Obama over presumptive Republican presidential nominee John McCain by 49 percent to 37 percent in a two-man race. The same national poll found that McCain fared much worse in a four-man race, with voters choosing Obama over McCain 48 percent to 33 percent.
Nader isn't the only one chipping away at the two-party system. Former Georgia Rep. Bob Barr, who rabidly pressed for impeachment against then-President Bill Clinton in the 1990s, also is poised to pull votes from McCain. Like Nader, Barr appears to draw most of his support from independent voters who say they would otherwise vote for the Republican.
Barr broke with the Republican Party after the Sept. 11 attacks, in protest of what he saw as a growing number of infringements on civil liberties and the Constitution from the Bush White House, aided, he claims, by the Republican Party. He switched to the Libertarian Party in 2006.
Barr, like Nader, is a vociferous opponent of the war in Iraq, and wants to bring troops home as soon as possible. Barr's voice is growing even more audible as public opinion sours on the war and the president who orchestrated it. McCain could feel Barr's presence even more painfully in Barr's homestate of Georgia, where the state's black population could already turn out in record numbers and further erode the Republican Party's "Solid South" designation.
Mississippi Democratic Party Vice Chairwoman Barbara Blackmon said she didn't think the independent wing of Obama's supporters would be swinging toward third-party candidates in Mississippi this year.
"Third-party candidates serve the country by presenting issues that mainstream parties may not want to touch, but I think in this instance, the Democratic candidate has been more in line with voters ... on most issues, including gas, energy, housing and the economy," Blackmon said, adding that McCain's identity issues were making him vulnerable to third-party campaigns. "McCain, on the other hand, hasn't known who he is or what he is. In 2000, when he was running against George Bush, he was more mainstream, and now he's moved to the extreme."
Mississippi Republican Party Chairman Brad White said he felt the state's voters tended to be party faithful.
"Most of the people I've spoken with in the state look at this realistically—that a vote for a third-party candidate is a vote away from their favored party," White said. "I just don't see that happening enough to have an impact on the presidential race in Mississippi."
Previous Comments
ID

132704

Comment

I think that it is great when 'third' party candidates get to vote. They only add to the discussion. I don't believe that he, Nader, cost Gore the election. I'm sorry, but I don't know how you can't beat a man who is obviously an idiot with a horrible record as a lackluster Governor. I was young, but I can remember George Bush's fuzzy math attack line. At that moment, I knew something was terribly wrong with George. I believe that we need more parties. It would open up the dialog and it would force our elected officials to be better.

Author

optimisticaboutNewJackCity

Date

2008-07-31T19:20:14-06:00
ID

132707

Comment

I completely agree. And if national Democrats were really worried about spoilers changing the outcome of the race, instead of just using that line to discourage third-party competition from the left, then they'd support instant runoff voting. They have the majority now, after all. The beauty of candidates like Nader (and this year's Green Party nominee Cynthia McKinney) is that they create consequences for Democrats who make too many concessions. John Arthur Eaves ran such a hateful right-wing campaign last year that I actually voted for Haley Barbour (yeah, I know) as a small attempt to tell the state party not to pull that crap again. I skipped the lieutenant governor's race entirely, for the same reason. But if there had been Green Party candidates last year to provide a pressure release valve for liberal Dems, I think it's a safe bet that Eaves would not have pulled the stunt he did, and Franks would not have either; they would have been forced to run campaigns that weren't so grounded in bigotry and right-wing concessions. And under that scenario, Eaves and Franks would (ironically) have gotten my vote and the votes of many other people who either skipped the election or voted for another candidate in protest. So indirectly, Green Party candidates may actually help Democrats win elections. And Al Gore? Al Gore lost to Al Gore. Yeah, the Florida thing was nepotism at its worst, and Nader got more votes than the difference between the two candidates, boo hoo, but it never should have gotten that close and wouldn't have if Gore didn't wake up halfway through the general election and decide he was going to be Huey Long as portrayed by Ben Stein. Every vote Gore lost to Nader, he lost by selling out on his convictions and failing to provide a vision for the country (just think of what he could have suggested we do with that surplus--universal health care, universal college, and still enough left over to begin to address the future of Social Security). I don't feel sorry for him. I feel sorry for us. Instant runoff voting is what we need, folks, so that we can get rid of the two-party system and add more viewpoints to the mix. And if it takes Ralph Nader scaring the fear of God into a few more Democratic presidential candidates for that to happen, so be it. That said, Obama's no Al Gore and I don't think Nader or McKinney will hurt his numbers very much. I think he'll take the presidency in a walk.

Author

Tom Head

Date

2008-07-31T19:35:41-06:00
ID

132709

Comment

Me too, but I'll vote for him in Mississippi because I think he will win this state. Republicans are stupid to think that Democratics, especially black Democratics, won't turn out in large numbers this election cycle.

Author

optimisticaboutNewJackCity

Date

2008-07-31T20:29:20-06:00
ID

132710

Comment

Oh, I'm definitely voting for Obama, too. I've never personally voted Green in a presidential race; it's just that I can see the practical advantage of having a Green candidate on the ballot, just to keep the Democrat honest.

Author

Tom Head

Date

2008-07-31T20:31:21-06:00
ID

132711

Comment

If I thought Nader had a chance of winning, I'd vote for him though.

Author

optimisticaboutNewJackCity

Date

2008-07-31T20:38:18-06:00
ID

132776

Comment

Independent Party presidential hopeful Ralph Nader asked Jackson supporters this weekend to sign a petition to include him on the Mississippi ballot in November. Nader's Independent Party requires at least 1,000 valid signatures in order to be an option in the state. There's an Independent Party?

Author

LatashaWillis

Date

2008-08-03T18:54:54-06:00
ID

132777

Comment

Good question, Latasha. "The Independent Party" would be sort of like "The Church of Religious Non-Observance," wouldn't it? The last party I can think of that had a name sort of like that--though not exactly the same (American Independent Party)--nominated George Wallace for president in 1968. So just to avoid name confusion alone, I would have wanted to go with a different party if I were him. What I'd like to hear from Nader, frankly, is why he's running at all this year when the Greens have nominated Cynthia McKinney. Why didn't he just endorse her?

Author

Tom Head

Date

2008-08-03T19:31:22-06:00
ID

132778

Comment

Tom, I Googled it, and I came across this site, which I actually like. Looking at the list of state independent alliances, my guess is that the Independent Party must be the name of the state alliance that Nader is affiliated with. That would make sense.

Author

LatashaWillis

Date

2008-08-03T19:57:26-06:00
ID

132779

Comment

That DOES sound cool. Thanks, Latasha--I learned something today!

Author

Tom Head

Date

2008-08-03T20:12:01-06:00