Wednesday, January 7, 2009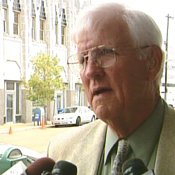 The news that former District Attorney Ed Peters turned in his license to practice law to the Mississippi State Bar Association Tuesday has rekindled chatter about the corruption scandal that rocked the state after feds indicted Richard "Dickie" Scruggs on Nov. 28, 2007.
Scruggs' indictment was like an octopus whose tendrils suddenly started slithering into all levels of the Mississippi judicial system, and the power circles that has long controlled it. The news quickly emerged that Peters and his former right-hand man in the district attorney's office, now Hinds County Circuit Judge Bobby DeLaughter, were wound up in the scandal as well. Attorney Joey Langston, while detailing his own atrocious sins, fingered Peters for allegedly lining up for a million-dollar bribe from Scruggs to convince DeLaughter to rule his way.
That news opened floodgates on what were already questionable decisions by the judge, including one reported in detail by the JFP after an alert by then-District Attorney Faye Peterson (whom Peters actively worked to oust in 2007). In that case, DeLaughter made a questionable decision in the case of a drunk police officer who ran a light and killed someone. His attorney? Ed Peters.
The JFP's eyebrows were first raised toward Peters while researching a candidate for mayor in 2005: Frank Melton. A longtime close friend of Melton's and of now-City Councilman Frank Bluntson, Peters was prominent in a Juvenile Detention Center scandal in Jackson in the 1990s, in which Bluntson was accused of wrong-doing, and in which Melton's name surfaced.
Police documents and news reports show that Peters helped broker a deal for Bluntson to step down, and then hired him to work in his office. Peters also refused to take the investigation before a grand jury, infuriating investigators.
Our research also revealed that Peters was often in the questionable spotlight over the years, and seemed to benefit greatly from a strong network of perhaps-misplaced support in the city's power structure, as well as in the local media.
As for DeLaughter, the glow of his Byron de la Beckwith fame was tarnished after Brian Johnson investigated the wrongful imprisonment of Cedric Willis, revealing the details of how prosecutors ignored evidence that would have exonerated Willis. The prosecutor: Assistant District Attorney Bobby DeLaughter.
Now that "Scruggs II" is coming to light, we have no doubt that the tendrils reach further, both into the Hinds County judicial system and throughout the rest of the state. The feds, as well as state authorities, must do everything in their power to air all the corrupt laundry that held this state back for way too long, regardless of partisanship and who was a frat brother or sorority sister.
Previous Comments
ID

142809

Comment

I missed this juicy bit the first time around. So the king-maker has been busted down to private--er, given a dishonorable discharge--er, put out to pasture--or some other mixed metaphor, if you prefer. Anyone who is familiar with Peters' role in the detention center scandal knows that this is merely the tip of the iceberg. I guess character really is fate. Otherwise, I am watching with great interest to see whether this scandal brings down Bobby DeLaughter. There is surely a parable in the fact that shortly after getting a conviction of Byron de la Beckwith, DaLaughter sent Cedric Willis to prison for crimes he did not commit. DeLaughter had to know that he had the wrong man, yet he ensured that the jury never heard any of the evidence that exonerated Willis. Lawyer folks might say that DeLaughter was only doing his duty to represent the state, but that's hog wash. Prosecutors have a special responsibility to seek the truth, in a way that defense lawyers don't. That aside, DeLaughter let a rapist and murderer get away with his crimes. Who knows how many other crimes the real culprit may have committed while DeLaughter railroaded Willis? In my opinion, DeLaughter's story demonstrates the perils of ambition. I would love to be able to sit down for a cup of coffee with Cedric to ask him how he feels about DeLaughter going to federal prison. I guess it may depend on how loudly Peters sings--or rather squeals. I bet you can squeal like a pig, can't you, Ed?

Author

Brian C Johnson

Date

2009-01-09T15:59:14-06:00