Wednesday, January 7, 2009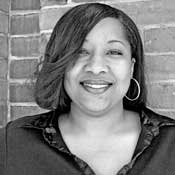 "Do not dwell in the past; do not dream of the future, concentrate the mind on the present moment." Buddha's famous quote has directed my life for the last 30 years. I've always done my best to live life to the fullest no matter what. The last month of 2008 has proved to me that planning life is a great idea, but provides very little certainty.
Dec. 19, 2008, was the day my life took a completely different direction than I expected. My significant other, Brad "Kamikaze" Franklin, and I picked up the keys to our new home and began stuffing the items from two apartments into our first house. I thought this would be the climax of my year. Not only were we both giving up the solo living style we had come to enjoy so much, but we also gained a new yard for Sheeba—our gorgeous and wonderfully pleasant lab/retriever mix—and I took on many more rooms to clean. That in itself was enough to shake up my existence. But it didn't stop there.
After two weeks of slowly moving, our house finally became a home. Some of the chaos began to subside as we began to accept the fact that we were no longer living alone and had to share our personal space with each other. That took a lot of getting use to. I remember thinking earlier in the year that we would eventually move in together, but I didn't prepare myself for all the rest. I had not prepared myself for the check-in phone calls, cooking larger portions, delegating chores, coming in at "lady-like" hour (as he calls it), etc. Still, though, I continued to embrace life's changes.
Life was hectic during Christmas and Kwanzaa, and I had to leave work early Dec. 31 because the anxiety of getting everything out of my apartment and my Kwanzaa shopping done was weighing heavily on me. By the time I had spent about three hours shopping and finalizing my move, my beloved was beginning to get antsy. I grew steadily irritated with each text and call from him. I thought, "He knows I have to get this done if we're going to make it to the party in time."
The last call was calm and sensitive. He asked if I would stop whatever I was doing at that moment and just come home. I thought it was strange for him to be so polite after all my non-stop yelling. So I decided I could give a little and just go home.
I had to pack up my things and prepare for an overnight stay at the Hilton—all in about 15 minutes. Any woman who has ever gone to a New Year's Eve celebration knows that 15 minutes is not enough time to prepare an outfit for a celebration of that magnitude. Hence, my frustration grew to an entirely new level. Still, I noticed him taking deep breaths and ignoring my tirade—well trying to, at least. Usually by now, he would have grown tired of listening to me screaming and cursing. This time, however, he just continued to stay clear of me. This is when I began to get unnerved. But having little time to indulge in a long-winded conversation, I continued to the car hoping I could generate some level of excitement about the evening ahead. So far, it wasn't looking too good.
Once we made it to the hotel suite, I noticed Godiva chocolates on the bed. "Wow, he has really gone all out for this New Year's celebration," I thought.
"Baby, these are for you," he said. Because I am not a chocolate fanatic, I was more impressed with his thoughtfulness than I was with the actual chocolate feast.
It was a very touching moment. But what's better is the time I took for myself in the Jacuzzi. That made up for everything that had not gone right thus far in the evening. I was able to unwind and prepare myself for a celebration. After we headed down to the party, he stopped me at the door.
"Baby, your outfit isn't complete, yet," he said softly. "Here."
I turned slowly and found him down on one knee fumbling with a resistant yet beautifully wrapped box.
"Funmi Spencer, will you be my wife?" His hands were reaching for mine, topped with the most beautiful diamond ring my eyes have ever seen.
When I could form words, I said, "Yes!"
All the living I've done in 2008 was trumped by one single evening: Dec. 31, 2008, New Year's Eve. It has become apparent to me that there is no reason to say what we will and won't do in life. Neither Brad nor I have ever been sold on the idea of marriage and would probably have been just fine living as life partners forever, but the universe saw us going in another direction and sent us there with little say so about it. We have found ourselves in a different place these days. We have determined that what once governed our existence doesn't anymore.
I am still in complete agreement with Buddha's philosophy about living. We have no control over what will happen to us in the future. All we have is right now—today. I plan to ride each wave as if it's the last. The difference is that now I have a partner to share my surfboard.
Happy New Year!
Previous Comments
ID

142762

Comment

AHA! I knew it! I knew it! Congratulations!

Author

LatashaWillis

Date

2009-01-08T10:55:10-06:00
ID

142765

Comment

OMG!!! CONGRATULATIONS!!! Love you both! I am so happy for you!!

Author

andi

Date

2009-01-08T12:23:15-06:00
ID

142767

Comment

I thought you guys were married. Congrats!

Author

golden eagle

Date

2009-01-08T12:26:59-06:00
ID

142769

Comment

Can we call you Mr. Spencer, Kaze? I assume you're taking her name.

Author

DonnaLadd

Date

2009-01-08T12:29:48-06:00
ID

142770

Comment

The only thing I can say is that your man really knows how to make things special. This one sounds like something to be put on TV for al young men to watch. Congratulations to you and yours!

Author

justjess

Date

2009-01-08T12:30:17-06:00
ID

142771

Comment

I like that Donna.....ALOT. Thanks everyone! Hugs and kisses to you all and golden eagle...did you really? Why?

Author

Queen601

Date

2009-01-08T12:40:36-06:00