Wednesday, January 7, 2009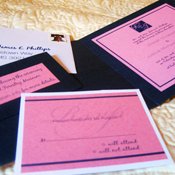 When I began planning my wedding, I immediately dreamt of invitations, programs and stationery. I wanted something extra special and unique. Since unique equals expensive in the invitation world, I decided to see what I could come up with on my own. The result was exactly what I wanted, and only cost me around $100 for 175 invitations. How did I do it? Here are seven key things to remember for do-it-yourself invitations.
Research, Research, Research: If you decide to do your own invitations, you should start early. Search the Internet, visit local stationery stores and order samples. You may already have a vision in your head, but seeing that vision in a tangible form may change your feelings.
Think Outside the Box: Get creative with your materials and resources. The shell of my homemade invites is made from a cardstock report cover from an office supply store. These navy papers have a beautiful linen finish, and are easy to score and cut. The best part: I paid $12.99 for a pack of 50.
Keep it Simple: When it came time for me to create the printed pieces of my invitation, I decided I wanted something to build around. I created a logo of sorts with my groom's initials and mine. It took no more than 10 minutes to create in Photoshop, but it added so much elegance right from the start.
Get Back to The Basics: The actual printing process for invites can be a big chunk of change. To cut costs, use a basic inkjet printer. As for what to print your elegant designs on, you can use construction paper. You read that correctly. My light pink construction paper ran through my all-in-one printer like a charm. Especially charming is the fact that I paid only 97 cents for a pack of 50 sheets.
Don't Waste Your Scraps: While transforming my report covers, I had a rectangular scrap that I cut off each one of them. I recycled all of those scraps and turned them into a matte for the reception information.
Shop Around for the Items You Can't Make: I spent weeks looking around for envelopes because I wanted to make sure I found the best deal. And, boy did I ever. I visited Cutcardstock.com, and got the most amazing deal and even better service: 250 white 6-inch square envelopes for $26.
Don't forget the "Yourself" in Do It Yourself: This is your project. Keep things in perspective, and don't beat yourself up. Brides have so much stress and pressure put on them, and they often put the majority of it there themselves.