Wednesday, January 14, 2009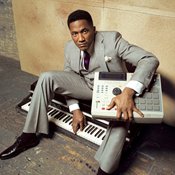 Q-Tip's new album, "The Renaissance," is his fourth forgettable album in a row. Though it has a few impressive songs, it does little to extricate Q-Tip from the list of old-school MCs unable to transcend the divide of old-school and present-day hip-hop.
A Tribe Called Quest's first three albums, especially the latter two, "The Low End Theory" and "Midnight Marauders," assured Q-Tip a spot on the list of top MCs of all time. His last four records, though, have raised questions as to whether he still belongs. They have shown toothless lyrics, his difficulty to mesh with any producer outside the long-defunct Native Tongue family and his inability to carry a record as a solo MC.
Even though Q-Tip was the undeniable star of A Tribe Called Quest, he always had Phife, whose rhymes and voice complimented Tip's perfectly. Without Phife's more traditional hip-hop voice and rhymes, Q-Tip's nasal, preachy rapping becomes grating after 50 minutes. Unfortunately, that's only one of many problems with "The Renaissance."
The album isn't unlistenable, but even the positives have drawbacks. For example, "Won't Trade," boasting an obscure '70s soul sample, is one of best beats Q-Tip has ever rapped over, but you can't help but wonder what a stronger voice would have managed on the beat. Ghostface Killah would have eaten up the "Won't Trade" beat, as opposed to Q-Tip's comparative nibbling around the edges.
He faces a similar problem on the track "Manwomanboggie." The song has one of the best hooks Q-Tip has come across, but once the hook ends and Q-Tip begins rhyming, he sounds like it's all over his head. It's the same frustration and sadness you felt when Michael Jordan bricked his first dunk for the Wizards.
Even the songs on the album that most blatantly invoke Tribe's memory, "Gettin' Up" and "We Fight/We Love," resemble the later era "Love Movement" sound. Q-Tip's voice has an almost unnatural treble as he rhymes over sterile keyboard and guitar vamps. Gone are the upright bass and at least superficial sense of instrumental spontaneity that made "Low End" and "Midnight Marauders" so unique and groundbreaking.
There are some rays of light that show he still has a great record in him. "Move" is an ambitious six-minute, two-part opus that comes as close as any song on the album to successfully updating body-moving "Midnight Marauders" anthems. It's the most fulfilling song on the record, featuring a multi-layered beat, DJ-scratching, and Q-Tip sounding comfortable in his lyrical and tonal niche.
"Believe" marks the mainstream return of D'Angelo, who should have been this decade's R&B icon. The song, like "Move," taps into vintage Tribe sound and vibe without being overly derivative.
Unfortunately, these inspired moments are the exception on an otherwise unremarkable album. In a year lacking a great hip-hop record, critics and fans are growing increasingly eager to find one. It could be tempting to pronounce "The Renaissance" as great it moves back toward the sound Tribe fans connect him with. After his 10-year infatuation with club songs, the record is a step toward regaining his relevance and vitality, but it's nothing that's going to get him back where he was 15 years ago.