Wednesday, January 21, 2009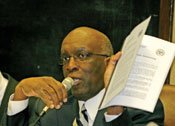 The Shrinking Economy
Legislators came face-to-face with rough times this week with Gov. Haley Barbour calling for $158.3 million in budget reductions for fiscal year 2009. Barbour had declared $42 million in cuts to every state agency—except the Mississippi Adequate Education Fund and some health-related services—before the session began, but came back for a second round of slashing that included a 5-percent reduction in every state agency.
Even MAEP, a program that allows the diversion of state money to school districts with low revenue, will see $76.6 million in cuts in Barbour's recent request.
Barbour said the cuts were necessary to MAEP because state law demands that the governor make no cuts above five percent unless the cuts include every agency. Barbour said the expanding revenue shortage made avoiding further cuts impossible. The state's chief economist predicted a deep recession through which the state will likely spend two or more years slogging. Federal hurricane recovery money is petering out, just in time for a national credit crunch to kick in. State Treasurer Tate Reeves told legislators that the state is facing $3.4 billion in bond debt.
Tobacco Tax
With the state's revenue shortfall in mind, the House approved an increase in the cigarette tax Jan. 14 from 18 cents to $1 per pack. Passing with an 81-39 vote, House Bill 364 will likely encounter stiffer resistance in the Republican-dominated Senate and the governor's office.
The bill would bring the state an additional $68 million to $78 million this fiscal year and $200 million in the 2010 fiscal year, according to House Ways and Means Committee Chairman Rep. Percy Watson, D-Hattiesburg.
"As we all know, we're faced with some desperate fiscal challenges in this state," Watson told House members. "We can either sit here as members of the Legislature and let all kinds of cuts be made in Medicaid, K-12, higher education, mental health—all of those very essential programs—or we can attempt to address the shortage by creating additional revenue."
Opposition to the bill came primarily from representatives who worried that the state would lose revenue from people buying cigarettes in neighboring states with lower taxes. By a narrower 65-56 margin, members voted down an amendment that would have limited the increase to 3 cents per cigarette, for an overall tax of 60 cents per pack.
Watson pleaded with legislators to pass a "clean bill" without amendments or earmarks to improve its chances of success. Gov. Barbour has warmed to the idea of a tax hike, but he has not spoken of it as a source of additional revenue.
When Barbour announced his budget recommendations in November, he proposed a 24-cents-per-pack increase to the cigarette tax, with an additional 43 cents per pack increase for brands not included in the state's settlement with tobacco companies.
"Tobacco tax increases are driven by health-care policy, not budget policy, and I would welcome offsetting tax cuts," Barbour said in a Nov. 18, 2008, statement. "Indeed, this term I will propose tax cuts in greater amounts than these increases, as I'm committed to a net tax cut as proper budget policy."
Barbour Spokesman Dan Turner declined to comment on whether the governor would support a $1 cigarette tax.
"This is still going through the legislative process. We're not going to comment on it as it makes incremental news. We'll wait and see what the Legislature yields," he said Tuesday.
Pushing For Voter ID
The House left the gate last week with its version of a voter identification bill, though Secretary of State Delbert Hosemann objected to language in the bill that would bring early voting to the state and create multiple polling places. Proponents argue the language would shorten voting lines on Election Day and facilitate county tallying. But Hosemann said the initiative should not advance until the state has a comprehensive, viable plan to purge the voter rolls. Otherwise, he said, that state would be "building a house on sand."
The House bill, sponsored by Democratic Reps. Brandon Jones, David Norquist and Tommy Reynolds, among others, makes ID mandatory, although accepted forms of identification may include non-photo documents, such as utility bills, bank statements and paychecks.
Hosemann said that he wanted a state-issued driver's license or photo card to be the primary form of identification, stating in a press release that "we don't think Mississippians would want to show their paycheck," Hosemann wrote. "We need a solid photo ID requirement, issued by a responsible party."
The Senate proposed its own voter ID bill that provides Mississippi citizens photo ID free of charge, though Sen. Merle Flowers, R-Southaven, held the bill on a motion to reconsider, after Sen. David Blount, D-Jackson, inserted an amendment that excluded anyone born before Dec. 31, 1945.
Hosemann said he disagreed with any bill that would exclude seniors from requiring identification, saying it would be unfair to voters the bill did not exclude.