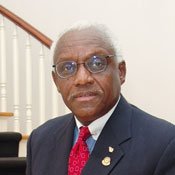 City Council President Leslie McLemore announced today that he is not running for a third term. McLemore said that he plans to support his administrative assistant, Vance Stiggers, for the Ward 2 seat.
McLemore said that he wants to devote more time to the Fannie Lou Hamer Institute at Jackson State University, where he teaches political science.
"At some point there's the issue of diminishing returns in terms of how effective you are," McLemore said. "I think for me it's time to do other things"
Reflecting on his tenure with the Council, McLemore said that he was proud of the council's improved organization and its responsiveness to citizens. He noted that there was still work to be done, though.
"I regret that we haven't created more of a dialogue between blacks and whites in the city of Jackson," McLemore said. "That's one of the things that, naively, I thought I would be able to activate—some kind of dialogue between different communities in the city."
McLemore had been mentioned as a potential candidate for mayor. Today he denied any intention of running for the office today, explaining that he had considered a bid but decided against it.
"I didn't have the real passion or the fire in my belly," he said. "And I'm not a good fundraiser."
McLemore, who has represented Ward 2 since April 1999, emphasized that his decision was not a result of fatigue.
"I am going to serve every damn day until June 30 as if I were running for reelection," McLemore said.
"I am the most energetic 68-year-old man you know in your life," he added. "I am no ways tired."
Previous Comments
ID

143055

Comment

"At some point there's the issue of diminishing returns in terms of how effective you are," McLemore said. "I think for me it's time to do other things" I wholeheartedly agree. I like McL, but I love it when politicians acknowledge that it's time to step aside and move on.

Author

Jeff Lucas

Date

2009-01-24T09:42:45-06:00
ID

143056

Comment

He'll be missed. An outstanding 10 years of service.

Author

MAllen

Date

2009-01-24T10:25:31-06:00
ID

143057

Comment

McLemore was a voice of intellegence and reason on the council. He will be missed. There is no doubt he would have been reelected had he run. With Crisler running for mayor and Bluntson and Tillman likely to be defeated there will be a whole new city government in Jackson.

Author

wellington

Date

2009-01-24T11:06:49-06:00
ID

143064

Comment

Damn. I'm sorry to hear this. McLemore is fantastic. This puts Chokwe Lumumba in a good position to win the seat, but he probably wishes he hadn't gone negative on McLemore now because that's going to cost him a lot of McLemore supporters. Wellington, I hope to goodness you're right about Bluntson and Tillman--both of them need to go.

Author

Tom Head

Date

2009-01-25T13:54:00-06:00
ID

143065

Comment

I wonder what kind of councilman Lumumba would make. He can be a polarizing figure, but I hope that council meetings can be civil if he gets elected.

Author

golden eagle

Date

2009-01-25T14:08:12-06:00
ID

143066

Comment

I admire Lumumba as an activist and as a human being but I'm worried about him on a policy level. I hope the fact that he opposes McLemore's policy history to the degree that he does doesn't mean that he would align himself with the Bluntson-Tillman bloc. I don't think it does--his history on civil rights is beyond reproach, and he did organize that press conference calling out Melton's civil rights abuses--but if there's one thing Melton's election taught me, it's to distrust everybody until I know their policy agendas.

Author

Tom Head

Date

2009-01-25T14:31:45-06:00
ID

143068

Comment

Is this the same Chokwe Lumumba that is the wants the U.S. to give the New Afikan Nation the southern U.S. to make a seperate black nation? Why would you want somebody that wants to break up the Union to be a coucilman?

Author

BubbaT

Date

2009-01-25T22:23:27-06:00
ID

143070

Comment

BubbaT, I think my exact words were "I admire Lumumba as an activist and as a human being but I'm worried about him on a policy level."

Author

Tom Head

Date

2009-01-25T23:29:10-06:00