Wednesday, January 28, 2009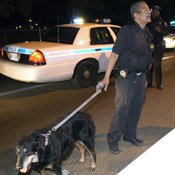 Barring any last-minute complications, Mayor Frank Melton's much-delayed federal civil-rights trial will begin with jury selection on Feb. 2.
Following a closed conference call on Melton's health Jan. 22, Judge Dan Jordan stated that the trial will proceed as scheduled. "The Court sees no indication that Defendant Melton has been non-compliant," Jordan said in an order released after the conference.
Melton and his former bodyguard, Michael Recio, face charges of violating the Fourth Amendment's protection against unreasonable search and seizure for their roles in a 2006 raid on a Ridgeway Street duplex.
Jordan has postponed the trial three times: first, in August to give Melton more time to find a permanent defense lawyer, then again in November, to give defense attorneys more time to review evidence. Jordan delayed the trial yet again Dec. 31, after hearing testimony from Melton's doctors that the mayor was in end-stage cardiomyopathy and was too ill to stand trial.
Days after the third delay, Melton entered St. Dominic's Hospital with fluid in his lungs, a common symptom of heart failure. He remained there for more than a week and later traveled to the home he owns with his wife in Texas to recuperate.
Melton returned to Jackson early last week and reportedly spent some time working in his office. His attorney, John Reeves, and city spokeswoman Goldia Revies have both said that the mayor appears stronger and healthier.
The mayor's fragile health could play a significant, if subtle, role in the trial, according to Mississippi College law professor Matt Steffey.
"Jurors are human beings," Steffey said. "We hope that the jurors will retire with no memory that the mayor was once put on trial and acquitted. … But you never know. If there's any knowledge among the jurors that he's been tried once—if they look at a man who can't catch his breath, who's emaciated and wasted—for a crime he's already been on trial for, where nobody was physically injured … . I think it's possible that some jurors may think, 'Gee, why are we punishing this sick old man for this?' "
In the Jan. 22 order, Jordan also scheduled an evidentiary hearing for Jan. 30 at 10:30 a.m. to hear arguments on three government motions that were filed under seal. The motions seek to exclude findings and allegations of misconduct by witnesses.
Prosecutors have indicated that they will introduce testimony against Melton and former mayoral bodyguard Michael Recio by police witnesses, including Marcus Wright, the mayor's other former bodyguard. Wright was indicted with Melton and Recio, but in October he agreed to cooperate with prosecutors in exchange for pleading to a misdemeanor conspiracy charge.
In a November pre-trial motion, defense attorneys referred to allegations of sexual misconduct by Wright. Prosecutors responded quickly by requesting that the court place under seal all documents containing potentially inflammatory allegations about their star witness.
In the months preceding the trial, prosecutors have repeatedly sought to restrict the trial's scope. They successfully argued for the exclusion of any reference to Melton and Recio's 2007 acquittal in state court for the same incident. Jordan also granted a government request to prohibit references to instances of the defendants' good conduct.
A government attempt to exclude any reference to drug activity at the Ridgeway house met with less success, however. Jordan allowed defense attorneys to introduce evidence that Melton and Recio knew of past drug use at the duplex.
"An absolute prohibition against any evidence regarding Defendants' reasons for visiting the property on the night in question would deprive the jury of necessary context," Jordan wrote in a Dec. 19 order on the subject. "Absent this evidence, the jury might conclude that Defendants acted on a whim and therefore must have acted for the impermissible purpose of violating constitutional rights."
In pre-trial filings, Reeves has argued that Melton did not act with the intention to deprive tenant Evans Welch of his constitutional rights. Melton, Reeves has suggested, only intended to help Welch after the tenant reached out to him.
Welch, a diagnosed schizophrenic, told the Jackson Free Press in December that he did not ask the mayor for help.
"I deny it," Welch said. "That man tore up my house on his own." He declined to comment further.
See http://www.meltonblog.com for more coverage.