Wednesday, January 28, 2009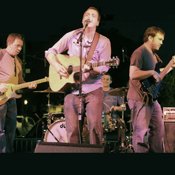 This is your captain speaking. As we prepare for takeoff, we invite you to remove the headphones from your seat console and plug them into the audio outlet underneath your right armrest. Your ears will welcome the roaring sounds of Passenger Jones. Please expect to hear soul-crushing thunderclaps of whiskey-beaten roots-rock and deep, ringing vocals.
Jackson-based band Passenger Jones formed eight years ago when Taylor Hildebrand, Patrick Sanders and John Bondurant started jamming together just for kicks. Since then, the band has grown to include three more members, and the band has released two CDs. Whether they are performing within the hallowed sanctuaries of churches placed deep in the heart of the Mississippi Delta, or scorching smoke-filled sin spots in downtown Jackson, Passenger Jones promises to put on a spectacularly good show.
Recently, I met with Taylor Hildebrand, vocalist and guitarist, in the cockpit here at the JFP. We discussed divine intervention, airport epiphanies, and why Jackson, Miss., is the place to be.
How did the band come up with the name, Passenger Jones?
Around eight years ago, (vocalist, guitarist) Patrick Sanders and I started playing music together, and we decided to form a band. We threw around some ideas, but nothing really stuck. He and his wife were in an airport about to go on a trip and a voice came over the intercom and said, "Passenger Jones, your flight is leaving." And he called me immediately and told me, and I said, "Yeah man, that's it."
Your first EP, "People," has a very rootsy feel. How is your new album, "Float Slowly," different from your first?
Obviously a lot more rockin'. Not heavy by any means. This album has a lot more texture and depth in it. I'd have to say the songs are a lot better, too. Of course, over time you become a better songwriter.
The album is all about how people have things in their life that they lose. It could be an addiction or losing a loved one. It's all about the process of trying to pull away from something that has always been a part of you. It's funny; we didn't mean to write the album conceptually, it just happened naturally.
Do you think the music scene in Jackson has changed over the past couple of years?
The cool thing about Jackson right now is all of these great local artists and local musicians. I've been playing in Jackson for 10 years, and I believe everything is pretty cyclical. There will be dead times, but right now, we are at the height of the arts scene in Jackson. A lot of really cool stuff is going on. That inspires me. At one point, I really wanted to leave Jackson. But now I'm really glad I stayed.
So you have a release party coming up at Hal & Mal's. What can we expect to see?
This Saturday, the 31st. We are going to have our buddies from Nashville, Telephant, come and play with us. They just released a record up there, and they have been long-time buddies of ours. So it just kinda happened, just divine intervention. There will be a ton of folks there. … Been a long time coming, man.
Passenger Jones will celebrate the release of "Float Slowly" Jan. 31 at Hal & Mal's. Doors open at 9 p.m.; admission is 21-and-up, $5.
Previous Comments
ID

143121

Comment

Love this band.

Author

andi

Date

2009-01-28T23:39:33-06:00
ID

143122

Comment

best band around!

Author

thetate

Date

2009-01-29T00:03:23-06:00
ID

143393

Comment

They are an amazingly talented group of guys who truly love to share their gift with all who will listen. Great show!

Author

sgoodwill

Date

2009-02-08T19:35:48-06:00
ID

143394

Comment

I can not seem to find any information on 2009 Jubilee Jam. Does anyone know anything about it?

Author

sgoodwill

Date

2009-02-08T19:37:25-06:00