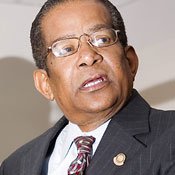 Jackson police officers are among those scheduled to appear in court this morning at an evidentiary hearing for the federal trial of Mayor Frank Melton and his former bodyguard Michael Recio.
The hearing will address three motions filed under seal by the government that sought to exclude allegations of misconduct by police witnesses. Recio's attorney, Cynthia Stewart, has subpoenaed Tina Wallace of JPD's Internal Affairs Division and officers Alan White and Ricky Robinson for the hearing. Stewart also subpoenaed City Attorney Sarah O'Reilly-Evans.
JPD Internal Affairs figured heavily in an earlier pre-trial conflict from November, when defense attorneys alleged that federal prosecutors had attempted to withhold Internal Affairs files on former Melton bodyguard Marcus Wright. The files contained allegations made by a former male prostitute that Wright engaged in sexual misconduct on the job. When defense attorneys filed a motion including an affidavit from the former prostitute, Torey Smith, prosecutors moved quickly to place the sensational material under seal and accused the defense of trying to circumvent a court gag order on the case and taint the jury pool.