Tuesday, February 1, 2011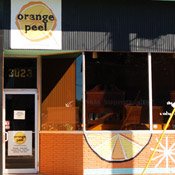 The Orange Peel is moving. Owner Kristin Tubb says the Fondren consignment shop will open in its new location, at 422 Mitchell Ave., on March 10. As Fondren's retail and restaurant community has grown, the demand for parking has put the squeeze on The Orange Peel's current location at the corner of North State and Duling streets, Tubb said.
"When we first got here, it was fine, because there wasn't a ton of businesses," Tubb said. "More restaurants, I know, want to open up around here, but restaurants kill businesses like mine because more people come for lunchtime. Well, if there's no parking at lunch time, they're not going to keep driving around and around."
The new location, in an old house at the corner of Mitchell and Oxford Avenue, will have a 15-space parking lot along with street parking. The extra space will make it much easier to accommodate customers dropping off clothes, Tubb said.
The house also has a large wraparound porch, which Tubbs hopes to use to host events and parties.
"I see the future of Fondren; I see that it's growing," Tubb said. "I need to grow out so that I can build over there now. I'm going to build up Mitchell."
Swell-O-Phonic Gets Grant
Ron Chane is making changes to his Fondren Corner skate shop, Swell-O-Phonic Skateboards, and women's boutique, Soma. With the help of an $8,000 equipment grant from the city of Jackson's Office of Economic Development, Chane is installing an a-la-carte screen-printing operation in Swell-O-Phonic. Customers will be able to select a T-shirt design and have it screen-printed on-site immediately.
The idea, he says, is to make the store more interactive. Chane is also installing two miniature golf holes in the store's green carpet. Customers can sink a putt for a 10 percent or 20 percent discount on their purchases.
Studio Chane, his custom screen-printing shop located in the Fondren Corner basement, will continue producing custom jobs.
Art Barr
Another Fondren Corner business, One Blu Wall Gallery, has ceded some of its space to a new business, The Art Barr. Run by first-time business owner Joshua Barr, the eclectic gallery opened Nov. 1. The small space is full of interesting artwork that Barr and family members have collected. Barr says he also hopes to begin showing work by local artists.
"I want to get to where I'm able to put local artists in and help them get out there," Barr said.
The Art Barr is open Monday through Saturday, from 10:30 a.m. to 6 p.m.
Dick and Jane's Reopens
Downtown LGBT-friendly dance club Dick and Jane's is open again, owner Chip Matthews says. The Capitol Street club closed in October following a fire. Fire department officials never ruled the fire arson, but Matthews says that he is certain an intruder started the blaze. A window was broken, and the fire appeared to start from two different locations, behind the bar and inside the DJ booth.
Matthews estimates that he has spent $50,000 on renovations.
Dick and Jane's opened Friday and has resumed its normal hours of operation, 9 p.m. to 4 a.m. on Fridays and Saturdays.
Previous Comments
ID

161936

Comment

Does anyone know if there are plans for the current Orange Peel location at N. State & Duling?

Author

Lis E Blair

Date

2011-02-06T08:31:30-06:00