Wednesday, February 2, 2011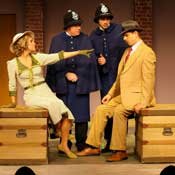 I didn't see any birds, and a psycho didn't attack me, but I did look through a rear window to see the footprints of 39 steps at New Stage Theatre in Jackson. Well, maybe not exactly, but I did see the theater company's final dress rehearsal for the stage version of one of Alfred Hitchcock's classic suspense thrillers, which is just a tad different from the original film adaptation.
"The 39 Steps" is based on the eponymous novel by John Buchan and adapted for the stage by Peter Parlow. The play follows the basic outline of Hitchcock's caper about a man who gets caught in a web of spies after he meets a mysterious female agent at the theatre (she is later murdered in his home), and a group called The 39 Steps follows him on a high-speed foot chase.
Sounds thrilling, but this performance is sure to coax far more laughs.
A thoroughly engaging performance with a wry humor, "The 39 Steps" allows for audience participation with crafty antics that will keep viewers on their toes. The actors, sometimes playing multiple roles in a single scene, performed with an air of confidence and professional agility. Undoubtedly, if something were to ever go awry, the thespians could seamlessly shift to improvising, without missing a beat.
"'The 39 Steps' is filled with mystery and comic surprises," director Peppy Biddy says in the press release about the production. "You don't have to be familiar with Hitchcock to enjoy the show, but for those who are fans of Hitchcock's films, there will be a layer of added enjoyment."
I thoroughly agree.
"The 39 Steps" runs through Sunday, Feb. 6, with performances at 7:30 p.m. Wednesday through Saturday and 2 p.m. on Sundays. Tickets are $25 with students, seniors and group discounts available. A special $8 student rush ticket is available one hour prior to performances with a valid student ID. Purchase tickets at the box office, call 601-948-3531 or order online at newstagetheatre.com.
Previous Comments
ID

161898

Comment

I was planning on seeing the production this weekend, your enticing review just makes heightens my anticipation of delight! Do any of th actors live in Jackson?

Author

FrankMickens

Date

2011-02-02T14:21:30-06:00