Wednesday, February 2, 2011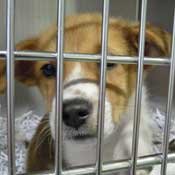 For proponents of a felony animal-cruelty law in Mississippi, state Rep. Greg Ward, D-Ripley, seems like the biggest obstacle to success. Last year, when a Senate-approved bill to make the malicious torture or killing of a dog or cat a felony died in the House Agriculture Committee, many animal-welfare advocates blamed Ward, the committee chairman. This year, that same bill appears headed for Ward's committee again. Rep. Linda Whittington, D-Schlater, says, however, that Ward doesn't deserve a bad rap.
"I know that he's getting some bad publicity from certain animal groups, but in all sincerity, Chairman Ward is trying to do the best he can do to handle the bill," Whittington said. "He really is trying, but it's a difficult committee."
Whittington, also a member of the Agriculture Committee, tried this year to craft a compromise bill that would satisfy animal advocates and the committee's farmer members, many of whom side with the Mississippi Farm Bureau Federation in regarding animal-cruelty laws as a threat to standard farming practices.
Whittington's bill, HB 831, which she drafted seven times, targeted dogs and cats only and made cruelty to them a felony on the third offense. On Jan. 19, however, when Ward brought the proposal up for a vote, only Whittington and Rep. Sherra Lane, D-Waynesboro, voted for it. The remaining members either abstained or opposed the bill.
"There was a small group that seemed to pull the rest of the group with them," Whittington said. "I don't think I could ever make concessions that would cause them to allow a bill to come out of committee."
Former Farm Bureau Federation President David Waide, who opposed the Senate bill last year, told the West Point Daily Times Leader last week that he still opposes making animal cruelty a felony crime.
"Farmers every day catch wild dogs that kill calves," Waide told the newspaper. "We don't want farmers in jeopardy of conviction, trying to protect (their) livelihood."
Whittington's bill appeared to specifically address Waide's concerns, however. The proposal included three explicit exemptions for people defending themselves or another person, or for protecting any animal under their care from a trespassing cat or dog.
Despite the measure's failure, Whittington said, "all is not lost." The Senate will likely pass at least three different versions of a felony animal-cruelty law. One, sponsored by Sen. Billy Hewes, R-Gulfport, is identical to last year's failed measure. Another, sponsored by Sen. Bob Dearing, D-Natchez, mirrors the language in Whittington's unsuccessful attempt at a compromise.
If those bills pass the Senate--as Whittington assumes they will--House Speaker Billy McCoy, D-Rienzi, a farmer himself, will almost certainly refer them to the Agriculture Committee, where Ward will have another shot at passing a compromise. "Chairman Ward is trying to make a blended bill out of what he considers to be the best of the language (in all bills)," Whittington said.
If that attempt fails, there is still one more avenue for addressing cruelty to animals on the House side. While McCoy refers most bills dealing with animals to the Agriculture Committee, a measure addressing the sale of animals along public roads has already passed the Judiciary B Committee and is headed for the House floor.
Sponsored by Rep. Chuck Espy, D-Clarksdale, House Bill 1212 creates a misdemeanor offense for selling animals "on or beside" any public highway or street, punishable by a fine of up to $500. Espy calls the bill an "animal rights" measure. Frequently dogs sold on public streets are products of "puppy mills," home-breeding operations that produce large numbers of puppies very quickly, Espy said.
Whittington said that she hopes to amend the bill on the House floor to directly address the problem of puppy mills.
"We're going to at least get try to get something that addresses anybody who is breeding (more than) 20 dogs, that they must meet certain standards," Whittington said.
Regarding the possibility of other amendments that might target acts of animal cruelty, Whittington was coy.
"You never know exactly what's going to happen on the floor," Whittington said.
Previous Comments
ID

161902

Comment

About time to draft legislation regarding the mills or people with more than 20 dogs and breeding them. Tennessee has already passed some legislation and people who don't want to straighten up are moving their mill operations to Mississippi.

Author

redlion

Date

2011-02-02T21:23:27-06:00