Wednesday, February 2, 2011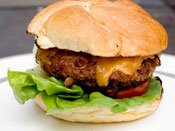 I admit it: For me, the Super Bowl is all about the commercials and the food. Last year's singing E*Trade babies had me laughing for days.
As you sit down to plan your game day menu, dare to step it up a notch. Your friends and family will truly be impressed by a spread that offers more than the predictable chips and salsa and pigs-in-a-blanket. To plan a menu worthy of a "touchdown dance," I turned to one our favorite chefs and food writers, Tom Ramsey. He's provided a playbook of recipes that are sure to please all your guests.
Butterbean Hummus
16 ounces butterbeans, frozen or fresh (fordhook, baby limas etc.)
1/4 cup mayonnaise
2 lemons
1/2 bunch cilantro
4 green onions
1 teaspoon cumin
3 cloves fresh garlic
1/2 white onion
1/4 teaspoon white pepper
Salt
Water
Corn Chips
Roughly chop the cilantro and green onions. Finely chop the garlic and white onion.
Blanch the butterbeans in boiling, salted water for two minutes. Drain the beans and immediately immerse them in an ice-water bath to arrest the cooking. Drain the ice water and place the butterbeans in the bowl of a large food processor. Add mayonnaise and run the machine at high power. While the machine is running, add the juice from the lemons and all dry ingredients (except the salt), onions, garlic, cilantro and green onions. If the consistency is too thick, slowly add water until the mixture is smooth and creamy, but not soupy. Taste, and add salt according to your taste.
Serve chilled in a dipping bowl with corn chips.
Perfect Burgers
1 pound ground chuck
1 pound ground sirloin
2 pounds ground beef
1 egg
1 medium yellow onion
1/4 cup Dales Steak Seasoning
1 stick butter
1 tablespoon coffee rub*
Cut butter into eight pats. Finely chop onion. Combine meat, egg, onion, coffee rub and steak sauce in a large mixing bowl and mix with your hands until uniform. Do not over-work your meat mixture. The friction and the heat from your hands will break down the bits of fat that give the hamburger its flavor. Form a ball with one-eighth of the meat mixture (half-pound each) and insert a pat of butter into the center of the ball. Fold the meat around the butter and form into a patty. Repeat this seven more times.
Cook on a grill or in a large iron skillet until done. Check that the internal temperature at the center of the burger is 150 degrees. Cooking times will vary according to the thickness of your burgers so worry more about temperatures and less about times. Do not press your burgers with a spatula while cooking. Doing so makes them lose the juices inside of them, making them dry.
Serve on a good, sturdy bun with all the fixins.
(Serves six.)
*Coffee Rub
1 teaspoon espresso ground coffee
1 teaspoon salt
1 teaspoon black pepper
1 teaspoon brown sugar
1/2 paprika
1/4 teaspoon cumin
1/4 oregano
Add all ingredients together in a bowl and stir. Blend well.
Boulettes
2 pounds crawfish tails (with fat)
1 yellow onion
1 green bell pepper
4 cloves garlic
1 egg
1 stalk celery
2 Yukon Gold potatoes
1/2 teaspoon cayenne pepper
1 teaspoon salt
1/2 teaspoon black pepper
2 cups bread crumbs
1 bunch parsley
1 bunch green onions
Peanut oil for frying.
Finely chop or grind crawfish tails and fat together. Mince onions, bell pepper, garlic and celery separately in a food processor. Cut potatoes into 1-inch cubes. Beat the egg. Finely chop green onions and parsley, and set aside for garnish.
Boil and mash potatoes. Add all ingredients (except for bread crumbs, green onions and parsley) to the mashed potatoes and mix thoroughly. Taste for seasoning and adjust accordingly.
Roll the mixture into balls and coat with breadcrumbs. This can be done by spreading the breadcrumbs on a sheet pan and rolling the balls in the breadcrumbs.
Heat oil to 350 degrees and cook breaded balls until golden brown. Watch closely. If your oil too hot, they will brown quicker. If your oil is too cold it will take longer. This is best done in a deep fryer, but works fine in a large iron skillet if you keep an eye on the temperature and don't allow the balls to cook unevenly.
Serve on large platter, garnished with parsley and green onions.
(Serves 10-12.)