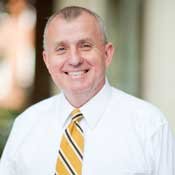 Although Edward Dacus has only had his new title of Mississippi Opera Chorus Master since Jan. 26, he has not wasted any time starting new opera projects. Dacus, who is currently preparing the all-men chorus spring show, "The Barber of Seville" for April 9 at Thalia Mara Hall, values the importance of male and female vocals and is also working to establish an additional performance that will showcase the ladies chorus.
"We are beginning a new era in the life of Mississippi Opera, not just simply another chapter," Dacus said. "I believe that the Mississippi Opera Chorus will be one of the shining entities in this process."
Dacus is also the assistant professor of music at Mississippi College where he has taught music history, vocal literature, vocal pedagogy, opera history and studio voice for the past 12 years. He says his two jobs complement each other because Mississippi College encourages professors to serve in the community within their particular interest.
In a statement, Mississippi Opera artistic director Jay Dean applauded the company's selection of Dacus for the new position.
"Ed has made quality musical contributions to our state both as a performer and as an educator," Dean wrote. "We look forward to him bringing that same sense of excitement and energy to the chorus, and we are thrilled to have a person of his caliber working with us."
Dacus, a Clinton native, said a combination of influences developed his love for music. His mother taught piano courses, and he often sat in to observe. He began playing the piano when he was 4, and he currently plays the organ at The Episcopal Church of the Creator in Clinton.
Dacus received his bachelor's degree in music from the University of Southern Mississippi, his master's degree in music degree from the University of Mississippi, and his doctorate in musical arts from Louisiana State University.
When he is not teaching or conducting the chorus, Dacus enjoys spending time with his musical family. He and his wife of 25 years, Viola, have two children: Emily Katherine,13, and Jonathan,8. Viola sings; Emily Katherine sings and plays the violin; and Jonathan recently started piano lessons.
Dacus is up to the task for bringing Mississippi Opera to its fullest potential.
"I think the opera chorus and the opera is a vital part of the performance and production, and I think it's a great responsibility to prepare a group to do that and for them to sound good and do well," he said.