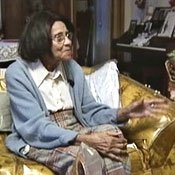 Remaining fearless and determined even into her late 90s, civil rights activist A.M.E. Logan would frequently attend community meetings and drive herself around Jackson delivering Avon products to her clients.
Logan died Saturday at age 96. Logan, who many considered the "mother of the Civil Rights Movement," turned her home into a refuge and cooked meals for civil rights workers, Freedom Riders and Dr. Martin Luther King Jr. In the late 1950s, she joined the NAACP and knocked on doors in area neighborhoods, asking others to join.
Dr. Alferdteen Harrison, who retired from Jackson State University's Margaret Walker Alexander Research Center in 2008, says Logan never showed any fear even though the work could have put her in danger.
"In the late 1950s, it would have one of those things that you wouldn't have wanted to get caught doing--selling memberships to the NAACP--because you could have lost your job," Harrison says. "She was an independent person."
Logan was born in Myles, Miss., and her father named her A.M.E, short for African Methodist Episcopal. Harrison says Logan's independence is symbolic to her name. In 1816, Rev. Richard Allen founded The A.M.E. church in Pennsylvania out of several black Methodist congregations that wanted independence from the white Methodist church.
"That meant a lot to her. It was an independent African American church that didn't have ties to the white Methodist churches," Harrison says. "I think she just grew up with that sense of independence."
The Jackson Advocate reported in 2009 that Logan and her late husband, S.L. Logan, moved to Jackson in the 1940s. S.L worked for a railroad company, and A.M.E. was self-employed as a hairdresser seamstress. She also worked as an assistant manager at the former Williams Grocery Store. She was an Avon consultant until her early 90s.
"She never met a stranger," Harrison says. "She was always smiling, always an outgoing person who was willing to help out in anyway that she could."