Tuesday, February 8, 2011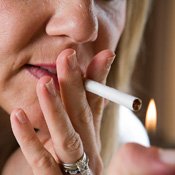 Everybody deserves smoke-free air. Pediatricians have first-hand experience about what happens when children and babies breathe second-hand smoke.
Smoking is a known cause of preterm birth, low birth-weight and very low birth-weight infants. Exposure to tobacco smoke in the womb causes increased miscarriages and neonatal deaths. And smoking-related health problems result in increased health care costs for all of us.
 
Mississippi has the nation's highest prematurity rate and the highest infant mortality rate. Women who work or must do business in buildings where smoking is prevalent suffer an increased risk to their pregnancy even if they do not smoke.
 
The American Academy of Pediatrics has found that second-hand smoke also contributes to Sudden Infant Death Syndrome (SIDS). Approximately 430 U.S. newborns die each year from smoking related SIDS. In 2009, 38 Mississippi babies died from SIDS. The Mississippi infant death rate is about 130 percent of the national rate. SIDS is the third most common reason for infant deaths in Mississippi and account for 12 percent of all infant deaths in our state.
 
Second-hand smoke also exacerbates upper and lower respiratory infections, asthma and ear problems. Children who accompany their parents into buildings where smoking is prevalent are affected by this elevated risk to their health.
 
Because children breathe faster, they are twice as likely to be affected by exposure to second-hand smoke. Because the chemicals in tobacco smoke linger in clothing, carpet, cars and furniture, children ingest these chemicals even when no one is actively smoking.
 
This is why the Mississippi chapter of the American Academy of Pediatrics supports smoke-free air proposals this session. We have joined with other health advocates around the state including the State Department of Health, the American Cancer Society, the American Heart Association, the American Lung Association, the State Medical Association and the Mississippi Nurses Association to tell our legislators that it is time to join 26 other states and ban smoking in the workplace and in public places.
 
We know that smoking bans decrease the likelihood that teens will start smoking. Cigarette companies target teens as potential smokers because people who start smoking as adolescents are most likely to become addicted to nicotine and continue to smoke into adulthood. Cigarettes are designed for addiction via nicotine and 7,000 other added chemicals and compounds. Adolescents' physiology is more sensitive to nicotine, which is why about 1,000 teens start smoking every day.
 
The U.S. Surgeon General has determined that there is no safe level of exposure to tobacco smoke. Even low levels of smoke exposure, including second-hand and residual smoke, lead to an immediate dysfunction and inflammation of the lining of blood vessels, which is implicated in heart attacks and strokes. Cities that have adopted smoke-free laws--including Starkville and Hattiesburg--have seen a significant decline in the number of heart attack patients admitted to their hospital emergency rooms.
 
Every year, approximately 550 Mississippians who do not smoke--including babies and children--die from exposure to secondhand smoke. According to Communities for a Clean Bill of Health, smoking-related illnesses cost Mississippi Medicaid alone approximately $264 million a year.
 
Our legislators are reluctant to pass a smoking ban, believing that large and small businesses should be able to decide for themselves whether to keep their facilities smoke-free. If secondhand smoke at any level was not a proven health risk, that might be a good reason to oppose a smoke-free air law. However, our own experience with smoking bans around the state is proving again that there is no safe level of secondhand smoke. It's time to support smoke-free public places.
Dr. Hill is Chapter Tobacco Control Champion for the Mississippi Chapter of the American Academy of Pediatrics.
Previous Comments
ID

161980

Comment

I'm not a smoker, but I think restaurants and bars, should have the right to decide whether or not to allow smokers. Then it would be up to potential patrons, to decide whether or not they want to go to that particular restaurant or bar.

Author

Duan C.

Date

2011-02-09T07:52:32-06:00