Tuesday, February 8, 2011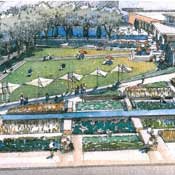 A children's fountain, outdoor dining, garden rooms, performance stage and expansive art installations are just a few of the design elements The Art Garden at the Mississippi Museum of Art will feature when it opens in August.
During a community meeting at the MMA last night, Director Betsy Bradley and community leaders unveiled plans for the garden that extends from the west side of Thalia Maria Hall to Lamar Street. The garden, which broke ground in December, will feature a proscenium arch by Jackson artist Fletcher Cox framing the performance stage; a mosaic installation for the children's fountain by Hattiesburg artist Martha Ferris; a temporary installation of 6-foot high metal boats by artist Jennifer Torres; native Mississippi plants from Mississippi artists' gardens that painter Jason Bouldin is collecting; and landscape design by landscaping architect Robert Poore. In order to accommodate larger crowds and employees the proposed plan adds 95 new parking spaces in the area surrounding the Arts Center of Mississippi, Thalia Mara Hall and The Museum of Art.
Bradley said the garden would host outdoor events, in addition to providing the community with a green space for picnics and downtown workers a place to relax. Planned events include: "Downtown All Day: Arts Festival in the Garden," Sunday gospel lunches, outdoor film viewings, yoga, "Dog Day Sundays" and live radio shows of Felder Rushing's "Gestalt Gardener."
Mississippi Museum of Art trustee Mayo Flynt, who is overseeing fundraising, said the total cost of the garden is $5 million. The museum has received $2,950,000 for the garden from state and federal grants and $1,249,000 from private donations. He said the museum is currently seeking $751,000 in donations, and is offering sponsorship and naming opportunities for various aspects of the garden.
Campbell's Bakery Closes, Temporarily
Campbell's Bakery has a new owner. Mitchell Moore, who runs a cheesecake catering business, bought the bakery Saturday from previous owner Cedric Lilley. Moore told the Jackson Free Press today that the Fondren mainstay is closed for a month while he gives the shop a thorough cleaning and replaces furniture. Campbell's will reopen March 15, in time to sell St. Patrick's Day-themed cookies and other sweets.
Developer David Watkins owns the building Campbell's is located in, and he will remain the business' landlord, Moore said.
Moore said that he will keep the Campbell's name as well as its menu and iconic neon sign. He plans to add an array of cheesecakes and other desserts like cannoli that have been his specialty.
"It's a Jackson tradition," he said of the 49-year-old bakery.
Crafts in Fondren Corner
The Craftsmen's Guild of Mississippi has opened a new shop and gallery in Fondren Corner. The Mississippi Crafts Center Gallery At Fondren opened Feb. 3 on the building's first floor, in the space Crazy Cat Bakers formerly occupied.
Gallery manager Stephen Nettles says that the gallery will carry handcrafted work by Mississippi artisans along a "huge price range," with slightly more offerings aimed at gift buyers than the Guild's main gallery, the Mississippi Crafts Center, in Ridgeland.
The gallery is open Monday through Saturday, from 10:30 a.m. to 5:30 p.m.
New Retail in South Jackson Mall
Kenneth Johnson, property manager for the Jackson Square Outlet Mall, says that he expects to finalize leases this month for two new clothing stores in the shopping center at Interstate 55 and Terry Road.
"I'm expecting them by the end of the month," Johnson said. "These are nice-size tenants."
Each store will occupy at least 3,000 square feet, Johnson said. Johnson would not divulge the names of the prospective tenants but said that one was locally owned while another is a national chain.
The mall's California-based owner, Jessie Wright, has been slowly renovating buildings on the 34-acre property, Johnson said. Johnson also hopes to sign a lease with a locally owned restaurant chain by the end of this month.