Wednesday, February 9, 2011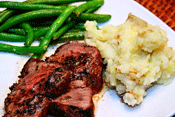 If your family is like mine, the economy has caused you to tighten your purse strings. Add a new baby to the mix, and well, going out on Valentine's Day just isn't in the cards. That doesn't mean you are doomed to spend an unromantic evening with your significant other eating frozen pizza and watching reality TV. An elegant, restaurant-quality meal prepared at home doesn't have to break the bank.
Bistro roast beef stemmed from a craving for thinly sliced roast beef when I couldn't afford pricey beef tenderloin. I was unsure what I would end up with by preparing my pot roast this way: Would I get a chewy cut of meat that would be hard to swallow? The secret is cutting the meat across the grain. But what does that mean?
Take a good look at your meat. You will notice long lines, called fibers, running along its length. Distinct fibers usually mean a tougher cut of meat and, therefore, harder to chew. Try and tear a single muscle fiber by stretching it along its length, and you'll have a difficult time. However, if you slice your meat on the opposite grain, or across those lines rather than in the same direction, the meat is much more tender. Pulling individual muscle fibers apart is relatively easy.
The red-wine pan sauce has a luxurious flavor and adds a nice touch to the meat. (If you don't have red wine, deglaze the pan with beef stock instead.) Throw in some low music and a few strategically placed candles, and you've got yourself a romantic dinner without having to worry about reservations, crowds or whether you left a big enough tip. What's important is spending quality time with the one you care about.
Bistro Roast Beef with Red Wine Pan Sauce
2 tablespoons olive oil
3 to 4 pounds English roast (or roast of your choice)
Kosher salt
Freshly ground black pepper
1/4 cup red wine
1 tablespoon butter
Heat olive oil in a large skillet or sauté pan with a metal handle over medium heat. Season both sides of meat with kosher salt and black pepper. Gently pat salt and pepper into the meat. Brown roast in hot oil, about five minutes per side (or until meat no longer sticks to the bottom of the pan).
Place meat under broiler, about five inches below element. Leave oven door slightly ajar to prevent overcooking. Cook until an instant-read thermometer reads 120 degrees for medium rare, about 20 minutes.
Remove meat from pan and allow it to rest for 15 minutes. In the meantime, deglaze skillet with red wine, scraping any browned bits off the bottom. Add butter and stir to melt. Slice roast against the grain. Serve drizzled with pan sauce.
Serves four.
Garlic Mashed Potatoes
6 to 8 small red potatoes, washed, quartered
1/2 to 3/4 cup warm milk
2 tablespoons butter, melted
1 teaspoon kosher salt
1/2 teaspoon garlic powder
Bring a large pot of water to a boil. Add potatoes. Cook until tender, about 15 to 20 minutes. Drain potatoes. Return to pot.
Over low heat, add milk, butter, salt and garlic powder. Combine ingredients and mash using a potato ricer.
Serves four.
Sautéed Green Beans
1 pound fresh green beans, trimmed
1 tablespoon chopped onion
4 cloves garlic, pressed
6 thin ginger slices
3 tablespoons sesame oil
1 tablespoon sugar
2 tablespoons soy sauce
1/4 cup water
Bring a large saucepan of salted water to a boil. Add beans to boiling water, reduce heat to medium, and cook for three minutes. Drain beans and immediately plunge into a bowl of ice water. Drain.
In a large sauté pan over medium heat, sauté scallions, garlic and ginger in hot oil for one minute. Add sugar and soy sauce. Stir continuously until sugar has dissolved.
Add beans and water. Reduce heat and stir-fry for three minutes until beans are crisp-tender and well coated with the sauce.
Serves four.
Red Velvet Trifle
1 package red velvet cake mix
2 8-ounce packages cream cheese, softened to room temperature
2 cups granulated sugar
3 tablespoons lemon juice, or juice of one lemon
1 tablespoon lemon zest
1 8-ounce container frozen whipped topping, thawed
1 pint raspberries (if using frozen, thaw before using)
Prepare cake mix according to package directions in a 10-1/2 by 15-1/2 by 1-inch sheet plan. Let cool completely.
In the meantime, combine cream cheese, sugar, lemon juice and lemon zest on medium speed with an electric mixer until smooth. Gently fold in whipped topping.
Invert cooled cake onto a cutting board. Trim and discard edges. Cut sheet cake into bite-sized squares. In a trifle bowl or large glass bowl, layer a third of the cake squares. Spread one third of the cream-cheese mixture over the cake squares. Repeat layers, spreading the last of the cream cheese mixture over the top. Top with raspberries.
Serves eight to 10.
Related Links
Love Drinks