Wednesday, February 9, 2011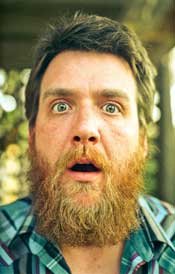 My favorite love song is Stevie Wonder's "For Once in My Life." The song is a constant reminder of how lucky I am to have a wife who loves and needs me as much as I love and need her. But the great thing about love songs is that there are so many, and each can mean different things to different folks.
I took to the Jackson music scene to find out what love songs some of our local artists dig.
"Harvest Moon" by Neil Young
"Simple-ass song and to the point. No cheese involved." —Taylor Hildebrand, Horse Trailor, Passenger Jones
"Turn Off the Lights" by Teddy Pendergrass
"While some songs have to toy around with emotions, feelings and love, Teddy P. cuts to the chase and brings out the hot oils, shower sex and sensual massage. I once made a CD for my now-wife that was just this song 13 times. It's magic." —Justin Cook, Mr. Kid & The Brothers Fox
"Orange Moon" by Erykah Badu
"The song has so many meanings. I took it to mean how the relationship between two people impacts them both. My wife walked down the aisle to it." —Skipp Coon
"Sensuality (Part 1 & 2)" by The Isley Brothers
"This song embodies every inch of what love is. This is the song that helps you speak to your woman when you can't. If you can't get the right mood to this, something's wrong!" —Rashad Street
"I Won't Be the One" by Dead Moon
"It's a love song that is romantic in that it is grounded in the absolute reality of being in a long-term relationship, coming to a point where things aren't really so great at that moment, and sticking it out, because their love is true and worth it. It's like the flip side of all those songs about falling in love; it's staying in love." —Daphne Nabors, Wild Emotions
"Mo Better" by Raheem DeVaughn
"'Mo Better' is put together extremely well from the melody to the lyrics, and in this song he chronicles the support an artist needs from his woman: 'Through the ups and downs that come with fame/you pat me on the back and rub away the pain.'" —PyInfamous
"Three Questions" by Bonnie 'Prince' Billy
"I chose this song because of the questions it poses. If you can answer yes to all three of the questions, you will find everlasting love." —Jason Bailey, The Bailey Brothers
"Wild Is the Wind" by Nina Simone; "You Are the Sunshine of My Life" by Stevie Wonder; and "Love's Holiday" by Earth Wind & Fire
"I have three, and they are as such in ranking order (from first to third)." —James Crow
"Baby Be Mine" by Michael Jackson
"I grew up on nothing but Michael Jackson. Before I was into hip-hop, I was Mike's biggest fan. I believe if this song was released again, it would be a hit, and that makes it a classic—to me at least." —ZeeDubb
"Love" by Musiq Soulchild
"If I needed a song to verbalize and sum up my love for my wife, this would be it. It perfectly describes the bliss that you feel when you have fallen in love and found the person you want to spend the rest of your life with." —Brad "Kamikaze" Franklin