Wednesday, February 9, 2011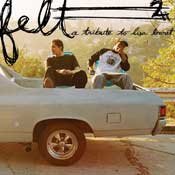 The best part about the Valentine's Day season is the music. Popular culture has provided us with an endless number of songs that deal with love, given the fact that love is excruciatingly indefinable, yet always tantalizingly within our reach. To be sure, some of the best love songs are of the traditional ilk, such as ballads that extol the virtues of the object of one's desire. On the other side of love exists a world that is not so traditional, where the meanings of love can be a bit obscured.
Thus, I present to you a non-exhaustive list of some of my favorite songs about the unconventional, other side of love, in no particular order.
"Dirty Girl," MURS and Slug, "Felt 2: A Tribute to Lisa Bonet"
Every so often, love is found in unusual places. In "Dirty Girl," Slug falls for an auto mechanic, despite the fact that she is covered in oil. Slug raps, "I would love to touch you, rub you/ see what's covered up under that greasy blue jumpsuit." Similarly, MURS falls for a sweaty grill cook: "Heat from the grill made her mascara drip/the sweat on her face showed the fuzz on her lip/them work pants couldn't hide the love in them hips." To be honest, I am not sure whether this song is intended to be homage to non-traditional beauties, or the fact that most men can create complex sexual fantasies in any time or place. Either way, it's saying something.
"Passin' Me By," The Pharcyde, "Bizarre Ride II "
Bootie Brown, Slimkid3, Imani and Fatlip, the four emcees who make up the West Coast's favorite off-kilter hip-hop group of the 1990s, use this song to recount crushes from their younger days that didn't end in true love. The teacher, the girl with the cooler boyfriend and the girl who doesn't pay attention because of the guy's lack of game are all represented here. And we all know those girls.
"I Believe," Stevie Wonder, "Talking Book"
Stevie Wonder is a musical genius. With "I Believe," he takes the listener on a journey that starts with utter heartbreak and despair: "Shattered dreams, worthless years, here am I encased inside a hollow shell." The song ends with the triumphant feeling that accompanies hope: "I believe when I fall in love with you it will be forever." Stevie deftly represents humankind's most befuddling dichotomy: love and heartbreak. And it doesn't hurt that the arguably funkiest 30 seconds of Stevie's career are tucked away at the end of the song, proving that, even if hope fails, funk will always save the day.
"One Night Affair," Esther Phillips, "What a Diff'rence a Day Makes"
I find it refreshing to hear a woman sing: "Hit and run, gonna be a son of a gun/hit and run but it could be fun/I don't wanna love nobody/don't want us to get anything/I just may not be ready/to fly down with a wedding ring." Hey, one-night stands have been known to be fun, just as much for the ladies sometimes, as Esther Phillips shows.
"Poison," Bell Biv DeVoe, "Poison"
We don't always fall for the perfect person. In fact, from time to time we know that person is completely wrong, and we fall for them anyway, like the members of Bell Biv DeVoe do in "Poison." Plus, this song contains my favorite line ever in any song: "Never trust a big butt and a smile." That is invaluable advice.