Wednesday, February 9, 2011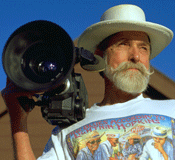 Every year, Oxford, Miss., holds a festival that reels filmmakers and movie buffs into a uniquely authentic southern experience. One can see firsthand William Faulkner's and other extraordinary Mississippi artists' inspirations. Faulkner and those Mississippi creative whizzes found their voices in the tranquil setting of one of the most picturesque parts of the Deep South. From Thursday, Feb. 10, through Sunday, Feb. 13, moviemakers, industry professionals and film lovers gather in the small and always-charming college town for the annual Oxford Film Festival.
The festival kicks off with a special "Thacker Mountain Radio" show from 6 p.m. to 7 p.m. Thursday evening with special guests Les Blank (documentary filmmaker), Michael Adams (author of "Showgirls," "Teenwolves" and "Astro Zombies"), and musical guests Robert Belfour and Kenny Brown, among others.
"The Oxford Film Festival is pleased to be teaming up with Thacker again for our opening night. We are excited to introduce our guests to one of our local treasures," festival Executive Director Molly Fergusson said in a release.
The first feature film to screen, which opened the Austin Film Festival, is the mock­umentary "Brother's Justice," directed by Dax Shepard (who is also one of the film's stars) and David Palmer. "Werner Herzog Eats His Shoe" and "Spanola Pepper Sauce Company," two shorts, precede the feature.
The festival line-up offers a wide range of themes and genres, with a particularly appealing documentary section. "Mississippi Innocence," directed by Joe York, tells the story of Levon Brooks and Kennedy Brewer, two Mississippi men who, between them, spent more than 30 years in prison for crimes they did not commit.
In "Beijing Taxi," three taxi drivers connect a morphing cityscape through Beijing as the city undergoes a radical transformation for the 2008 Olympic Games. Rachel Julkowski's short documentary "God's Square Mile" tells the candid story of a Jersey shore town struggling to balance its Christian heritage while embracing diversity. And on the lighter side, "Worst in Show," directed by Don L. Lewis and John Beck, follows four canine contestants in an ugly dog competition.
Besides documentaries, the festival screens narrative and experimental films, animations and music videos. Panel discussions, master workshops and parties round out this unique festival.
Hotty toddy, gosh almighty, flim flam, bim bam, this year's Oxford Film Festival will be grand!
Festival tickets are $20 for all Thursday night, no student discounts; $30 for multi-day Friday, Saturday, Sunday passes, $25 for students with valid ID; $15 one-day pass (cannot be used on Thursday), $12 for students with valid ID; $15 for Saturday night party, no student discount; $8 for individual film pass, $6.50 for students with valid ID. For more festival information and a complete film schedule, visit http://www.oxfordfilmfest.com.