Thursday, February 10, 2011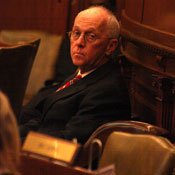 Today is the deadline for Mississippi legislators to take floor action on all bills originating in their respective chambers, and the House and Senate passed several bills yesterday and this morning.
School districts must adopt an abstinence-only or abstinence-plus sex education policy under one bill the House passed yesterday. Current state law requires that school districts teach abstinence-only education, unless the local school board votes to teach comprehensive sex education. Many school districts, however, do not have a policy specifying what they teach. Democrats in the House, including Reps. Cecil Brown, D-Jackson, and House Education Committee Vice-Chairwoman Sara Thomas, D-Indianola, support comprehensive sex-education in public schools. Both argue that knowing the facts about sex prevents sexually transmitted disease and unwanted pregnancy.
Republican Rep. Herb Frierson, of Poplarville, entered a motion to reconsider and delayed the passage of House Bill 999 seconds after the bill survived a House floor vote. The House tabled Frierson's motion today, however, clearing the way for Senate consideration.
The state's in-person requirement for determining a Medicaid beneficiary's eligibility could end if the Senate approves a House bill removing it. House members passed HB 1359 yesterday, which would remove the state's face-to-face requirement and allow a beneficiary to apply for Medicaid through the mail. Removal of the in-person component remains unpopular among Republicans, however, who largely voted against the bill Tuesday with a 49-to-65 vote.
Smoking in all Mississippi and local-government buildings and vehicles, as well as university buildings and vehicles could be a thing of the past. The Senate yesterday unanimously passed Senate Bill 2726 that mandates those smoking restrictions. The bill, however, is a weaker version of an earlier bill, which prohibited smoking in most public places including arenas and stadiums, and places of employment, including restaurants.
"We would like to see all of our population protected as opposed to a certain percentage," said American Cancer Society Advocacy Manager Anita Bales. "The bill they passed yesterday strengthens what already was in existence, but it's not close at all to what we were looking for."
Sen. Tom King, R-Petal, submitted the amendment watering down the bill. King, who says he is a non-smoker, told the Jackson Free Press that he submitted his amendment because he considered the smoking issue to be "a property rights issue."
Abusers of domesticated dogs and cats will face harsher penalties if the House passes SB 2821, which the Senate passed yesterday. The proposed law imposes a $1,000 fine or imprisonment of up to 90 days--upon conviction--for "mischievously or recklessly" killing, maiming, wounding, beating, poisoning or depriving a dog or cat of food, shelter and water.
The penalty makes it a felony for the same acts of abuse committed "intentionally or maliciously, or out of the spirit of revenge or wanton cruelty." A conviction, under that determination, sets a fine of up to $10,000 and five years imprisonment, or both.
The bill only protects domesticated dogs or cats.
Adults who allow a party at a private residence containing minors could face criminal penalties if they know alcohol is present. Sen. David Blount, D-Jackson, sponsored Senate Bill 2597, which passed the Senate yesterday, setting a fine of $1,000 or up to 90-days imprisonment at a county jail for an adult who violates the law. The bill is on its way across the hall to the House for consideration.
Previous Comments
ID

162045

Comment

Adam, Great write-up. However, I must say SB 2597 is appallingly short-sighted. "Party" is defined as a gathering of two or more people. An adult allows his son/daughter to have a friend over. Alcohol accompanies the friend unbeknownst to the parent. Friend drinks. Gets drunk. Drives home. Tragedy ensues. Parent held liable because he/she hosted a "party". Of course, in court the parent could argue that he/she didn't know about the alcohol. Good luck. Also, correct me if I'm wrong, but if an adult is found to be guilty of hosting a "party", they pay a fine of $1,000. However, if they just purchase and give the alcohol directly to the minor, they are only fined $200

Author

jbreland

Date

2011-02-10T16:25:53-06:00