Friday, February 11, 2011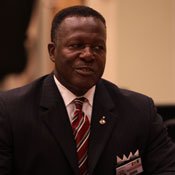 Next month, Jackson Public Schools Superintendent Lonnie Edwards will have a chance to win his job back. Edwards has appealed the JPS Board of Trustees Dec. 7 decision not to renew his contract beyond the end of this school year. Yesterday, the board set Mar. 4 as the tentative date for a hearing, subject to Edwards' approval.
The board voted to appoint Brookhaven attorney Nathaniel Armistad as the hearing officer. Board members also voted 3-2 to hire attorney Jim Keith to assist Board attorney Dorian Turner with the hearing.
"Superintendent non-renewals ... tend to be very high-profile and complex matters," Turner said. "Particularly in a situation where it's high-profile, Jim Keith is probably about the most--if not the most--experienced education-law attorneys in the state. ... We want to be sure we can present the best case, as it stands now. ... In a situation like this, I thought that a higher level of expertise was called for."
Ward 3 Councilman Kenneth Stokes has vocally supported Edwards. In January, he requested an Attorney General's opinion on whether the council can vote out school board members in the middle of their terms. (It can't.) This week, he sent a letter to national NAACP President Ben Jealous arguing that Mississippi NAACP President Derrick Johnson's criticism of Edwards reflected poorly on the civil-rights organization.
Johnson has spoken in support of the board's decision, citing state accountability data that show little progress in test scores and a decrease in the district's graduation rate during Edwards' tenure.
"My interest in this has simply been to advocate for leadership in the district that has demonstrated that (it) can be effective," Johnson said. "For anyone to seek to do otherwise, based on political interests, is not in the best interests of the city of Jackson or its children."
Following the hearing, the board will have 30 days to vote on Edwards' appeal.
The board may have two new members by that time. Mayor Harvey Johnson has scheduled a special meeting of City Council for Feb. 18 to confirm his nominees for two additional spots on the five-member board: Linda Rush and Timothy Collins.
Three earlier attempts at establishing confirmation hearings for the two nominees have failed, however, with Council President Frank Bluntson unable to maintain a four-member quorum. With the Ward 1 seat currently unoccupied and Ward 6 Councilman and JPS principal Tony Yarber ineligible to vote because of a conflict of interest, Bluntson has been left with five remaining council members. Ward 5 Councilman Charles Tillman opposes Johnson's selection of Collins, who would effectively represent his ward on the board. He told the Jackson Free Press Feb. 7 that he felt like Johnson was disregarding his preferences in the nomination process.