Monday, February 14, 2011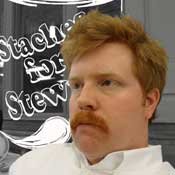 Even though Russ Markle joked about growing a mustache, he knew it would involve a few challenges. His wife wasn't a fan of facial hair, and he felt he would risk his professional look at work. But when friends offered to pay him to grow a mustache if he donated the money to charity, it was an offer he couldn't refuse.
As a result of the bet, Markle and four friends spent January 2010 sporting mustaches and asking people to pledge as little as a $1 for each week they kept their facial hair intact. At the end of the month, the friends threw a party and collected $3,800 for Stewpot Community Services, a nonprofit organization that provides meals and support services for those in need.
"You don't see a lot of people wearing full mustaches, and the difficulty of doing that is a way to sacrifice for charity," Markle says.
Now in its second year, "Staches for Stewpot" has gained about 50 mustache growers, as well as support and sponsorships from Mint the Restaurant, Julep Restaurant and Bar, and Parlor Market.
Markle, 29, admits that it takes perseverance to grow and wear a mustache, and some participants don't make it the full month. He's been growing his 'stache since November and says he resembles a cross between Jimmy Buffet and actor Ron Howard in the 1970s.
"This is a fun thing you can do," Markle says. "The mustache is like a billboard for charity."
The Vicksburg native moved to Jackson in 2005 to attend his fifth-year at Mississippi State University's architecture program. After graduating with his bachelor's degree in architecture, he began working at Eley Guild Hardy Architects in Jackson. He lives in Fondren with his wife, Julie.
The "Staches for Stewpot" fundraiser is Thursday, Feb. 24, at Julep; 9 p.m. Admission is $10 and all proceeds benefit Stewpot Community Services. The event features food, drinks and a mustache competition. For more information, visit the Staches for Stewpot Facebook page or e-mail [e-mail missing]
Previous Comments
ID

162084

Comment

That's good stuff!

Author

Dave Coleman

Date

2011-02-15T09:56:45-06:00