Tuesday, February 15, 2011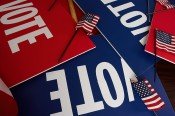 Ward 1 voters will decide today whether L. Patricia Ice or Quentin Whitwell will fill the Ward 1 City Council seat, which has been empty since Jeff Weill left in January to serve as a Hinds Circuit Court judge.
Precinct voting locations in Ward 1 are open from 7 a.m. to 7 p.m. today. For a list of voting locations, visit the Hinds County website.
See also: "Ward 1 on Ice", "Respect for the City" and "On Feb. 15 Vote Ice for Ward 1".