Wednesday, February 16, 2011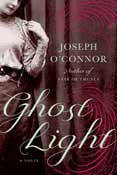 When I first saw the cover of "Ghost Light: A Novel" by Joseph O'Connor (Farrar, Straus and Giroux, 2011, $25), I didn't know quite what to expect from the woman dressed in early 1900s garb. Would I be bored or enthralled with the reminiscences of a broken relationship and a love that survived years later?
Soon, I was enveloped in a weary old woman's fractured memories that left me feeling just as old and disoriented as she was.
The novel spins back and forth through time via the erratic thoughts of Molly Allgood, once a feisty rising theater star in early 1900s Dublin, to her present life in 1952 London. Through her scatterbrained frame of reference, I drifted through her fledgling career and its ultimate demise, her bitterness at her dead sister's success, and her relationship with famed playwright John Synge.
O'Connor forced me inside Allgood's head in this historical romantic narrative through applying the universal "you." I wasn't just a spectator of Allgood's world; I was him.
From the first page, she bounces from thought to thought with the effect of a ping-pong ball, and I was caught in her instability. But the affect was discombobulating when I lost focus and the train of thought. That can be dangerous when the author doesn't want you to put the book down, but O'Connor manages to maintain focus in Allgood's unfocused world.
O'Connor effectively shapes the tenderness and distance of Allgood's and Synge's relationship. On one occasion Synge goes from showing tenderness to suddenly shifting to dismissal.
"He is an example of the man many women have known: the suitor who craves you but secretly wants to be dismissed," O'Connor writes. Two pages later, Synge "tells her, approvingly, that she is 'pretty and quiet and nice.'"
"Ghost Light" is a pleasant Saturday afternoon read. It's beautifully written and easy to get lost in, figuratively and literally. It's not so heavy that you lose sight of the romance, but it does have its disorienting moments through Allgood's erratic thoughts. And maybe that's just how O'Connor wants it.
Joseph O'Connor will read and sign "Ghost Light," a No. 1 bestseller in Ireland, at Lemuria Books (202 Banner Hall, 4465 Interstate 55 N., 601-366-7619) Feb. 18, beginning at 5 p.m. O'Connor is a world-renowned author of seven novels including "Star of the Sea," "Redemption Falls" and "Cowboys and Indians." He currently lives in Dublin.