Wednesday, February 16, 2011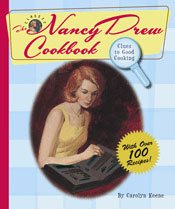 Last night my kitchen exploded. My 3-year-old daughter helped me cook dinner. She doesn't quite have all of the techniques down yet, particularly the mixing and pouring parts, which at the moment are her only jobs.
We made popovers from a recipe in her cookbook, Mollie Katzen and Ann L. Henderson's "Pretend Soup and Other Real Recipes: A Cookbook for Preschoolers and Up" (Tricycle Press, 1994, $17.99). The book's format makes it both adult and kid friendly. Each recipe is presented in a traditional way for adults and then again through simple step-by-step illustrations for those younger chefs.
I have vivid memories of my mother patiently helping me cook from my first cookbook, Carolyn Keene's "The Nancy Drew Cookbook: Clues to Good Cooking" published in 1973 by Gosset & Dunlap. The faded copy still sits on my kitchen shelf. This was the beginning of my love of cooking. Pardon the pun, but the book de-mystified cooking for me. It made me realize that cooking was basically about following directions.
Now, as a parent, I realize that children's cookbooks do more than just provide recipes. They help teach children about sequential order and measurement. They introduce children to new foods and frequently provide a glimpse into different cultures. Most importantly, however, they provide an easy way for children and parents to work.
Many children's cookbooks are just simplified versions of adult ones. The dishes are given kid-enticing names, but the recipes are not really all that different. I want cookbooks that will excite my child and help nurture her love of cooking. Here are several that I feel accomplish this:
Annabel Karmel has an inviting series of cookbooks published through Dorling Kindersly Inc. Each recipe includes photographs of all cooking tools needed, all the ingredients in their proper amounts and each step of the cooking process. What makes the book appealing, however, are the photo spreads for each chapter, where basic ingredients are shown and explained. While some of the recipes are for simple foods, such as scrambled eggs or cupcakes, each includes ways to spice up each dish. Both "Cook It Together" (DK Children, 2009, $12.99) and "Mom and Me" (DK Children, 2005, $12.99) are geared toward younger children; Karmel's "You Can Cook" (DK Publishing, 2010, $19.99) would be prefect for a wider age group.
"Kids Cooking: A Very Slightly Messy Manual" (Klutz, 1987, $14.95) from the editors at Klutz is definitely an attention catcher. Silly illustrations show the ingredients and major steps for each recipe. It also comes with a colorful set of measuring spoons. In addition to expected recipes for things like "Non-Yukky Vegetables," it also includes ones for play dough and several types of paint.
Oh, and just in case you're interested, "The Nancy Drew Cookbook" was re-published in 2005 and you can order it at Lemuria Books (Banner Hall, 4465 Interstate 55 N., Suite 202, 601-366-7619) for $12.99. I highly recommend it.