Friday, February 18, 2011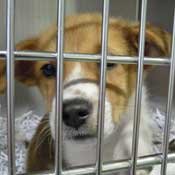 Cruelty to cats and dogs would become a felony in Mississippi under Senate Bill 2821, which the House Agriculture Committee voted unanimously today to approve. The bill to make "aggravated cruelty to a dog or cat" a felony on the second offense now goes to the House Judiciary B Committee for consideration.
The Agriculture Committee let a similar Senate proposal die last year without a vote. The committee has proved a sticking point for animal-cruelty legislation in the past, in part because of stiff opposition from farmer members and the Mississippi Farm Bureau Federation. Former Farm Bureau President David Waide has spoken against animal-cruelty bills in the past, arguing that they would put farmers in danger of prosecution for protecting their livestock from wild dogs.
The Farm Bureau hailed today's decision as a step forward, however.
"Farm Bureau is adamantly opposed to the cruelty, abuse or mistreatment of any animals," President Randy Knight said in a statement. "We have worked diligently toward a solution to this problem. We feel the legislation that passed the House Agriculture Committee has enough protections for agriculture and landowners. We are glad to have worked with other organizations to accomplish a common goal of protecting animals."
Agriculture Committee Chairman Greg Ward, D-Ripley, tried to put the measure to a vote yesterday. After some members said they wanted more time to study the bill, however, Ward postponed the vote until today.
"The hardest thing to do was to bring two groups in here that looked at something a little different," Ward told members yesterday. "At this point, what really matters to me is (that) we got to the point where two people would sit down at the table and try to do something."
Ward's committee approved the version of SB 2821 that provides for two kinds of animal-cruelty crimes. The first, "simple cruelty to a dog or cat," a misdemeanor, would apply to anyone who wounds, poisons or neglects a pet. The aggravated-cruelty crime would apply to more severe acts, like torturing or burning a dog or cat. For the first aggravated-cruelty offense, the bill stipulates a maximum punishment of a $2,500 fine and a six-month prison sentence. With a second offense, aggravated cruelty would qualify as a felony crime and carry a maximum punishment of a $5,000 fine and five years in prison.
Ward told members yesterday that he intended the bill to allow for mental-health treatment for offenders.
"What we're trying to do right here is create an aggravated cruelty (offense)," Ward said.
"We're going to give them one chance, to try and get the mentally ill people some help. Then, the sure-enough-bad people, we'll get them on the second time."
The bill allows judges to order a psychiatric evaluation and counseling for aggravated cruelty offenders.
The House Judiciary B Committee must approve the bill before the full House votes on it. Sen. Bob Dearing, D-Natchez, the bill's original sponsor, told the Jackson Free Press that the Senate would likely concur with the bill in its current form, rather than inviting a conference to hash out any differences.
"We're going to take a look at it, but from what Chairman Ward has told me, I think we'll be able to concur," Dearing said. "If it goes to conference, who knows what might happen?"